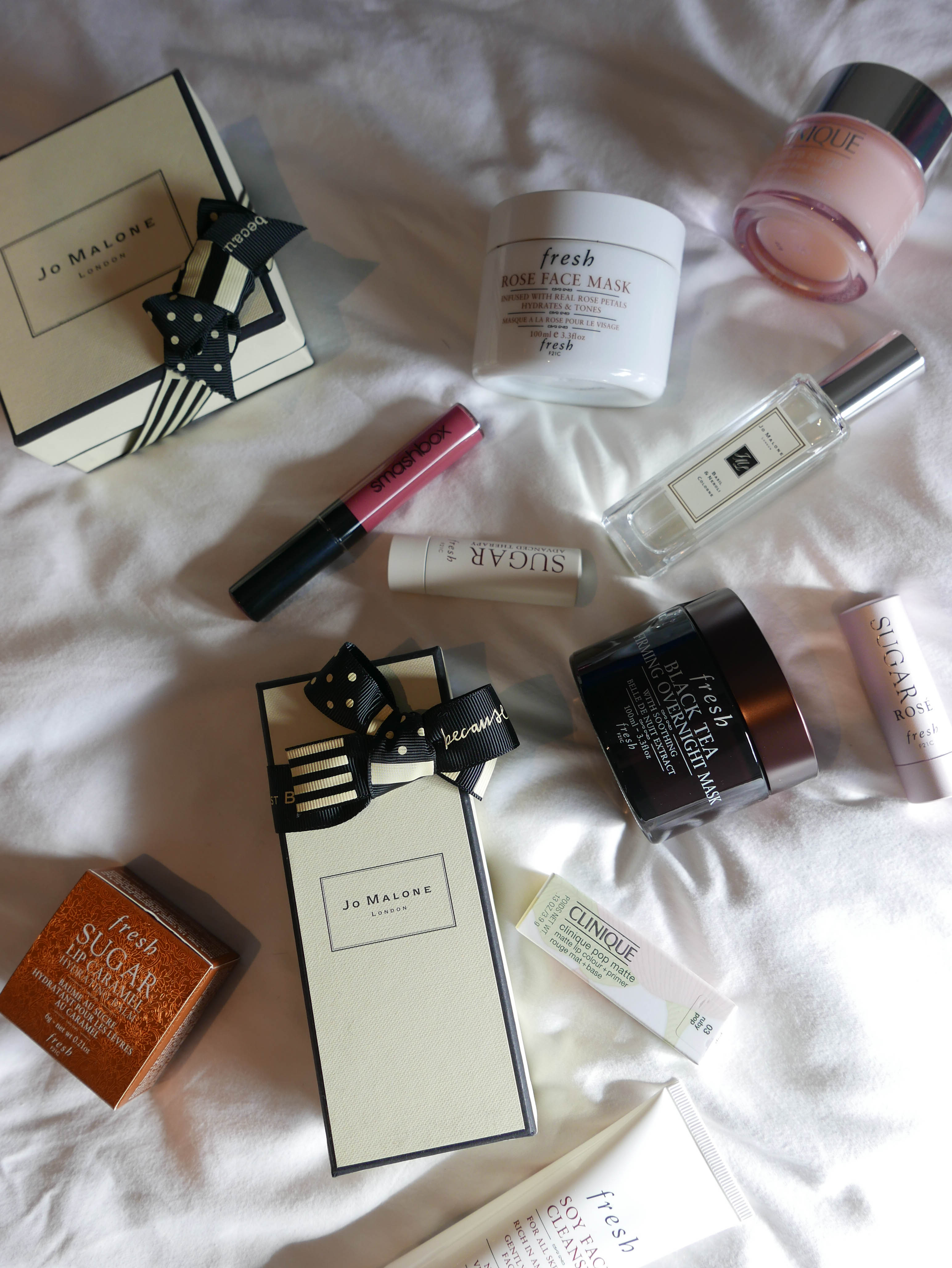 So some might have already noticed that my mind has been slightly one track lately and blindsighted by my wedding #rajitawedding to which I apologise and promise I'm back to normal very soon talking about some really more life topics and interesting things!
This post is dedicated to some absolute beauty favourites of mine. Things that always seem to be on the most accessible part of my beauty cupboard and items are regularly on the move with me. I used my wedding as an excuse to give and share all of my favourite skincare and beauty products with them. At times I feel like I've been such hard work to be around so a spoil was truly on the cards and really the least I could do. I want to talk more about this at a later date on my blog. But for now…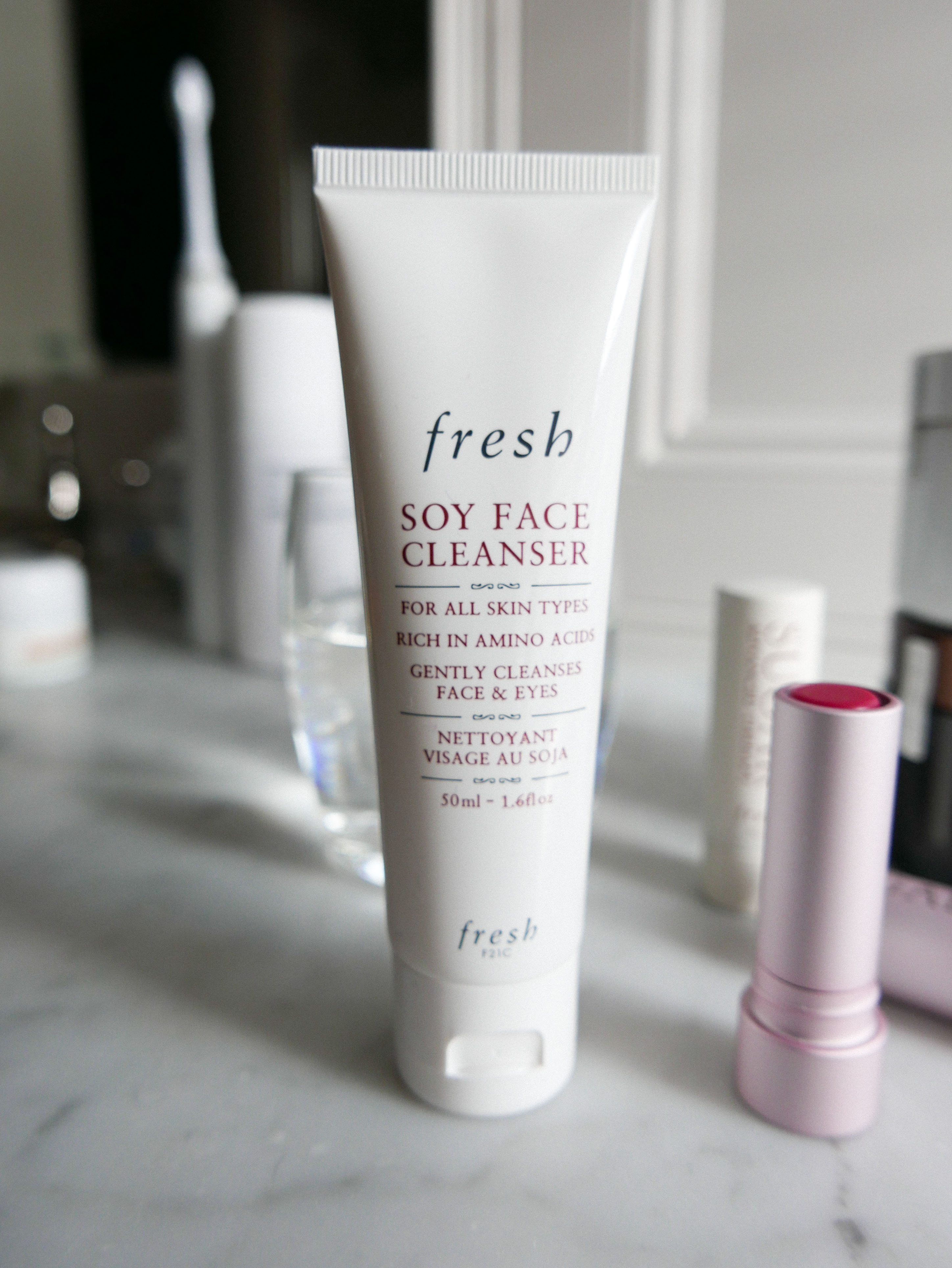 The Soy Face Cleanser by Fresh
Literally one of their best selling products worldwide, this face wash is one of my solid go to facial rinses. I love it's thick gel like texture when you squeeze it out, that lathers smoothly making your skin feel like it's being conditioned whilst get a good old clean too, leaving your skin feeling fresh and nourished. It's also really good for sensitive skin so you never need to feel like you're over using it.

Black Tea Firming Overnight Mask by Fresh
OKAY – so I've definitely covered this face mask before on the blog, and it still remains one of my favourite overnight masks. It's ultimately hydrating and I can't stress the importance of doing this more often than one thinks. Sometimes when your skin produced excess oil it's in fact because it's dry and needs moisturising so hence produced excess on your skin which can cause breakouts and shiny skin (not in a good way). Also with the weather changes this season it's natural to get a bit dehydrated with the changing temperatures – this mask serves a great purpose for that.
Another hydrating mask but this one is lighter and cooling so it has a really uplifting factor leaving you feeling refreshed and toned. I also LOVE the smell of anything rose scented which I think is great for those final toning steps of your regime because it feels like it's closing your pores.
Need I say more? This range by Clinique is one mf my utmost favourites this year. Whilst being a very intensive moisturising cream it has a really light texture so it never feels greasy or too oily. Also great to use underneath foundations or even mix with a bit of foundation to create a tinted moisturiser. Hydration is one of the most important factor to maintaining good skin and this one in particular serves a great purpose.
Basil & Neroli 30ml cologne by Jo Malone
One of Jo Malones most long standing and signature scents which remains a classic favourite, and how brilliant in a tiny pocket size, easy to travel with or perfect for your handbag.

The Sugar range for lips by Fresh
This wonderful range of lip treats by Fresh uses the vice of sugar as a natural humectant which is known to prevent the loss of moisture. It also contains Grapeseed oil, meadowfoam and black currant seed oils to keep your lips moisturised especially in these winter months whilst being rich in antioxidants known to protect from damaging free radicals. The sweet and slightly tinted textures make them perfect for all day wear and the best things to keep floating around your handbag.

Advanced Night Repair Concentrated Recover Eye Mask by Estee Lauder
These amazing eye masks were the saviours for the dark circles from the long flight to India, jet lag and late nights before the wedding celebrations began. Along with the Advanced Night Repair serum it's one of my favourite eye masks to really turn around your skin overnight. They are also great when you're wearing lots of makeup and constantly taking it off and re applying on your skin which really dries it out.

Sarah Chapman Skinesis Age Repair Serum
One of my favourite pre wedding nooks in London is the Skinesis boutique in Chelsea by Sarah Chapman. Her facials are out of this world addressing tired and aging skin, paying sole attention to whatever your skin needs might be. Prior to the wedding my friends and I tried out the LED 'light pod' for which is a 20 minute treatment of sitting in front of this futuristing light machine which gives your skin an instant glow. It's one of my favourite quick fixes which stimulates cellular activity which allows your skin to produce collagen which plumps up your skin. It also helps to minimize fine lines and wrinkles, treat sun-damage and reduced redness on the skin. I absolutely love it and here is the serum via the range which is one worth trying.

Finishing mist by
Bardou
The keratin enriched hairspray perfect for those flyaways and leaves the hair more glossy than greasy whilst holding it in place. This is such a great spin off from The Bardou brow collection which is also amazing.
Purifying scalp cleanser by Aveda
Need I say more? I'm constantly battling with a dry scalp and the Pramasana range from Aveda is dedicated to irritable scalps. I have been using this on and off for a few weeks and can definitely see a difference as it keeps my scalp at bay from reacting.
Dry Remedy by Aveda
This Dry Remedy oil is SO good for dry hair especially when coming into winter. Moisture is one of the most vital things for hair which mine is constantly lacking so having a good oil nearby to give split ends a bit of a boost is highly necessary. I even use this as a treatment overnight which is fab.
After-sun Hair Masque by Aveda
Needs must… perfect to pack for those trips to the sun. My favourite thing to do with hair masks whilst on holiday is to actually just leave them in all night, which leaves your hair lovely and silky the next day when you hit the sun again.
Earrings by Lucy Williams for Missoma
I'm obsessed with this pair of earrings by the super talented Lucy Williams on her new collection with Missoma jewellery. It's called the Roman Collection, my favourite Missoma collection to date and I can't see myself getting bored of it anytime soon. I absolutely love the brassy gold finish and plan to wear it over and over again with my jeans and tees as always.
Jasmine Rouge candle by Tom Ford
Possible one of the most scrumptious scents around by Tom Ford: Jasmine Rouge which I used on my civil wedding day along with Champaca Absolute. Now in candle form – just divine.

NARS MAKE-UP
For my bridesmaids and my own makeup looks during the wedding, I picked the colours of powder pinks, rose pinks, petal pinks and corals for the make up looks. I really wanted the look to be fresh, soft and feminine and these palettes from Nars were exactly that.  For the eyes my favourites were really nudey colours that bring out the natural curves and tones around the eye for a really subtle beautiful look. 'Orgasm' was one of my favourites and I have put everything in a window below.

Illustration from my lovely hens by Clare Fisher
Kavita Cola x