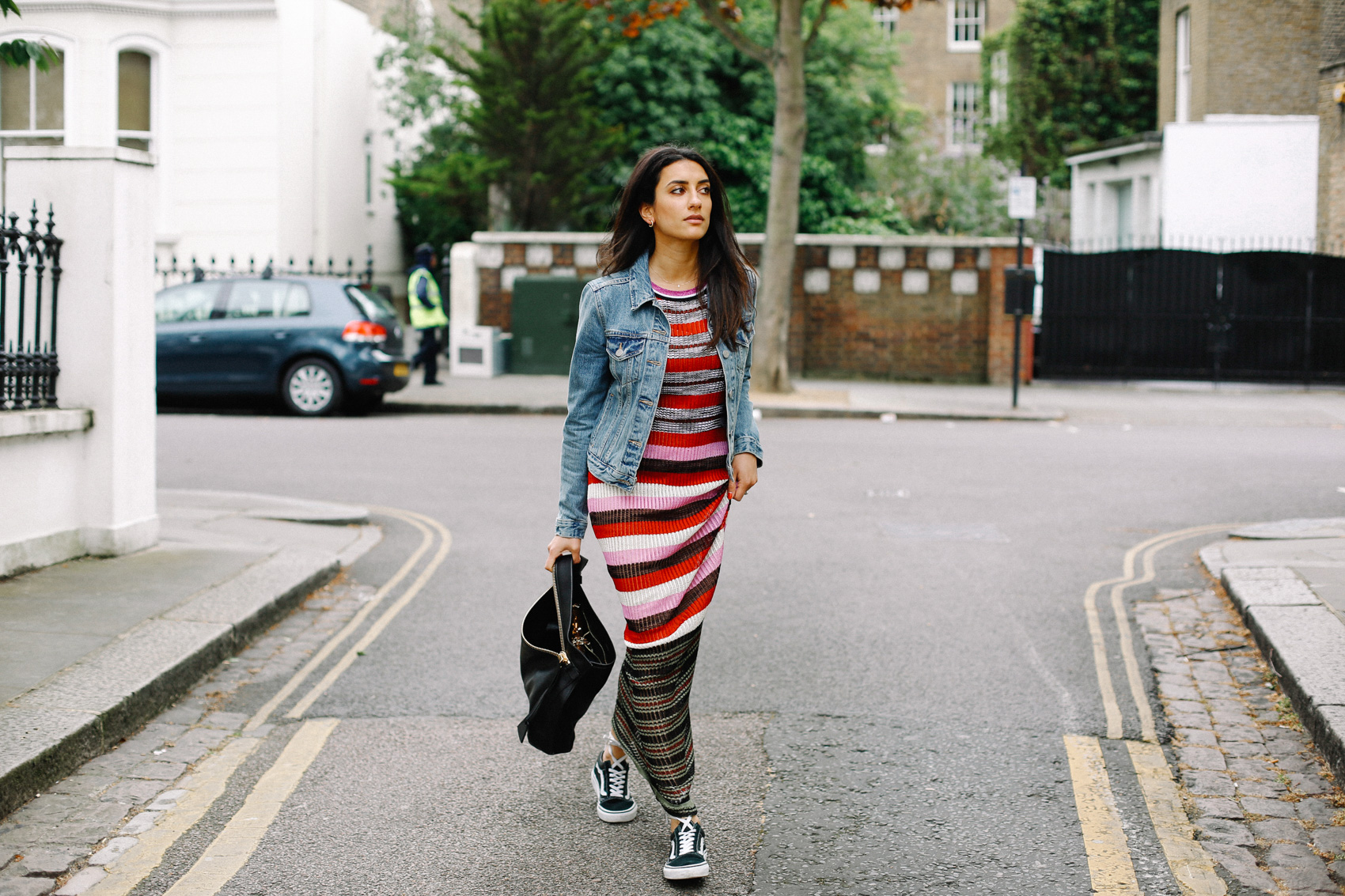 It feels great to be back to my London stomp, properly and finally. Whilst I apologies for the lack of blog posts that have been not coming your way, I promise there is some validity behind it which in time I'll share.
Taking it right back to a classic fashion post and reflecting on some favourite pieces in my wardrobe. I love to make use out of things that I own so with the big investment pieces like this Missoni dress, something have dreamt of hanging in my wardrobe for years which puts a huge grin on my face! Thankfully the wonderful Missoni outlet at Bicester Village has made this possible. Missoni has always been my wildcard brand that I have obsessed over. I remember when I bought my first Missoni bikini also from Bicester Village and still have it in my drawer – although slightly on the tight side now!
Anyway, as precious as this Missoni dress is to me, it's certainly no use spending the rest of it's years in my wardrobe collecting dust – I want to wear it as much as I possibly can. Below I have put a day look and more of a smart evening look together on how I have been strutting the wonderful Missoni dress around town.
The daytime look resembles that of a grungy 90s kid (me at heart) Vans and my Levis denim jacket and all, along with the Missoni dress bringing my coming-on-30 sophistication with some Dinny Hall dusting. I'm absolutely loving this oversized monogrammed shabby but chic clutch by Mon Purse. I haven't quite come across anything like it – super cool and available online as well as in Selfridges in both London and Birmingham. A lot of their accessories are amazing for Christmas presents as I always think a little monogram adds that personal touch.
The very best thing about Missoni is that it never really goes out of fashion. I know that I would have worn this dress about five years ago and I know that I'll be whipping it out for years to come. This is one of the best reasons why you never need to strike the purchase whilst it's hot of the catwalk. You can very much bank on the lucky buys at Bicester Village and other places online, all year round when they're often going to be discounted. The following places are always a good place to look: The Outnet, Matches Sale, Net-a-porter sale, Yoox & Vestiaire Collective.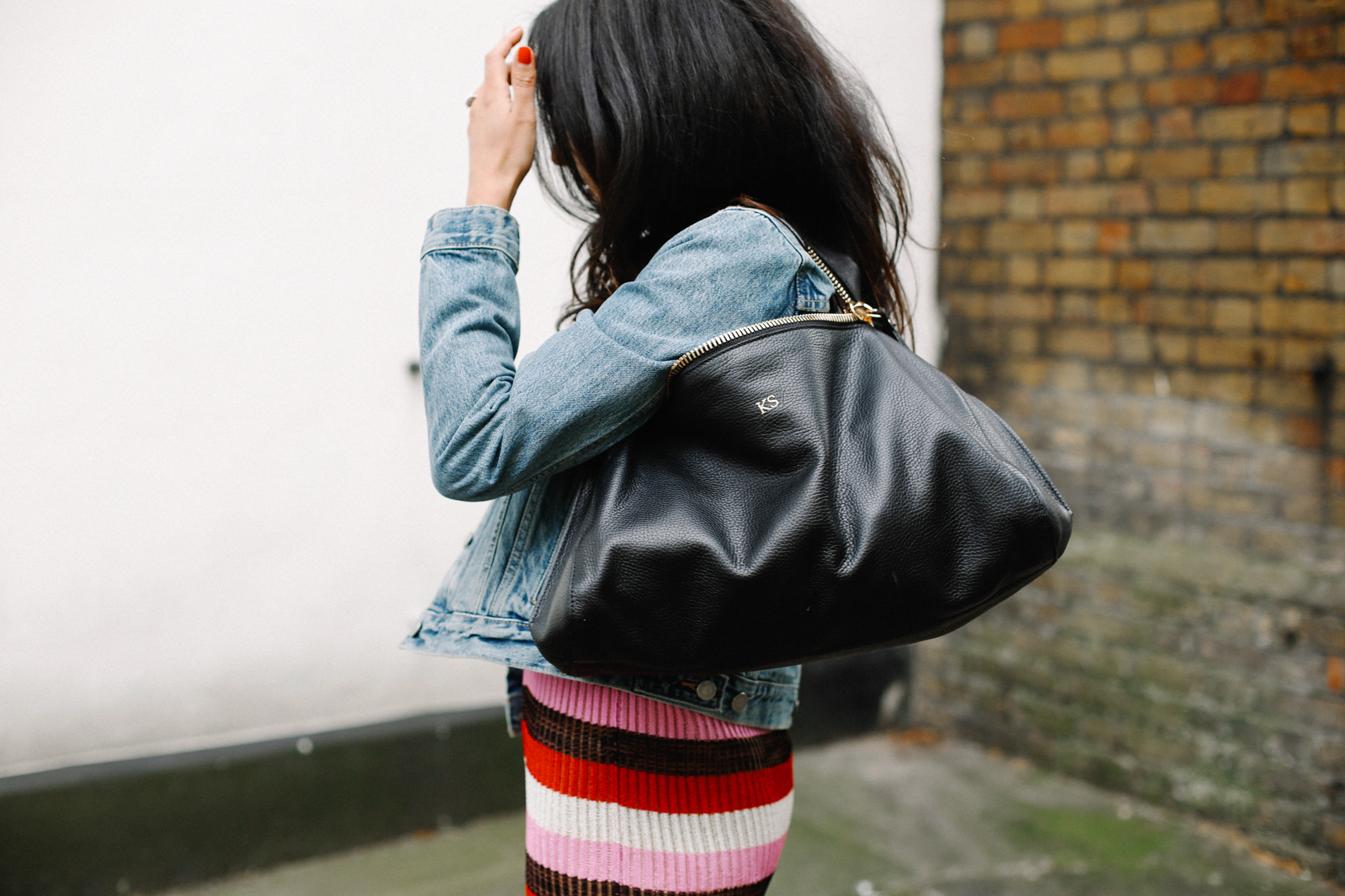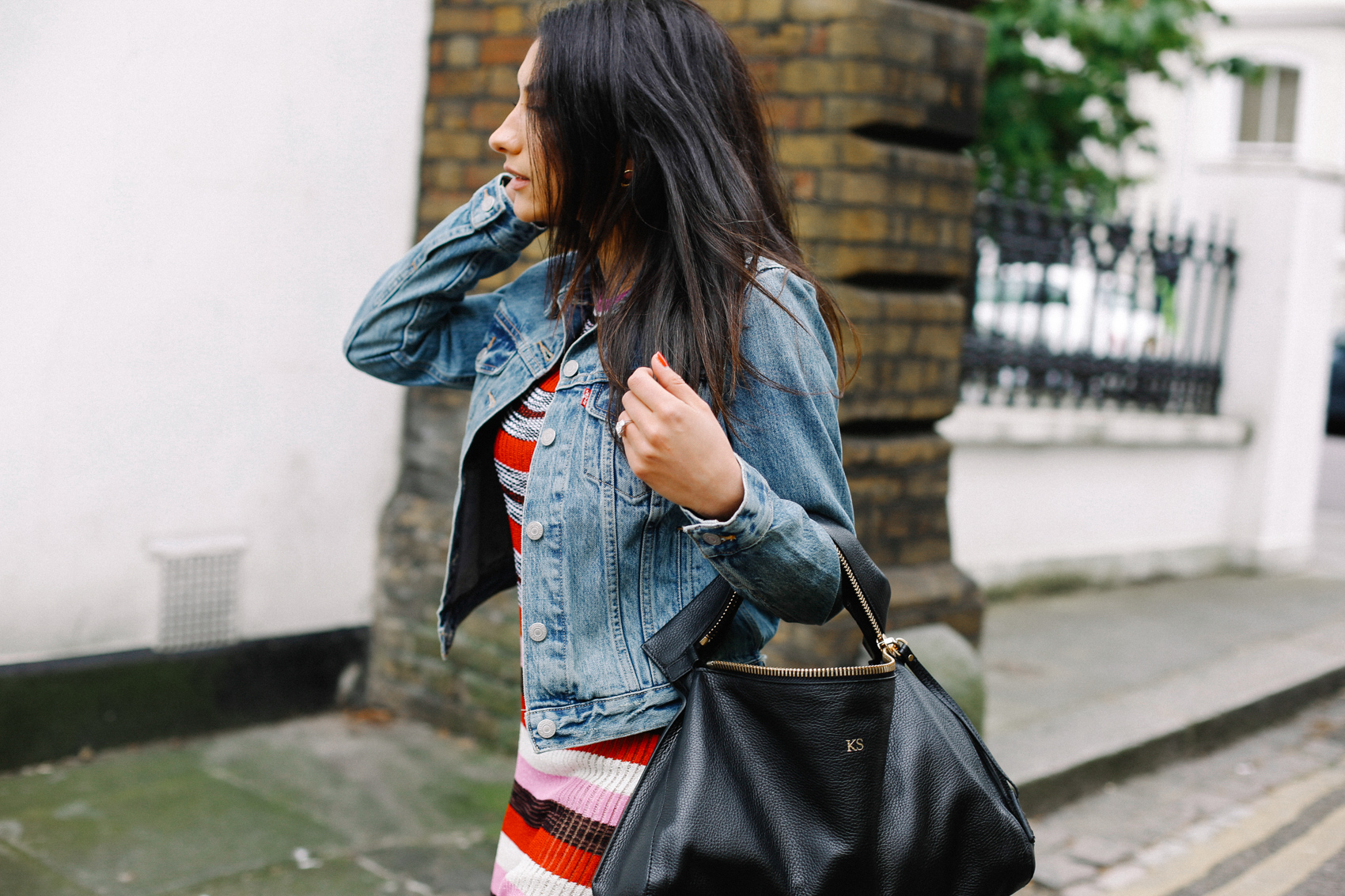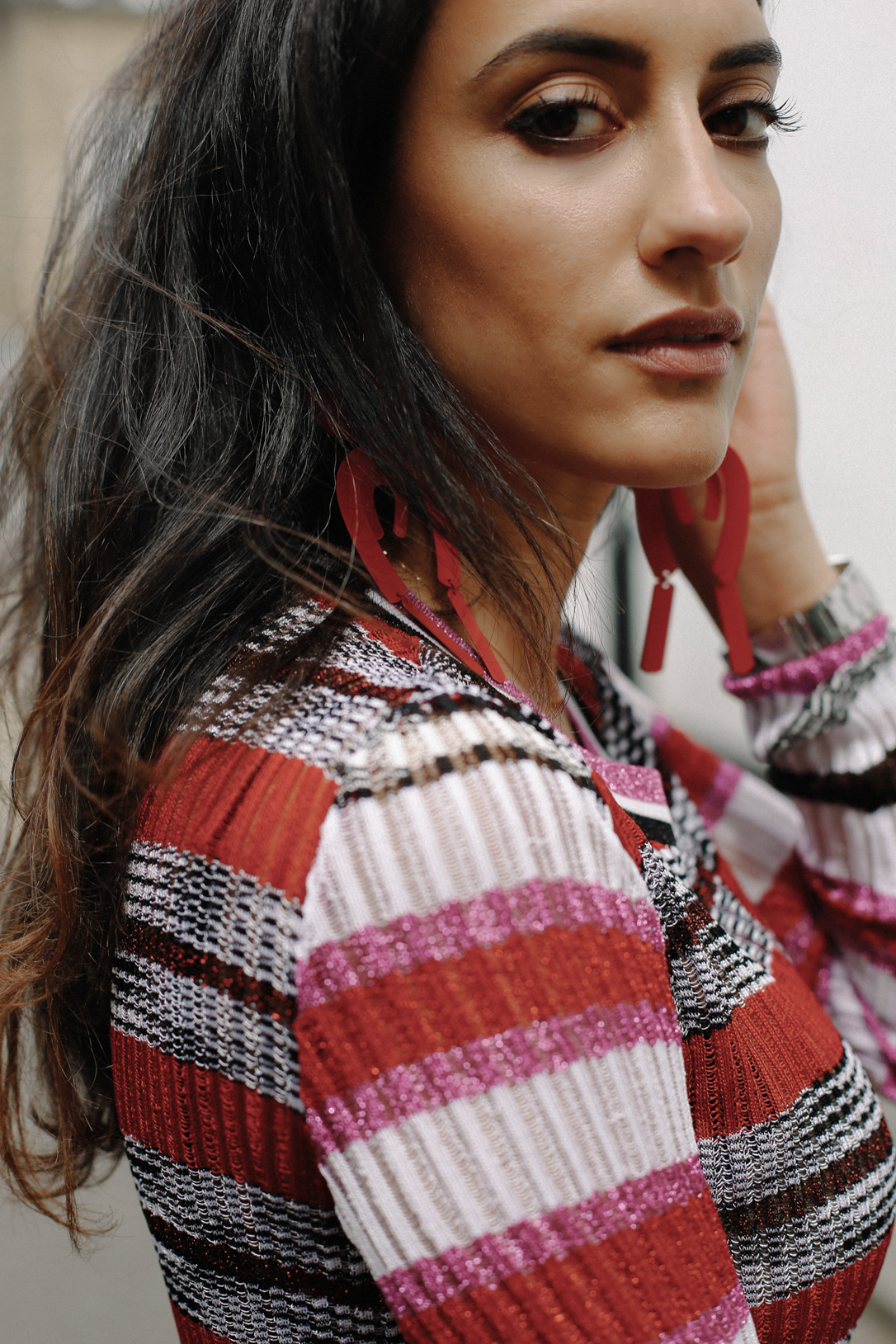 And as for the dressing up… with a dress like this you need nothing much but a pair of statement earrings and your best black heels, a sparkly clutch and hey presto you're ready to go. With Missoni in particular, much to the opposite of my normal daily dressing moto, more is more! I have attached a lots of shopping options for outfits like this below! Enjoy x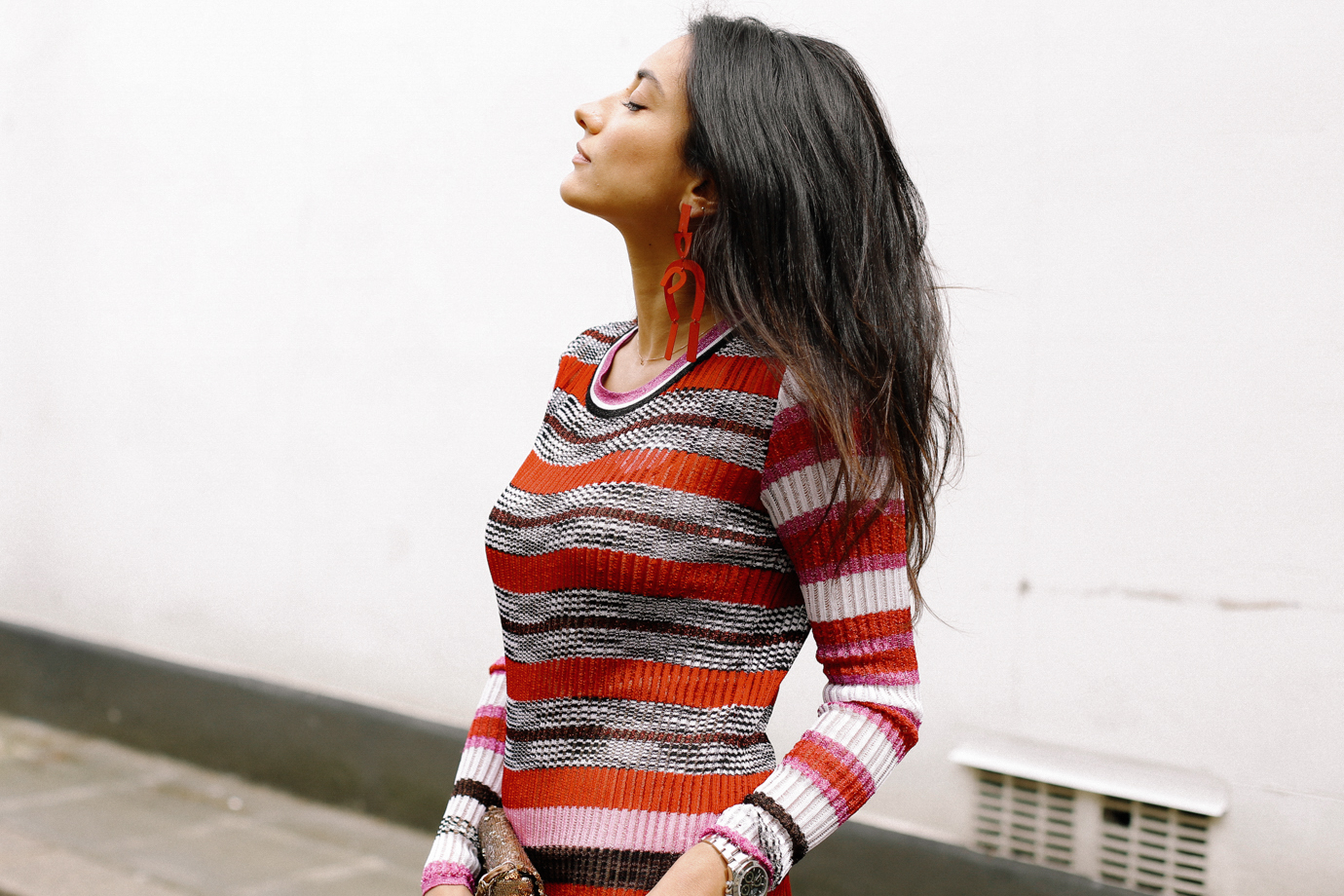 Photos by Frances Davison

Dress | Missoni  (from Bicester Village)
Denim jacket | Levis
Trainers | Vans
Large leather clutch | Mon Purse
Earrings | Dinny Hall
Sequin purse | vintage Reiss (similar here & here)
Earrings | Mango (similar here & here)
Black leather heels | Celine (similar here and here)