Our city commuters have been doing for years (most often cluelessly) swapping their comfortable trainers into stilettos around the block from the office, you know who you are. And now? A definitive style that graces our fashion stories all the time. Dresses and trainers worn by our pop star friends, our grafting fashion designers backstage like Pheobe Filo, Stella McCartney and more. Not forgetting all of the French babes throughout time; Jane Birkin and Lou Doillon who knew very well how to rock a good pair of trainers whilst keeping it ultimately chic.
Going back to myself in trainers – I seemed to have gathered quite the collection over the past couple of years and not all for athletic training purposes. Partial to a good pair of high heels when the time is right, my style safe haven is planning my outfit around a pair of comfortable shoes. Of course what else would counteract years worth of damage done to our feet created by heels and toe pinching flats?
As paraded on the catwalk of Chanels Spring/Summer 2015 show during Paris Fashion Week earlier this year, this decade women are being empowered to be comfortable whilst keeping it chic. Keep up the good work. For this look I have paired some Adidas classic high tops with a Saint Laurent esque pleather skirt (thanks H&M), a serious black polo (love a good cashmere) and a sharp navy mid-seasonal overcoat. Outfit details below.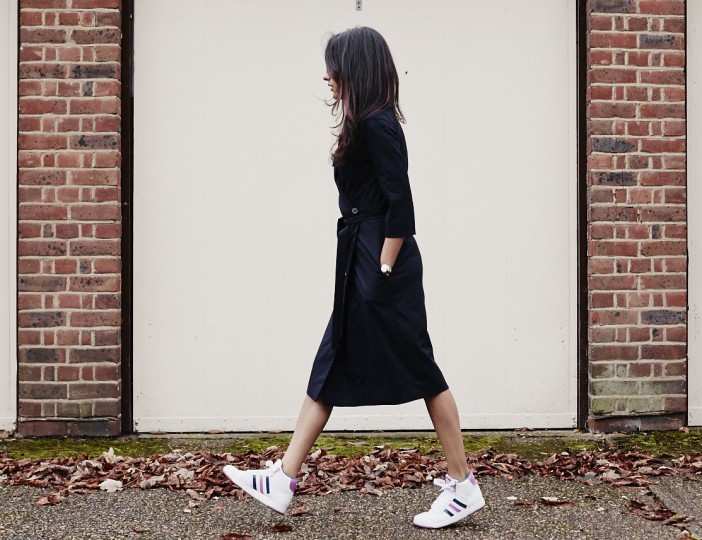 Cotton coat | COS
Cashmere polo new | UNIQLO
Pleather Skirt | H&M
Trainers | Adidas
Watch | Cartier
Bangle | Hermes
KavitaCola x