At last I get to invite you into my bathroom and follow me on a winter skin refresh. As you might know skincare and beauty is something I spend a lot of my time pondering over, I'm always trying and testing new products as well as running some favourite ones entirely to the ground. This post is dedicated to some self love and a brightening refresh to put a bit of life into the doom and gloom of February. I'm not sure about yourselves but my skin has been in desperate need of just that. I wouldn't say this is my daily routine as it's quite the process but it's perfect for a weekend afternoon or even a night in to yourself, and of course you can cherry pick some of the products and use them to your own needs as I do on a daily basis.
First things first, tie that hair back.
Starting off with the Collagen Cleansing Balm from Elemis, the most ultimate deep cleansing balm which completely dissolves makeup in the most non abrasive way possible taking away the daily grime. Elemis is a really gorgeous scientifically lead brand with the most delicious smells and essences of essential oils and this product particularly feels healing and relaxing, whilst removing all traces of makeup and general debris. It's also lovely to leave on your skin and use as a mini mask too which I like to do in the bath.
I then use a muslin cloth which is included with the Elemis Balm and gently massage it off my skin. I love how it leaves my skin with a bit of a gleam afterwards.
I'm currently also using a milky face wash by Avene called the Antirougeurs Cream Cleanser. It's particularly good for inflamed, blotchy or irritated skin whilst also removing make up and daily grime, so if you have redness or sensitive skin which I can do sometimes, this is a great wash to use on a daily basis.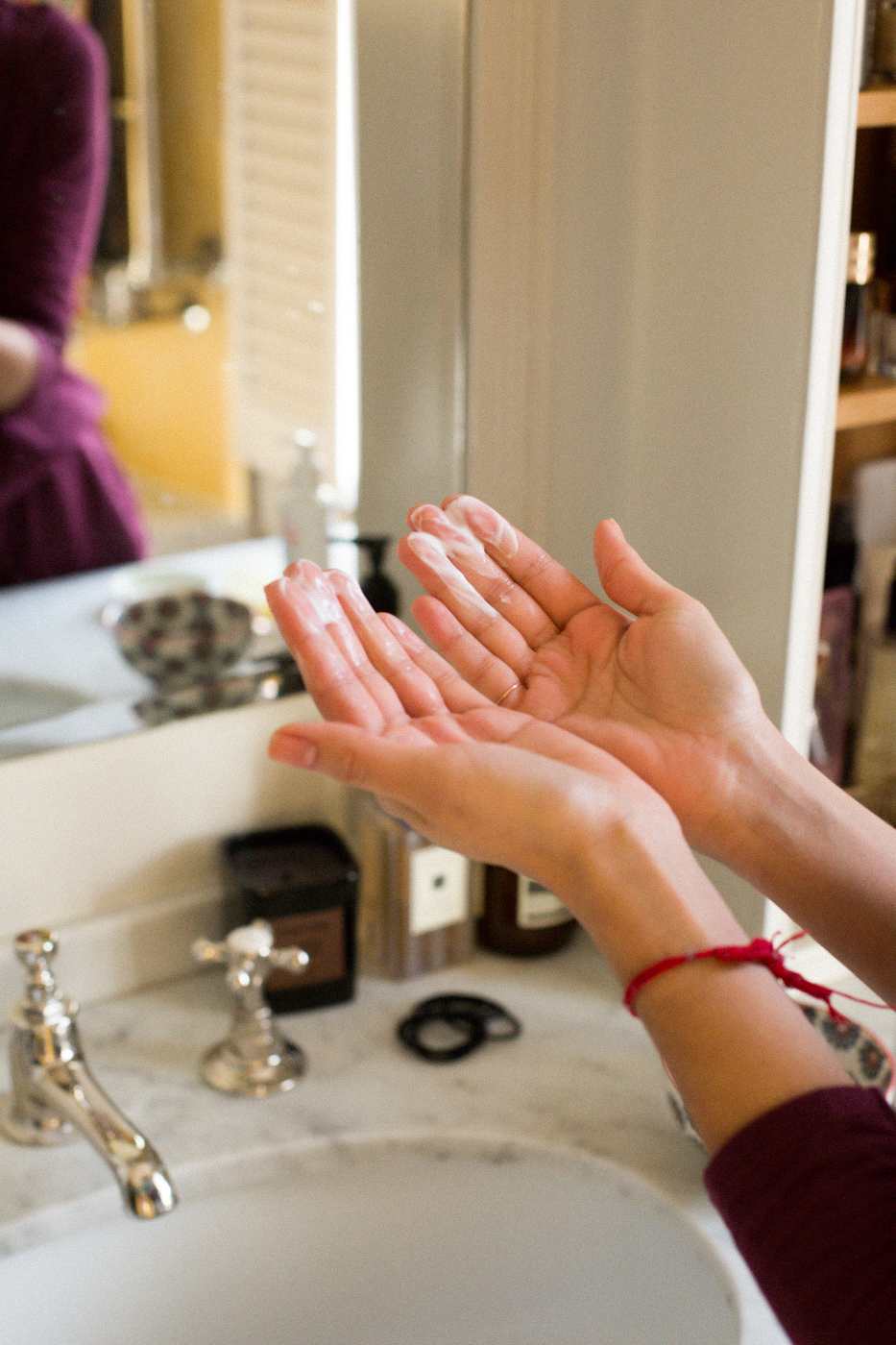 It's enriched with the brands exclusive Thermal Spring Water which smooths and softens the skin, whilst leaving the skin completely refreshed. It really is a hero product that would do zero harm to all skin types so it's a good one to keep at arms length for the whole family or to keep for usage in the shower.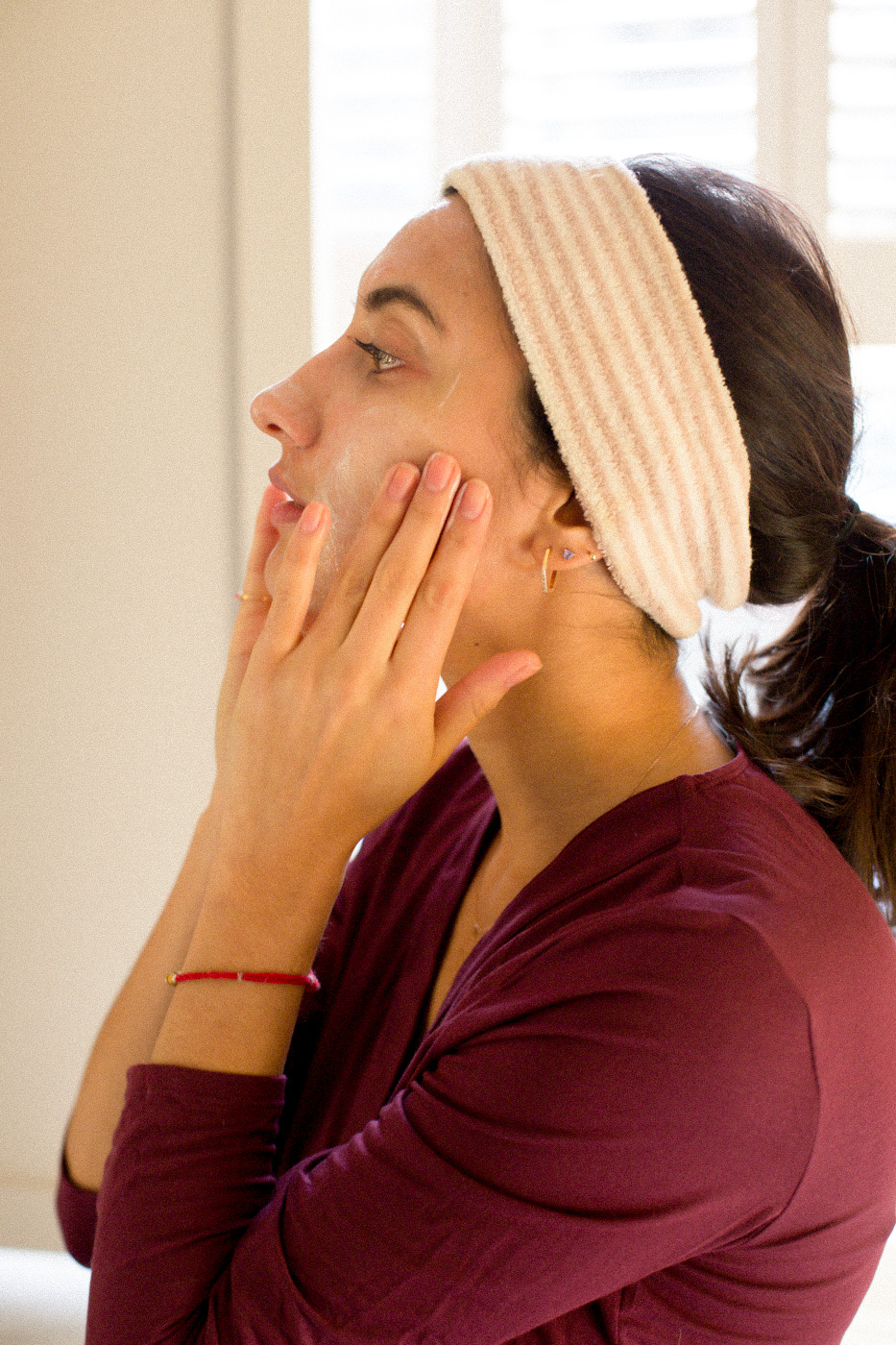 Now for one of my absolute favourite masks right now: the Turmeric and Cranberry Seed Energizing Radiance Masque by Kiehls.  Whilst the cranberry seeds lightly exfoliate the skin, the mask is packed with antioxidants feeling like an instant facial which brightens up that dull and fatigued winter skin that I get particularly at this time of year. It's one of the few masks that I really do feel the instant effect for, without drying your skin at all leaving you with smoother, brighter and illuminated skin.
I literally paste it all over my face to jawline leaving out some panda eyes…

… and sit and wait for about 10-12 minutes (obviously taking a few selfies for insta stories and going to scare my husband and dog).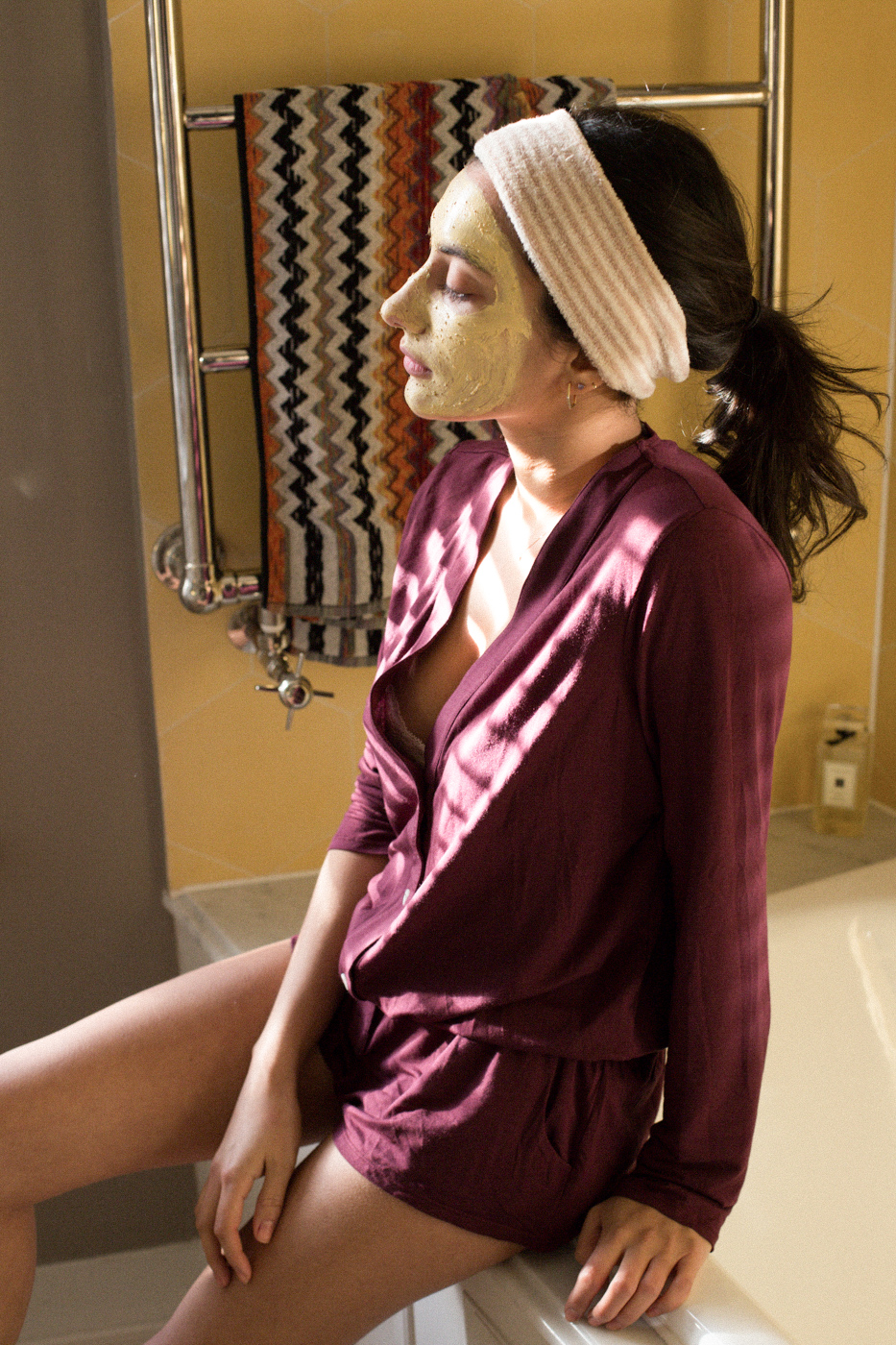 After about ten minutes I remove it with a muslin cloth (be prepared to get a little messy in the bathroom) and my skin literally feels like it glows.
Once the mask is removed I give my face and neck a good spritz of Sanoflore Organic Ancient Rose Floral Toner. I'm addicted to anything which has rosewater which is so refreshing and rumour has it, really good for age preservation.
A light spritz all over that face and neck. 
Then for the eyes… This Advanced Night Repair Eye Serum by Estée Lauder is one of my favourites. I use it day and night at the moment as my under eye circles need all the support they can get and this serum works like magic.

It has a rather convenient wand applicator so it's quick and easy to apply.
Onto the next step, I'm loving this anti-fatigue Get Up and Glow Serum by Oskia. It's full of nutritious ingredients like polypeptides and floral extracts that actively brighten and firm skin leaving it feeling nice and taught. It also protects skin from environmental damage so  is great to wear underneath your moisturiser for that extra layer of defence against the daily grime, which is exactly what I intend to do.
Get up and glow!
Currently the La Mer Moisturising Cream is at the top of my shelf. It's a truly delicious cream for skin this time of year, full of a 'Miracle Broth' that contains calcium, magnesium, potassium and vitamin C, E and B12s along with all the highest quality raw materials giving the cream it's award winning title. It's certainly not the cheapest of creams but I would say that if you've been looking for something that really will nourish your skin instantly this is your one!
This La Mer Moisturising Cream absorbs so well into skin and leaves a lasting moisture all day which I really need at this time cold time of year, whilst regenerating the skin which in a short period of time does smooth out fine lines and wrinkles… yup something I'm beginning to be aware of now.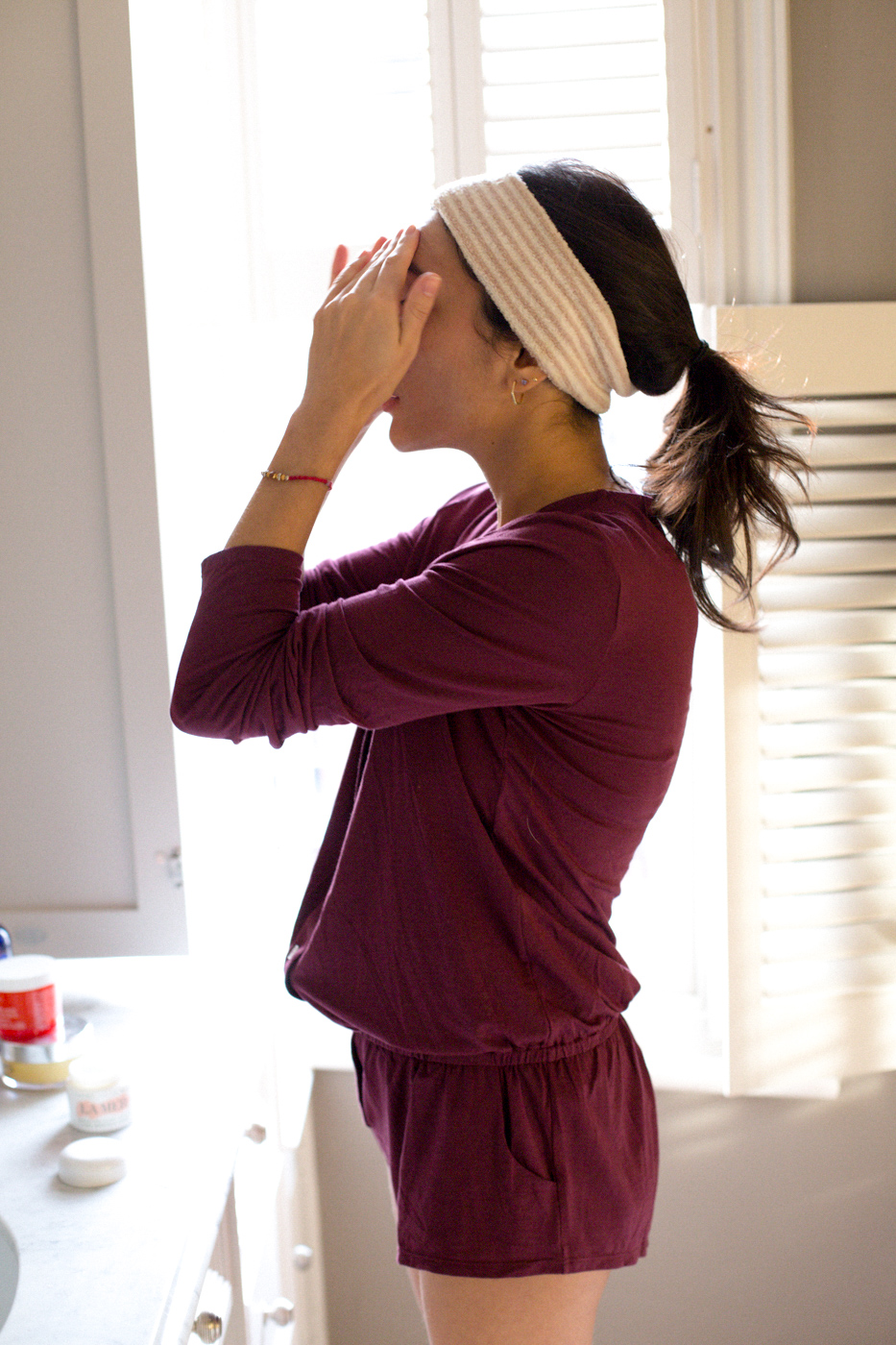 And there we have it, my winter skin refresh skin regime. All the shopping links are throughout the blog post and below.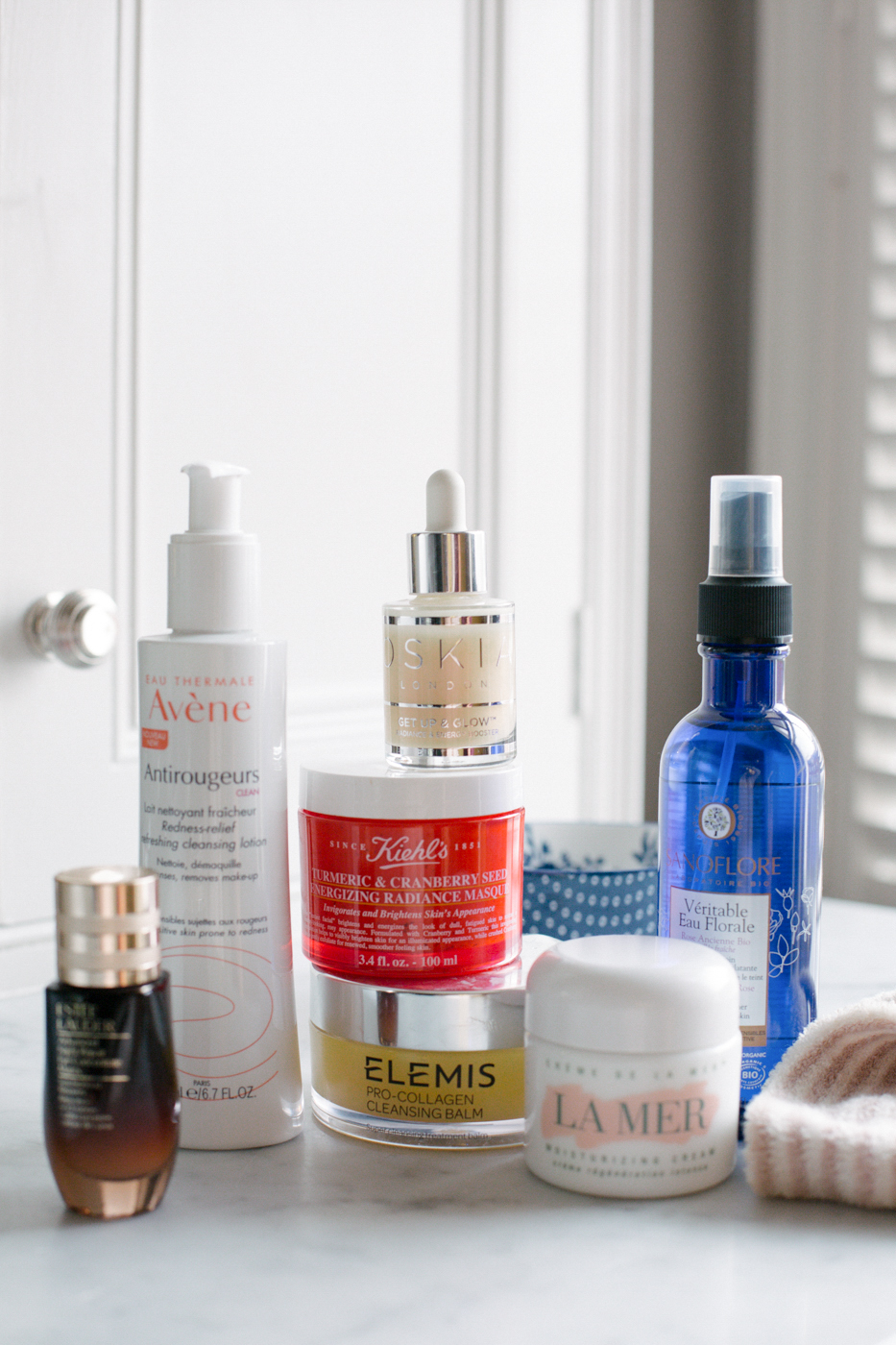 And there we have it: cleansed, refreshed, re hydrated, soft and glowing skin. All of the shopping links are below.
Pro Collagen Cleansing Balm by Elemis
Antirougeurs Cream Cleanser by Avene
Turmeric and Cranberry Seed Energizing Radiance Masque by Kiehls
Organic Ancient Rose Floral Toner by Sanoflore
Get Up and Glow serum by Oskia
Advanced Night Repair Eye Serum by Estée Lauder
Moisturizing Cream by La Mer
Sleepwear playsuit | Eberjey (similar here)
Bathroom tiles by Bert & May

Photos by Frances Davison
Kavita Cola x