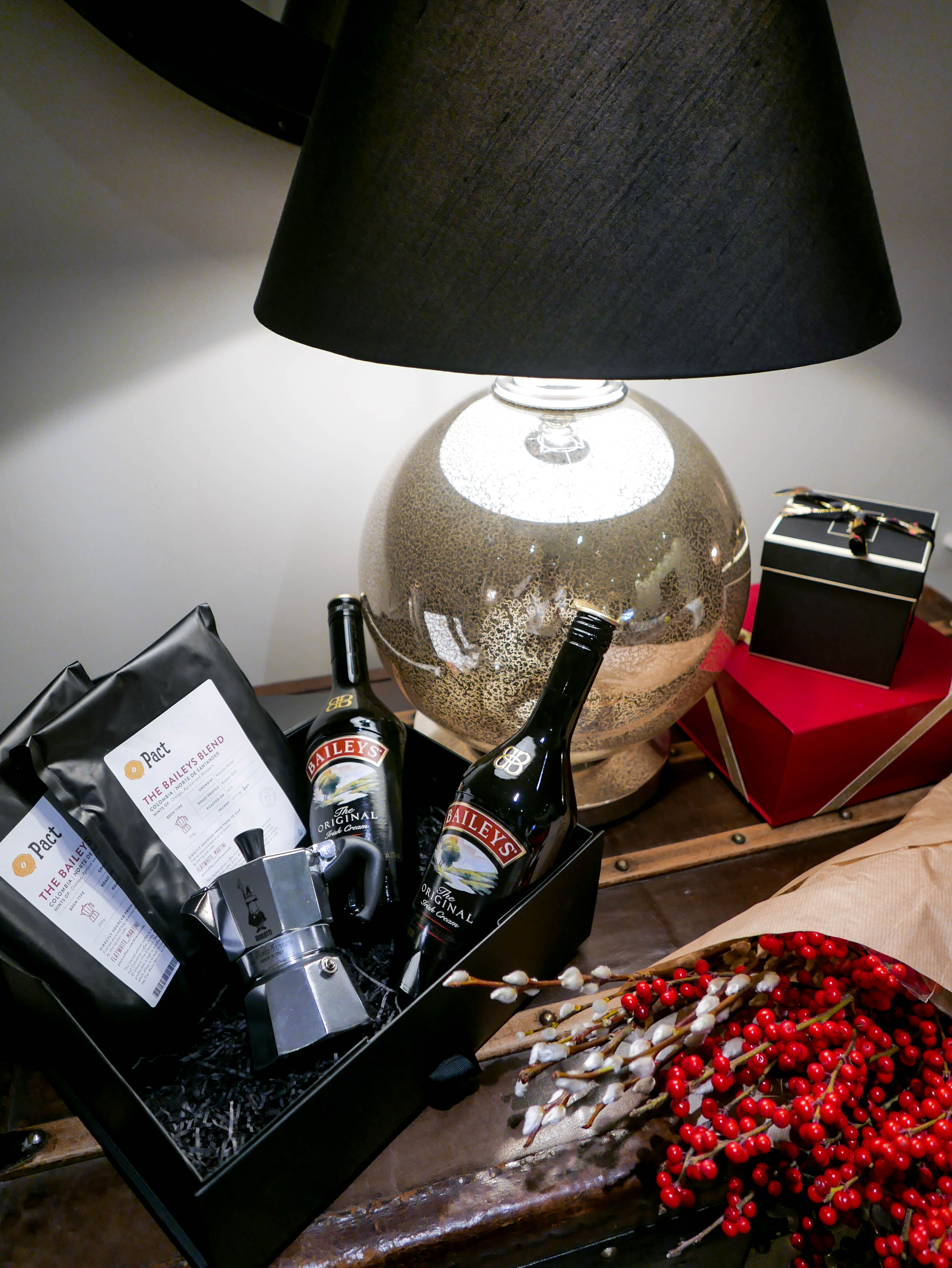 Amongst a series of wilful attempts this year to become more healthy, coffee is something I rarely have however I do make a few special exceptions. That is, for the perfect espresso martini! With so many festive gatherings in the diary, dinner parties and friends dropping by for a tipple, I thought I'd become a master of one of my favourite cocktails using a special twist to the recipe in the form of a flat white martini called The Baileys Blend by Pact Coffee.
The fully boxed kit of The Baileys Blend includes a very cool Bialetti to make the perfect espresso (in less than 5 minutes), Pact Coffee and Baileys Irish Cream. All you need is a bit of Vodka and some ice cubes. The Bailetti is for sure going to have a nice home on my mantle all year round with it's lovely vintage feel about it so I would say it makes a great gift too. Finally I am saved too, because whenever we have coffee drinking guests I can now offer them a proper espresso as opposed to the usual instant coffee that I keep somewhere at the back of my kitchen cupboard. Below is the full ingredients and how I made the Baileys Flat White Martini. It's also possible to make Baileys Affogato Twist which is next on my list and possibly the most perfect desert / coffee option all in one which I have listed the ingredients and method below too.
50 ml of Baileys Original Irish Cream
25 ml of good quality Vodka
25 ml of The Baileys Blend Espresso by Pact Coffee
Method: Place the Bialetti on a medium heat and make the Baileys Blend Espresso. Pop all the ingredients into a cocktail shaker and add ice. Shake until everything is perfectly blended and the liquid is silky smooth. Strain into a cocktail glass and garnish with three coffee beans.
…
Baileys Affogato Twist:
50ml Baileys Original Irish Cream
25ml of The Baileys Blend Espresso
1 Scoop of organic vanilla ice cream
Method: Place the Bialetti on a medium heat and make the Baileys Blend Espresso. Add one scoop of vanilla icec ream to a short glass. First pour the Baileys over the icecream then slowly add the espresso. Serve immediately as the perfect after dinner treat.
Check out how I made the flat white martini below…
Hello from Dosa! Of course my little four legged friend is keeping me in constant company when I'm doing anything in the kitchen.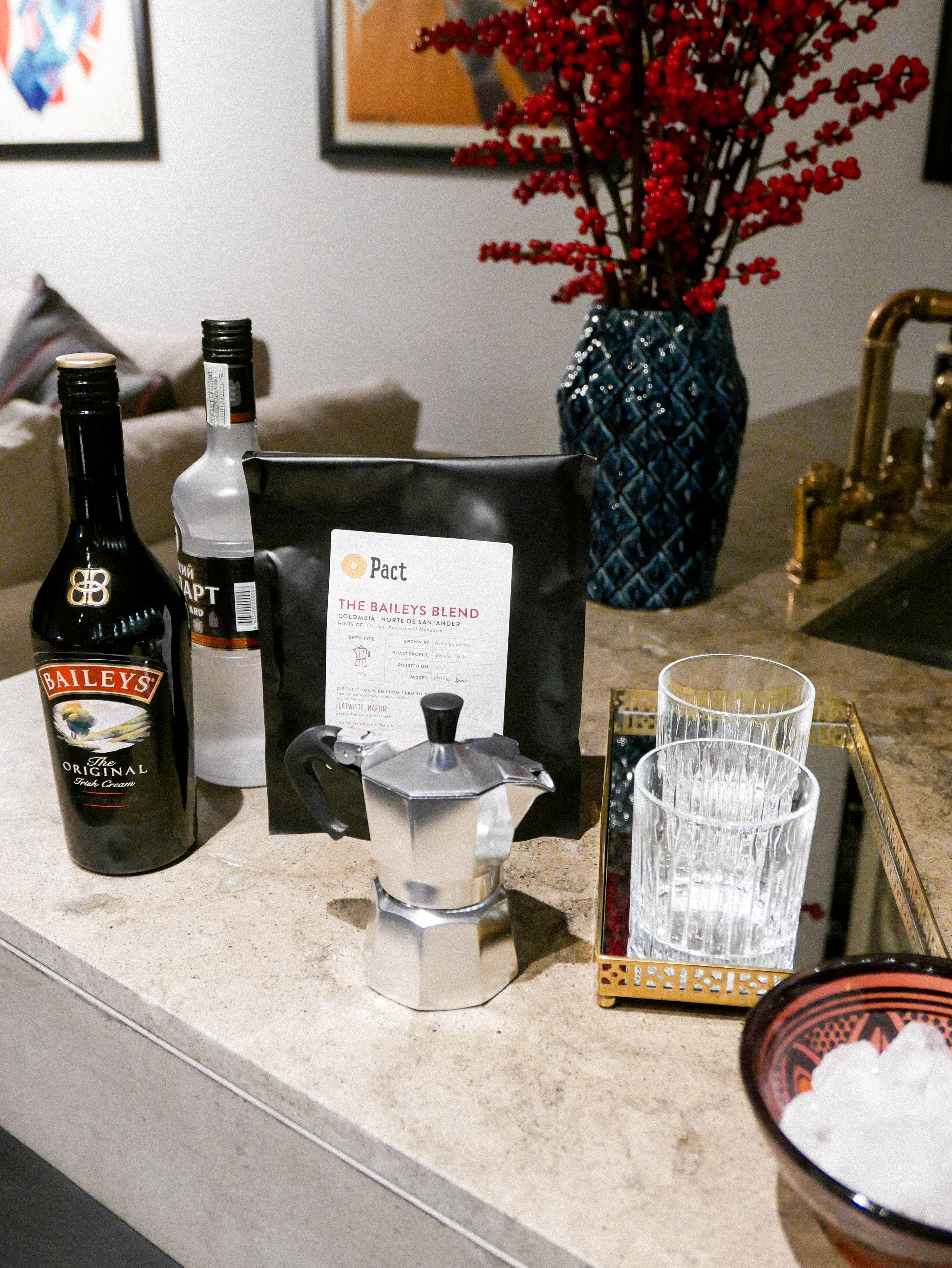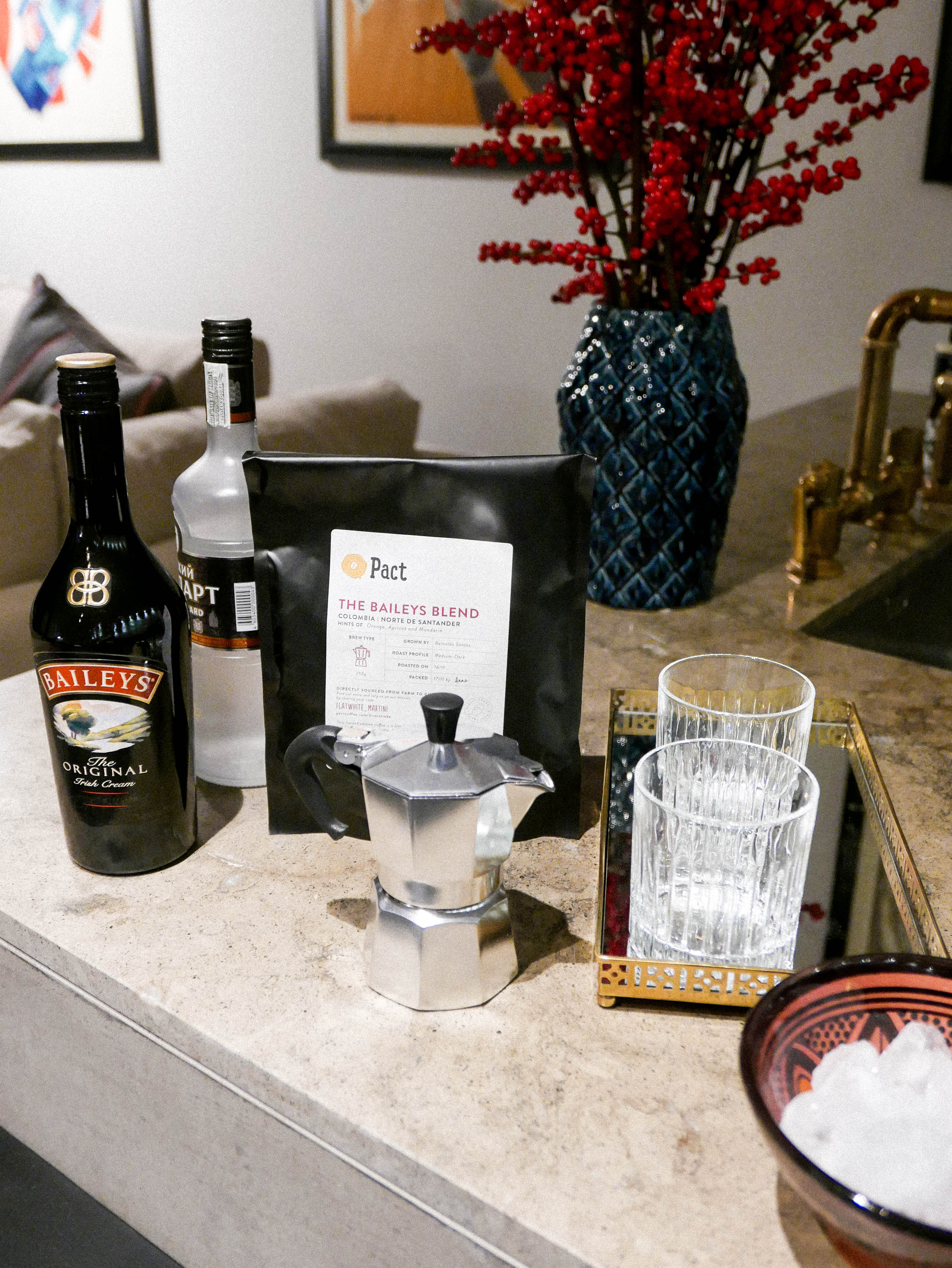 All the ingredients for the Baileys Flat White Martini.
I put the Bialetti on a medium heat to make the Baileys Blend espresso – it gives a little whistle when it's ready and should take just under 5 minutes.
Pour the espresso in a cocktail shaker or a mixing glass along with ice.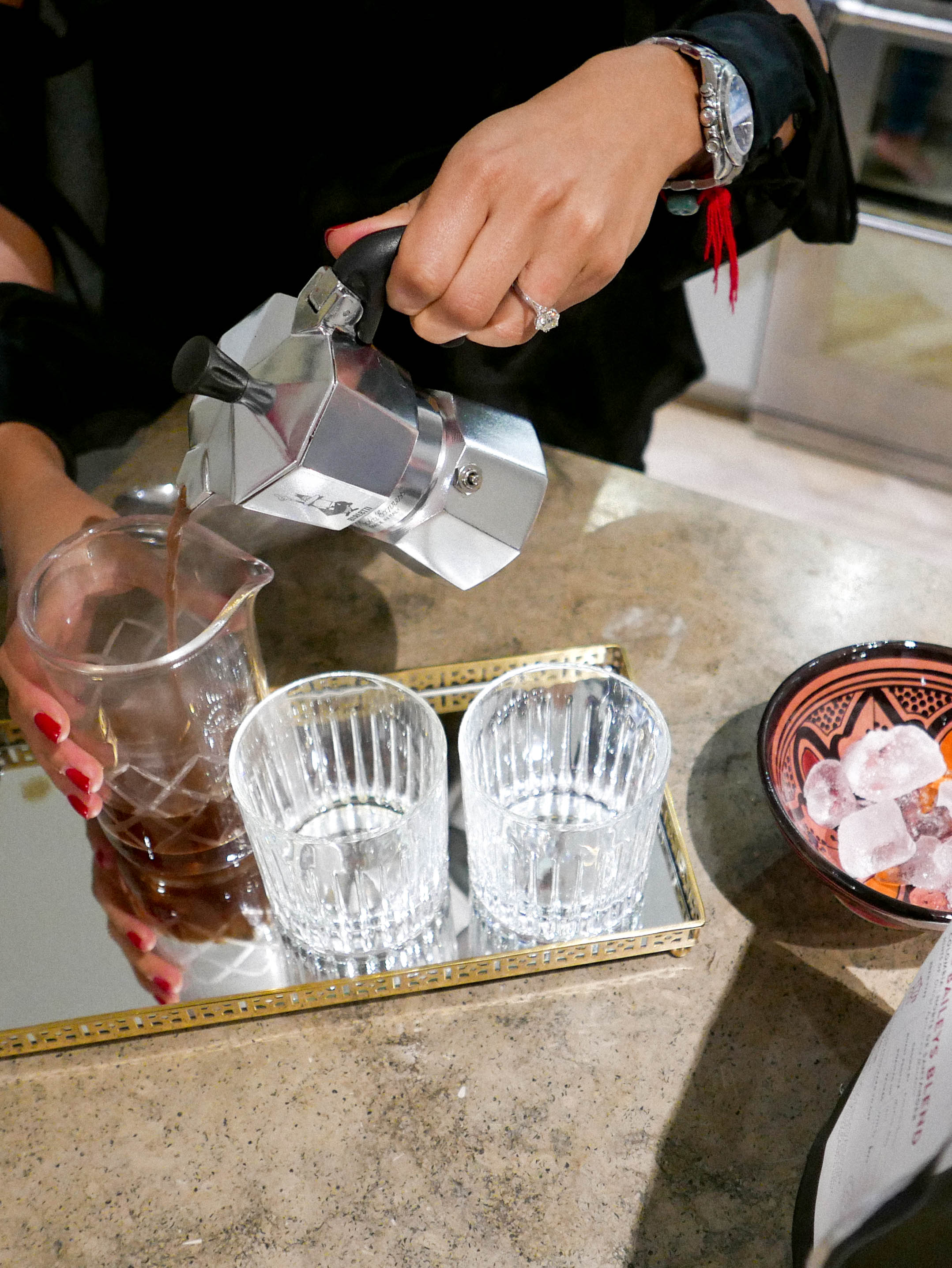 In goes the Baileys Blend espresso.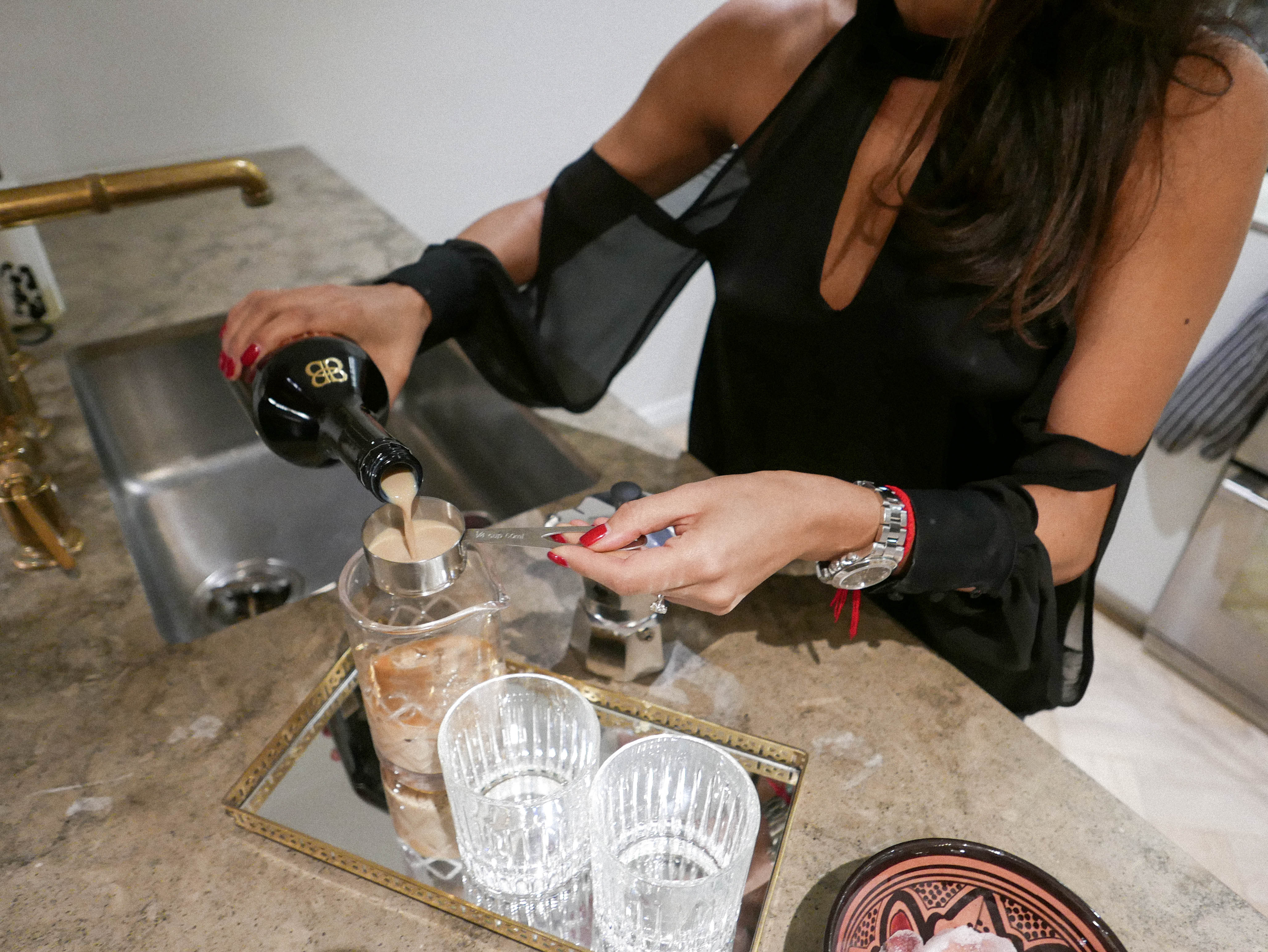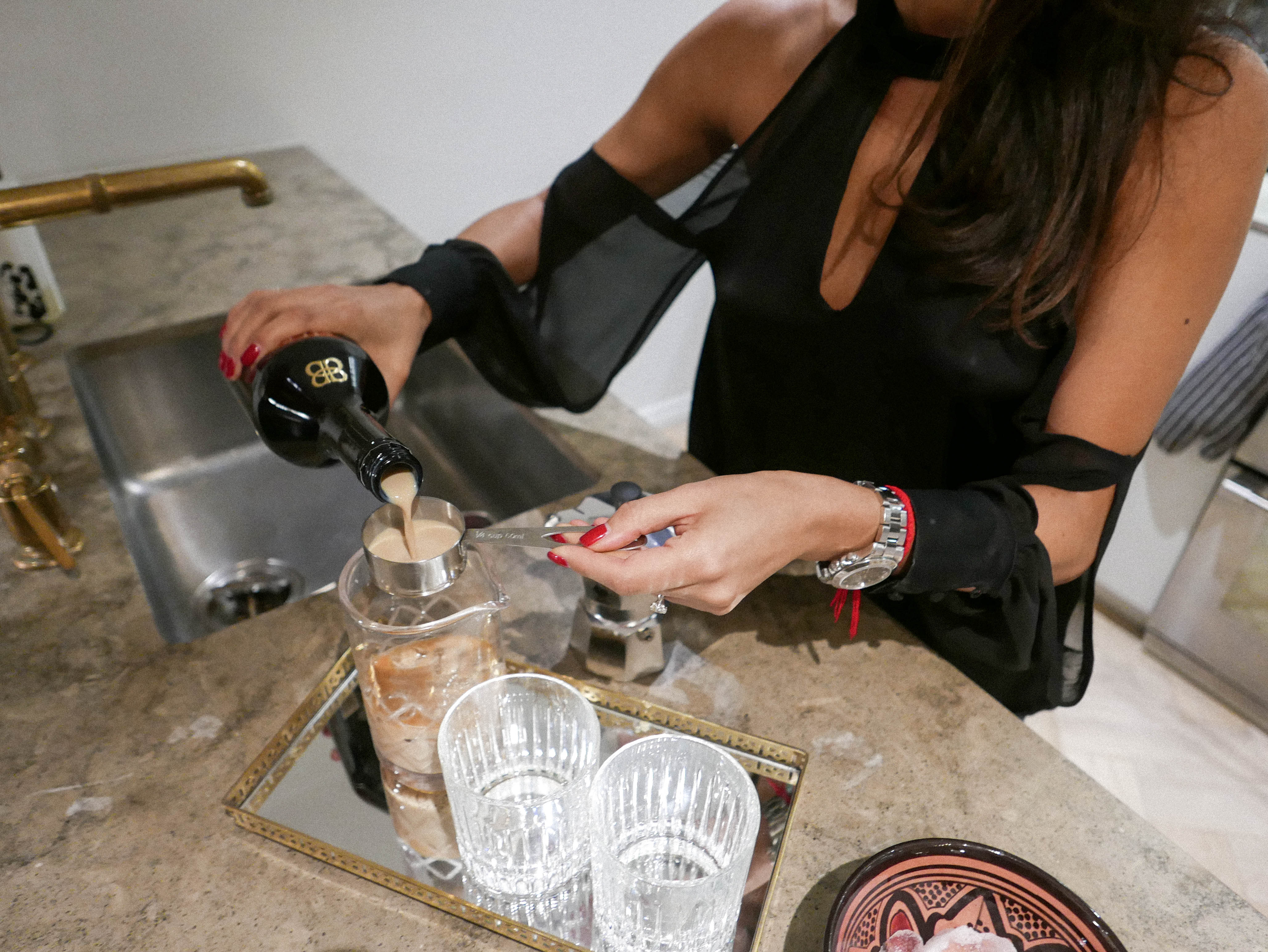 Followed by the Baileys.
Then the Vodka.
Whenever I have bought Martini glasses in the passed always break them almost instantly and sometimes on the way back from the shop before they even enter my house. I recently picked up these lovely crystal tumblers which I think do as good a job and also look really pretty. Shopping details are below.
Give it a little taste just incase.
Flat White Martinis are served.
And there we have it! The perfect espresso Martini.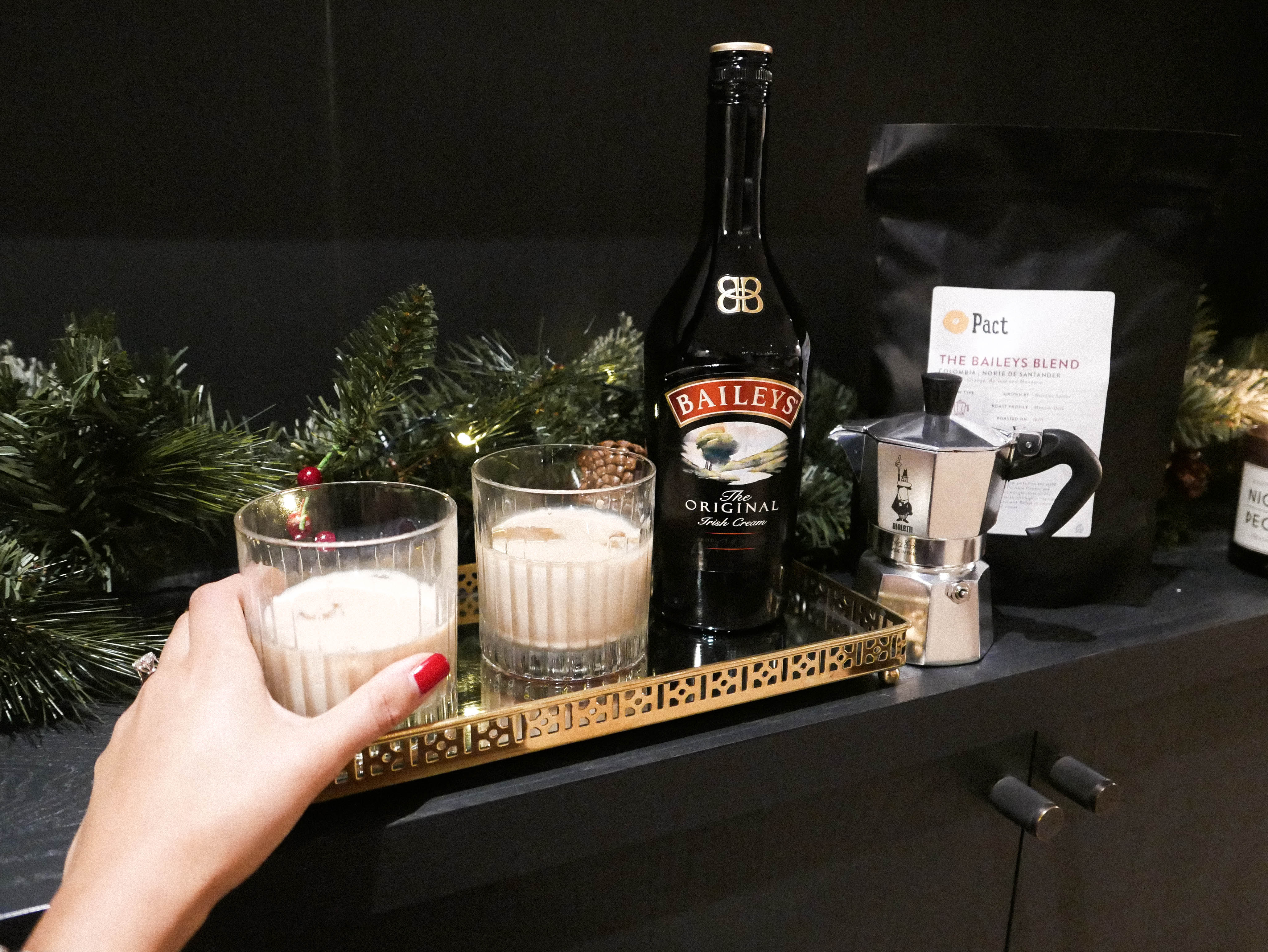 The Baileys Blend is available from Pact Coffee
Everything else…
Crystal glass tumblers | JD Williams
Mirror tray | Zara Home (similar here)
Black cut out top | Zara (similar here)
Jeans | MiH
Shoes | Celine
Wave hoop earrings | Dinny Hall (15% off with kavita15)
Studs | Maria Tash and Anisse Kermiche
This post was made in collaboration with Baileys. Hope everyone is enjoying the festive period and don't forget to stay hydrated and drink responsibly.
Kavita Cola x