I often get asked on what makeup I use on a daily basis so here we have it in the form of an 'everyday makeup' routine. To state the obvious if you read my blog: I LOVE makeup in general, especially recently I like playing around with different eye shadows and lip colours depending on my mood. However, this makeup is for those 'natural' days when I want to look fresh and alive without committing to anything too 'out there' – creating the illusion of 'no-makeup'.
I tend to do this on a daily basis whilst working from home, Sundays, post gym, travelling or anytime really. I hope you enjoy the post and if you have any questions I'd love to read your comment below.
After a cleansed, serum and moisturised face I like to add a little of my favourite eye cream by Kiehl's which is the BEST for reducing dark circles under eyes. A 28ml pot lasts me ages and all you need is a small spot which you rub slightly in between two fingers and then press it firmly around your eye orbital:

Then I spread a pea size amount of the Matte Perfecting Primer by Estee Lauder all over my face, mainly on the larger surface areas so my forehead, cheeks, and chin. This provides a great base for my concealer and foundation allowing it to sit well on my skin and not look too shiny as I'm slightly on the oily skin side at the moment.
After priming: onto the concealer.
At the moment I'm loving this Clinique concealer (it's works as a foundation and a concealer) in the colour 'Golden Neutral' using the wand applicator under my eyes, on my nose, on my forehead and on my cupids bow just above my lip… Kind of like contouring but I don't want to use that look because the over all look for this make up is natural and not too 'done'.
Then I add a bit of Traceless Foundation from Tom Ford. My perfect colour in this foundation is called 'Sable' which is spot on for me at the moment. It also has SPF 15 which is always important. I add a bit of this to my cheeks and upper forehead:
Then I dab and blend it all in with a Beauty Blender for a really even finish.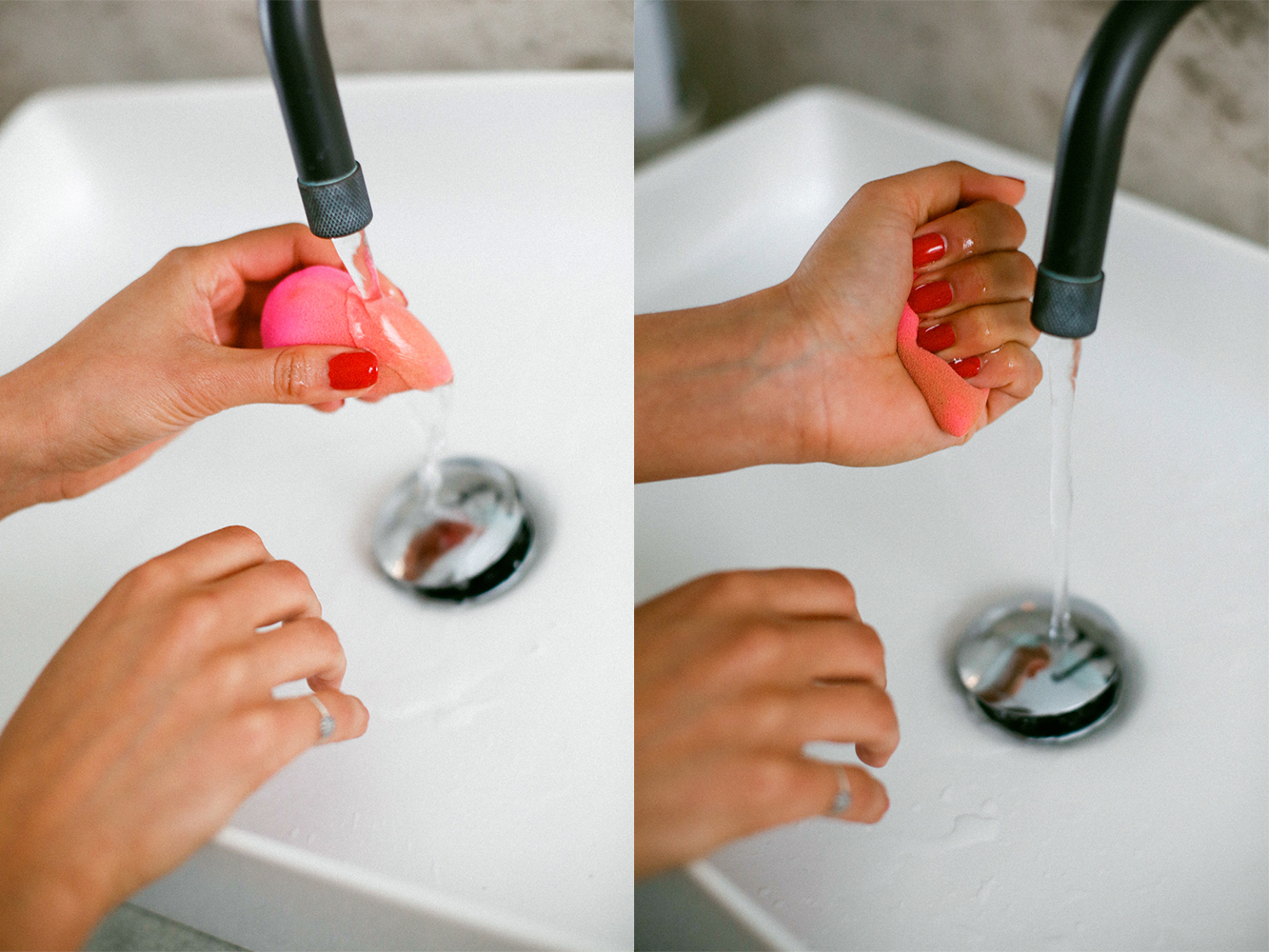 The beauty blender is like a sponge with tiny pores which fill with water when you wet it and wring it out forming a really soft and slightly moist surface which can dab and glide across onto your skin creating a really even cover of foundation to sit well on your skin. Side note – you can use minimal foundation or just concealer alone wherever you think your skin might be a bit uneven. You can then just blend it in really lightly with the blender for medium coverage.
Then I add a pop of pinky cream blusher with my finger tips onto my cheek bones. This one is a fresh pink by Tom Ford in the colour 'Pink Sand' that works well and looks natural on my Indian skin. The little palette has a mirror so it's a great one to pop in your handbag too
I add a bit of La Mer lip moisture to keep my lips plump and hydrated as I go along. This one has long lasting effects and hasn't left my side recently.

Then for the the BROWS. I touch up any gaps with my Rimmel Brows This Way – which is really feint and powdery. Then I use the brow mascara by Suqqu which has a really thin brush. I know brow mascara sounds alarming but it's actually a really delicate make up tool.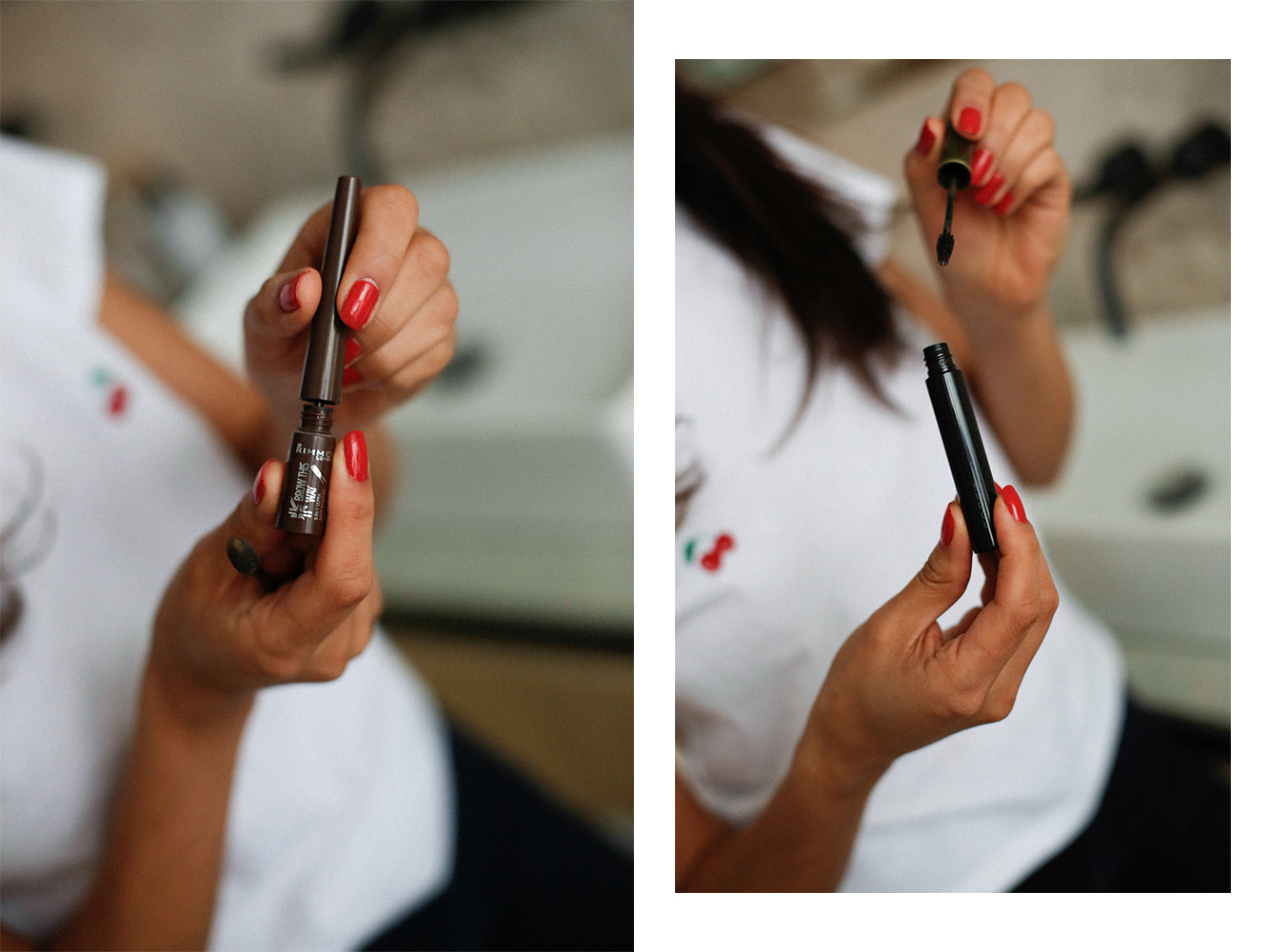 I see a lovely lady called Suman Brows who is amazing and I am overdue a visit for a tidy up. However I don't mind sometimes if my brows are slightly overgrown and not perfectly shaped because a touch of brow mascara just neetens them up perfectly.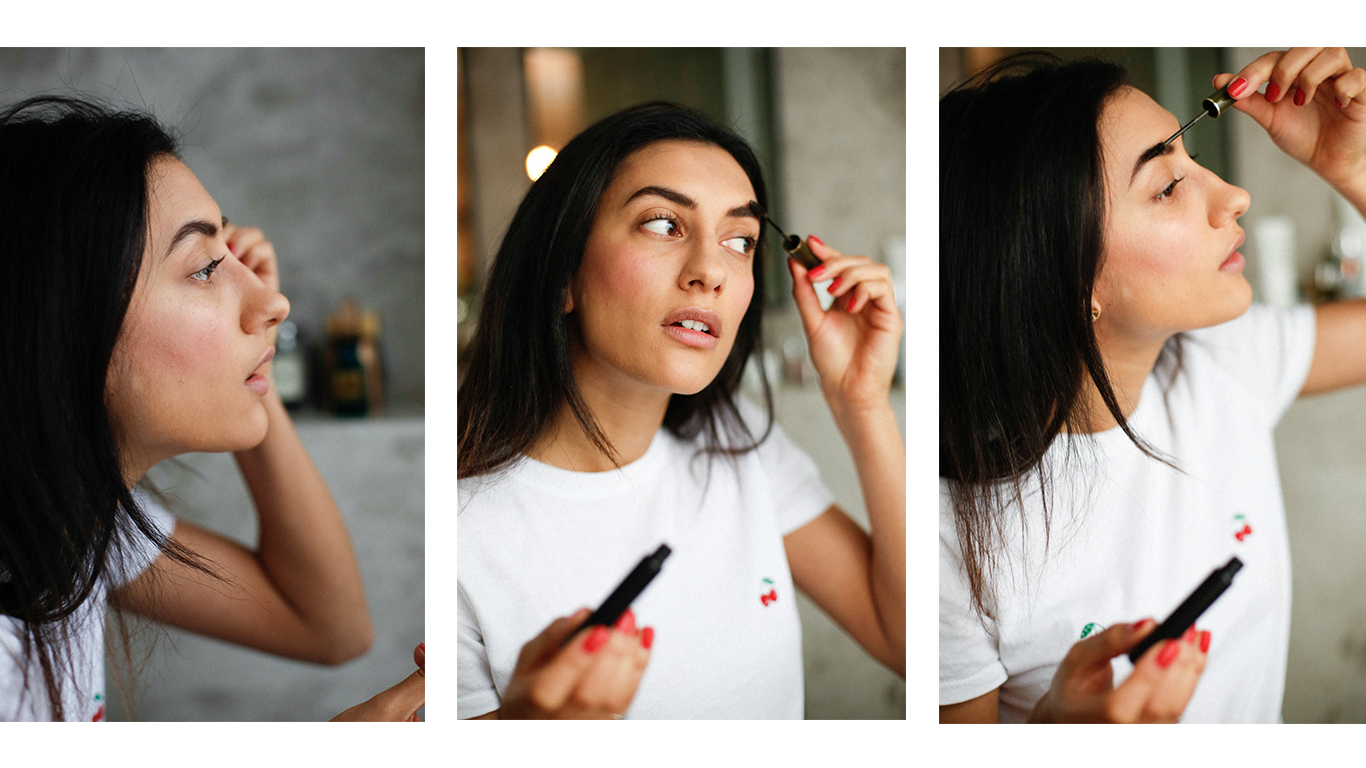 After this I use an eyeliner called Teddy by Mac for a really light enhancement of the eyes because its a very light brown. I draw it just underneath my waterline below the eye, and just above my lashes. 
You don't have to be too precise or precious about this because in the next step you just rub it in with a short brush. I use Charlotte Tilbury Eye Smudger Brush which is perfect for this. I love this part because it almost blends entirely but leaves a natural highlight on your eyes without seeming too made up.
Then onto the masara. For the day time I want my lashes to look lustrous but not too clumpy. For this I'm using a lash primer called Subversion by Urban Decay which is so good for separating and covering your lashes ready for a proper application of mascara. 
This Nars Mascara called Audacious is an everyday favourite because it has really fine bristles to get to every lash avoiding clumps.
Then for an ever so slight tinge of bronze called 'Saffron Sun' (doubles up as a powder too) I'm loving this Estee Lauder bronzer from Victoria Beckhams recent collaboration. I almost don't want to call it a 'bronzer' as such because it's more of a warming powder. Also how pretty is the packaging?
I sweep underneath the cheekbones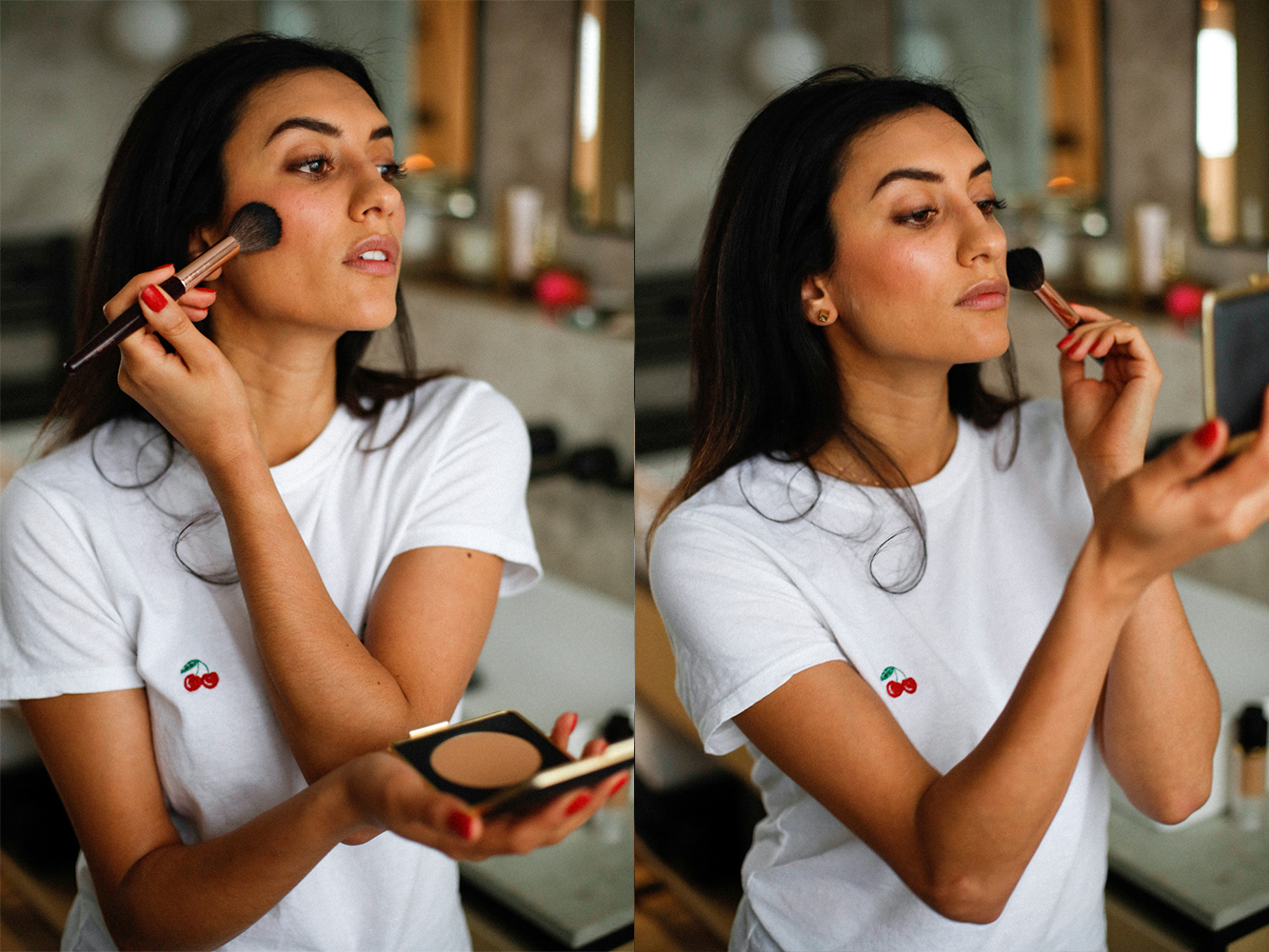 Above my forehead on my hairline and along my jawline
For the finishing touch I have an obsession with Hazelnut Tea by Laura Mercier Lip Liner – which basically makes your lips look like epitomical lips, simply enhancing their natural colour. It's quite similar to Spice from Mac which I also love, this has a slightly less pinkier tone perhaps more favourable for darker skin.
And what do you know – there we have it – an everyday makeup look! I have attached all products used below. x
Creamy Eye Treatment | Kiehls
Matte Primer | Estee Lauder
Concealer | Clinique
Foundation | Tom Ford
Beauty Blender | Selfridges
Cheek Blusher | Tom Ford
Brows This Way | Rimmel
Brow Mascara | Suqqu
Lip moisturiser | La Mer
Eye Liner | Mac
Eye smudger brush | Charlotte Tilbury
Lash Primer | Subversion by Urban Decay
Mascara | Nars
Bronzer | Victoria Beckham for Estee Lauder
Lip pencil | Laura Mercier
Photos by Frances Davison

Kavita Cola x