It's February I know, but I thought I'd do a blog post about a few of my favourite things that I did or just happened in January. If you follow me on Instagram it's usually full of them and recorded as I go along so I just picked out some of the highlights. From events, to beauty items, to dinners and to some new jewellery pieces that I have come across over the last month, check them all out below.
A lovely start to the month was designing my own pair of espadrilles with Penelope Chilvers herself at her boutique on Duke Street in London. It was a great creative morning with some healthy treats along with some fellow bloggers all putting together their unique fabric combinations together for this summers key espadrille by Penelope. Definitely sparked up a bit of excitement for summer in this dingy winter month. Her shop in Mayfair is gorgeous, and full of really unique shoes, boots and sandals each with their own identity. Can't wait to wear them this spring.
The prawn burger in a brioche bun at Granger and Co. Complimented with that jalopeno mayo… gets me everytime. A great place if you're after something balanced, fresh and tasty. It's an Australian influenced restaurant with hints of far eastern influence. YUM. https://grangerandco.com/
TV nights and sofa selfies with my new Linda Farrow gold frames. It's funny how glasses fashion goes round in circles right? I just absolutely loved this pair from the moment I saw them. Possibly somewhere along the granny spectrum however for me they are one of those zero fucks given wears. I am slightly short sited and often go without wearing glasses as I find them heavy however these are really easy to wear from a utilitarian perspective. I always love a gold overload.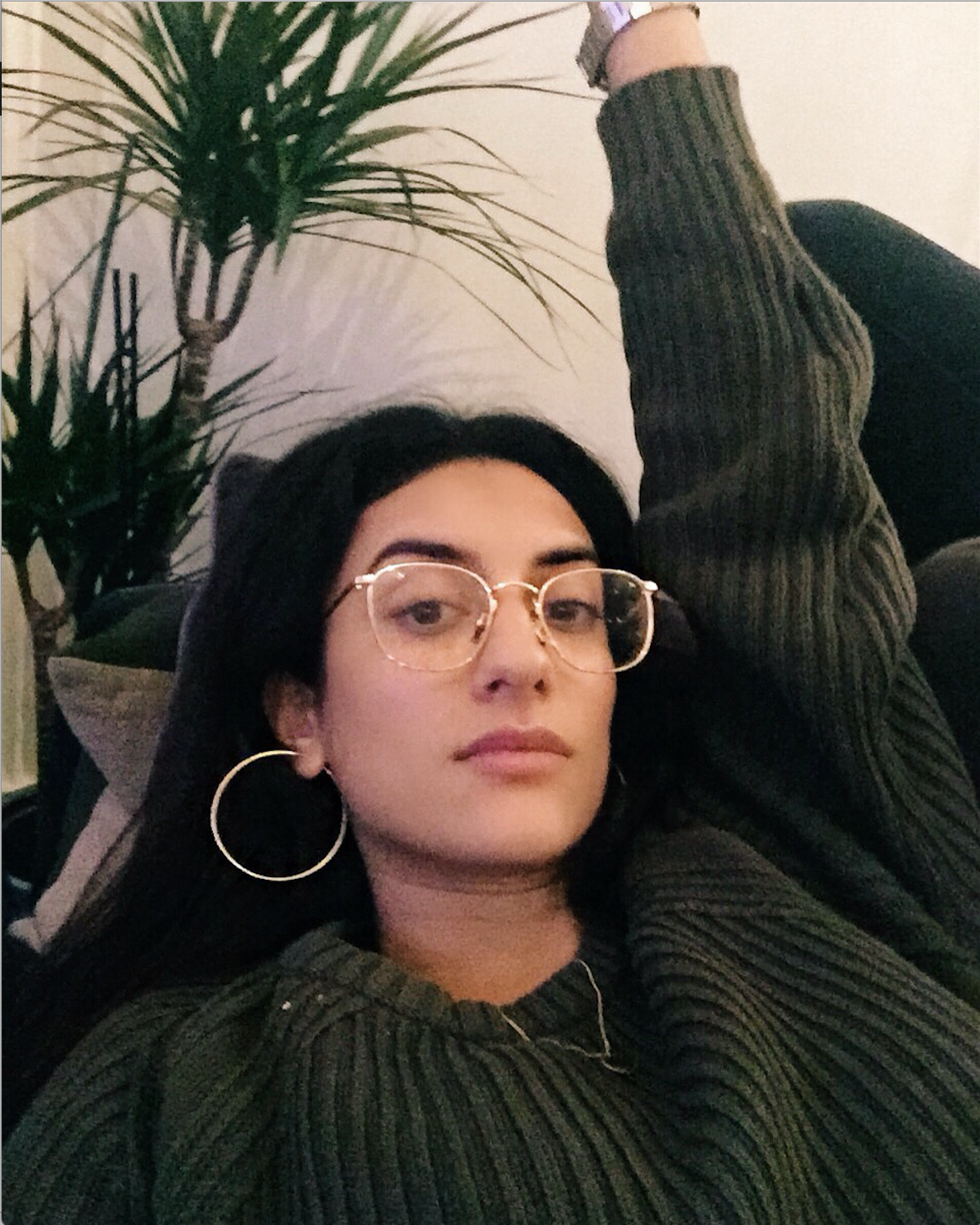 Modern Muse the new fragrance by Estee Lauder. A gorgeous mix of white florals and touches of tuberose; a luxurious scent and represented by the lovely Kendal Jenner in the ad campaign. Nails by Cheeky London.

Alexia Jordan Jewellery. Ok so I'm absolutely obsessed with these gorgeous dainty little rings. Rings were something I never used to wear when When I was younger I didn't have much patients for metals on my fingers but now they are now a staple part of my daily wardrobe and a perfect way to dress up a simple outfit.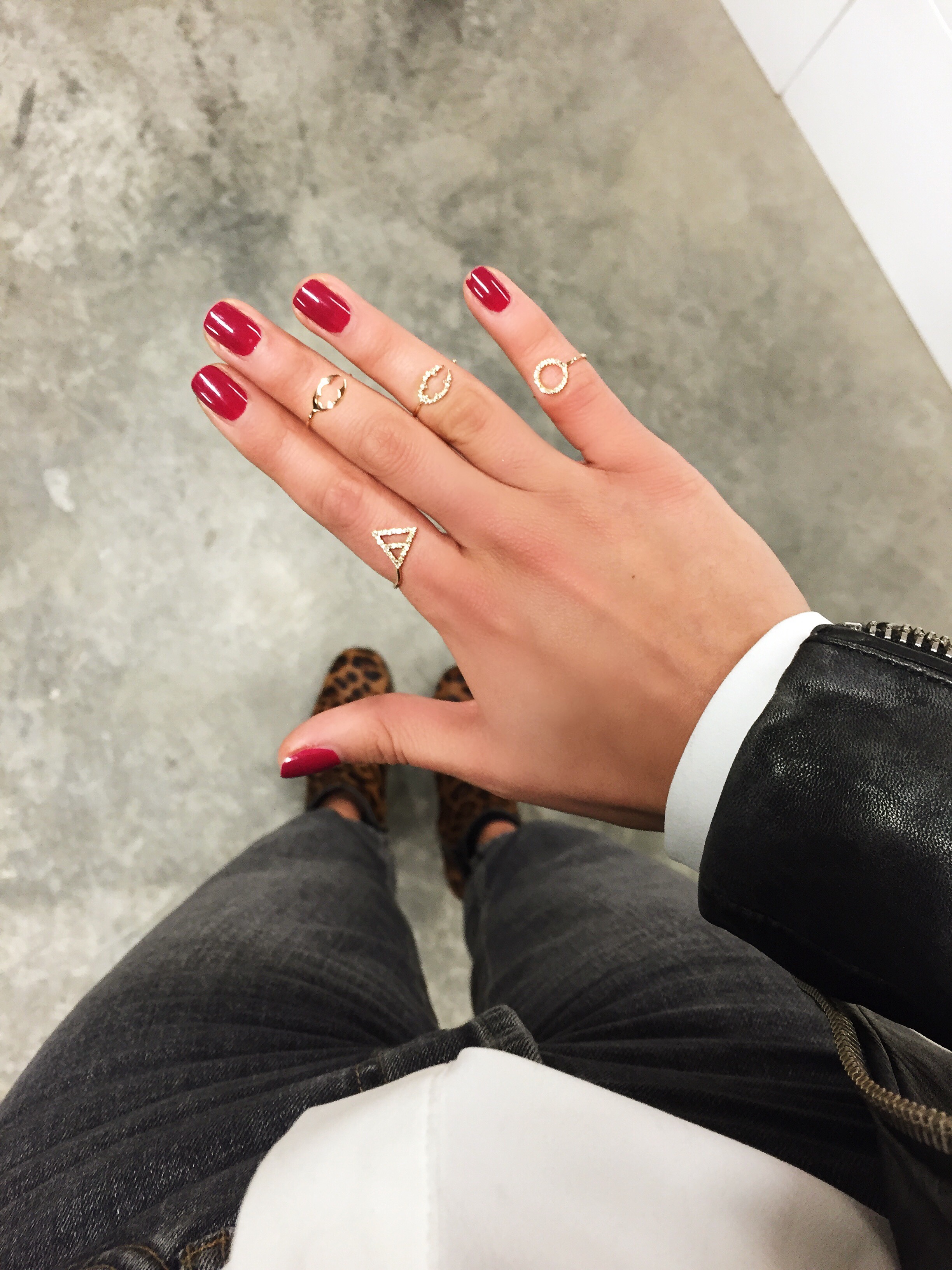 Long winter nights spent at home wearing matching Love Yawn payjamas. They are so unbelievable well made with consideration to pockets and buttons all in the right places. They have become my favourite lounge and sleepwear outfit so far.

Blush is the new black: The Celine Trio Bag. Every season I am itching to get a new bag, and usually go for something that will prevail over a few years. I love a little and convenient bag to see me through my day allowing me to only carry the necessary basics. With a larger handbag I will just fill it for the sake of it. I'm in love with this new little treasure as it brightens up my toned down looks, adding some discreet luxury without screaming too loudly.
The grilled cheese sandwich at Pont Street in the Belgraves Hotel. Goes agains't every kind of modern day good dietary advice around, full of gluten, full of dairy – yet possibly the most satisfying weekend morning fix. You can also make yourself feel a bit better by having it with one of their healthy juices from Pleanish.

Credits:
Espadrilles by Penelope Chilvers | Burger by Granger and Co. | Gold glasses by Linda Farrow | Modern Muse fragrancy by Estee Lauder | Rings by Alexia Jordan | Pyjamas by Love Yawn | Cheese toasty by Pont Street
KavitaCola x