It's been a long time coming doing a makeup tutorial on the blog, so here we are! I'm going right back to basics really with a slight emerald twist in showing you a full makeup look designed to last from day until night, right around the time of the summer solstice – the longest day of daylight all year around. In this post I'm using a concoction of a few favourites from Estee Lauder focussing on the full coverage Double Wear foundation which truly does last a day whilst staying entirely in place, even in this heat. I wore it on my wedding day which worked a treat ;).
When it comes to applying makeup there are a few steps that I take in order to maximise the lasting power and here they are in full beam step by step. I have attached the shopping links throughout the post along with the full shopping list of the products and colour ways that I used. Enjoy! x
Starting off with The Smoother Primer, which feels invisible when you put it on your skin. It sits completely smooth (like it says on the tin) without any trace of grease whatsoever.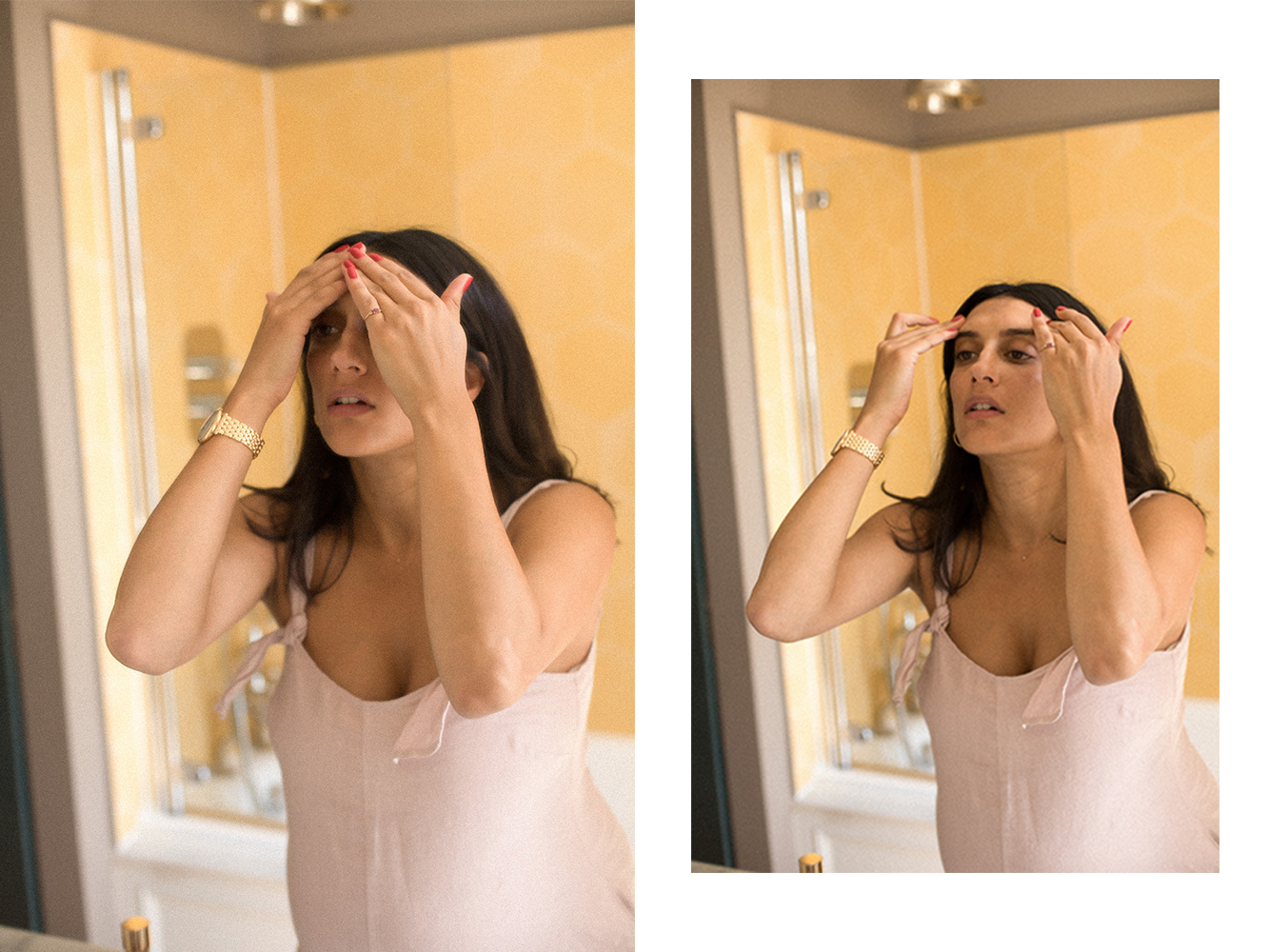 Onto the Double Wear foundation where I am wearing the shade Rattan 2w2 which I apply with my fingers and then blend in with a flat foundation brush.

Onto the custom coverage correcting Double Wear duo concealer. I apply this straight onto my under eyes and around my lip area and literally pat in with my fingertip really finely. I take a little bit of time doing this as the dabbing motion is much more efficient way of setting it on your skin as opposed to dragging it across – so make sure you do this. Also don't be afraid about under applying it, if you feel you don't need the concealer in certain parts – don't apply for the sake of it. Just make it work when needed. 
I'm still so obsessed with this blusher palette from the Poppy Sauvage collection, it's the perfect dash of colour for my cheeks and very subtle. You can use any blusher really, one that works with your skintone of course. Blusher is for layering so don't be afraid start slight and keep on going.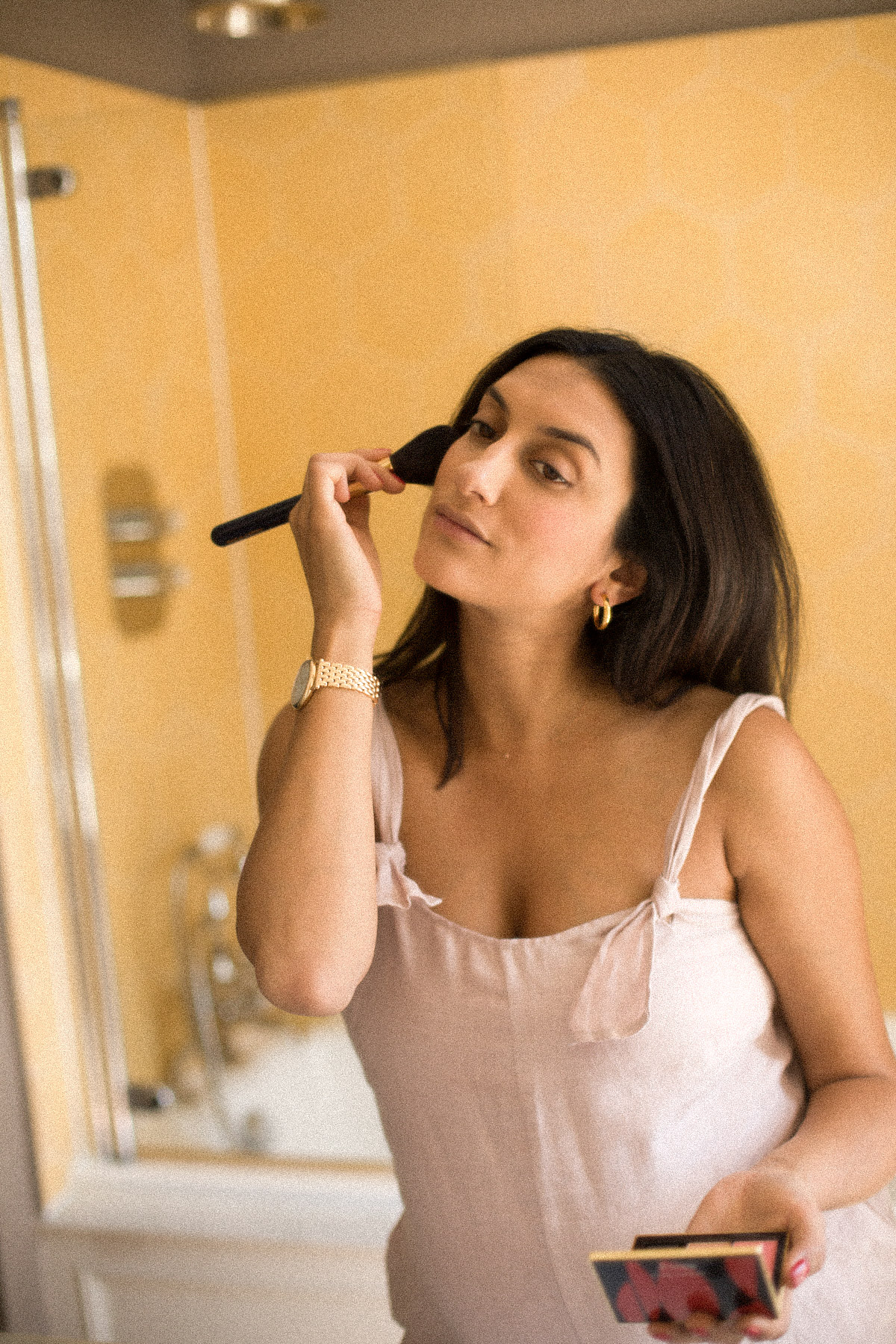 Brows. The Brow Multitasker I have to use something double ended. When applying brows I don't like to draw them on, just fill gaps slightly to make them fuller. I then use the brushy end to brush them out, plus blend the colour in to avoid any drastic dark patches which is very easily done as I prefer a more natural look.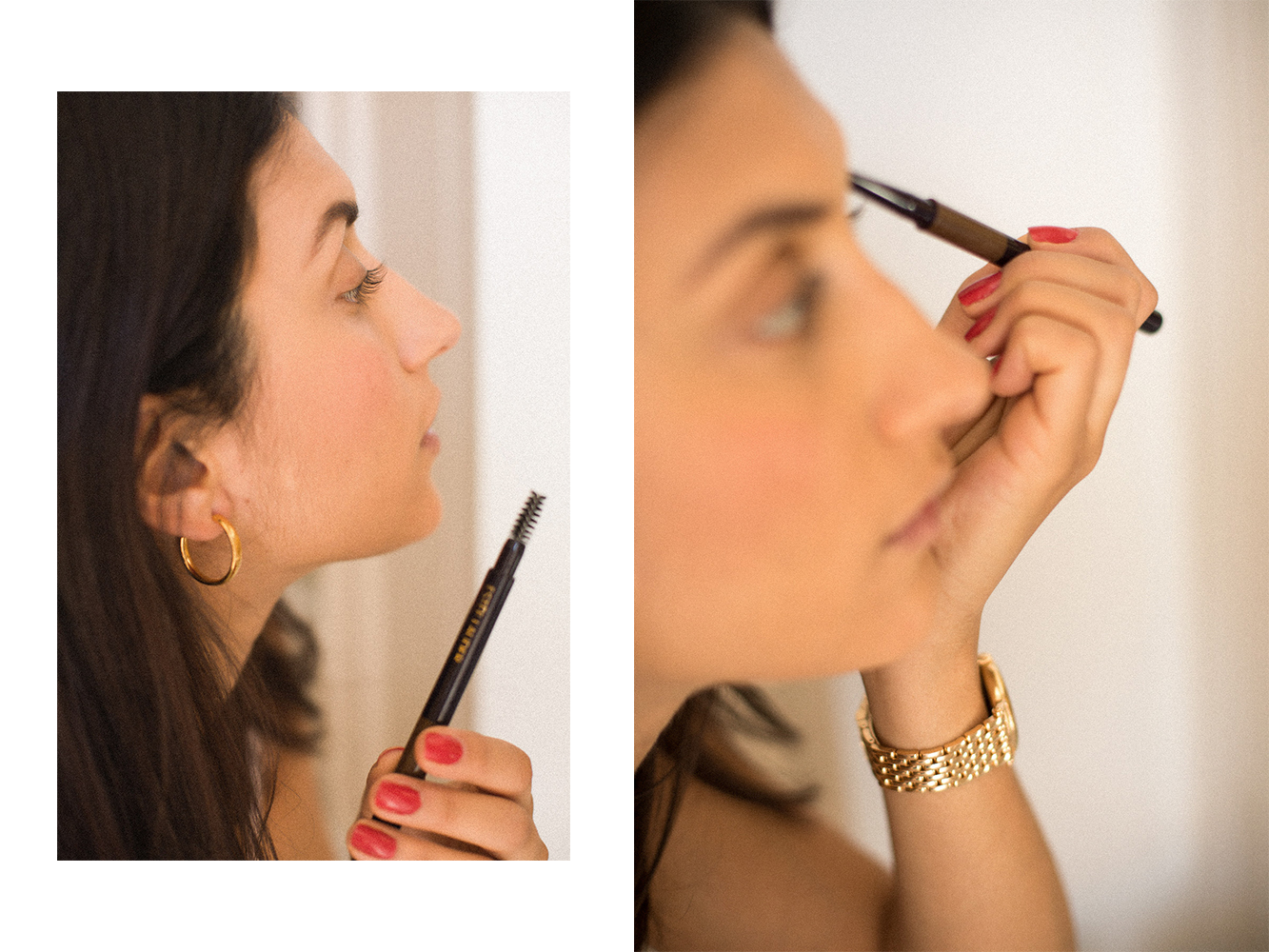 Going for a little shimmer along the lid, which just makes the eyes pop ever so slightly, I'm using the cream shadow paint in 'Wicked Peach' along the lids. Applying directly onto the lid and blending it in with my finger tip and an eye shadow brush if it's in reach. No need to spend hours doing this – I love the shadow paints because they make application so quick and easy.
Going for a little bit of a green twist today. Not a full eye, just enough to give the makeup look a little something. Green also really compliments brown eyes too. I'm using a Magic Smokey pencil in  Sea Smoke along with a Double Wear eyeliner in Emerald Cult which I use for tightlining.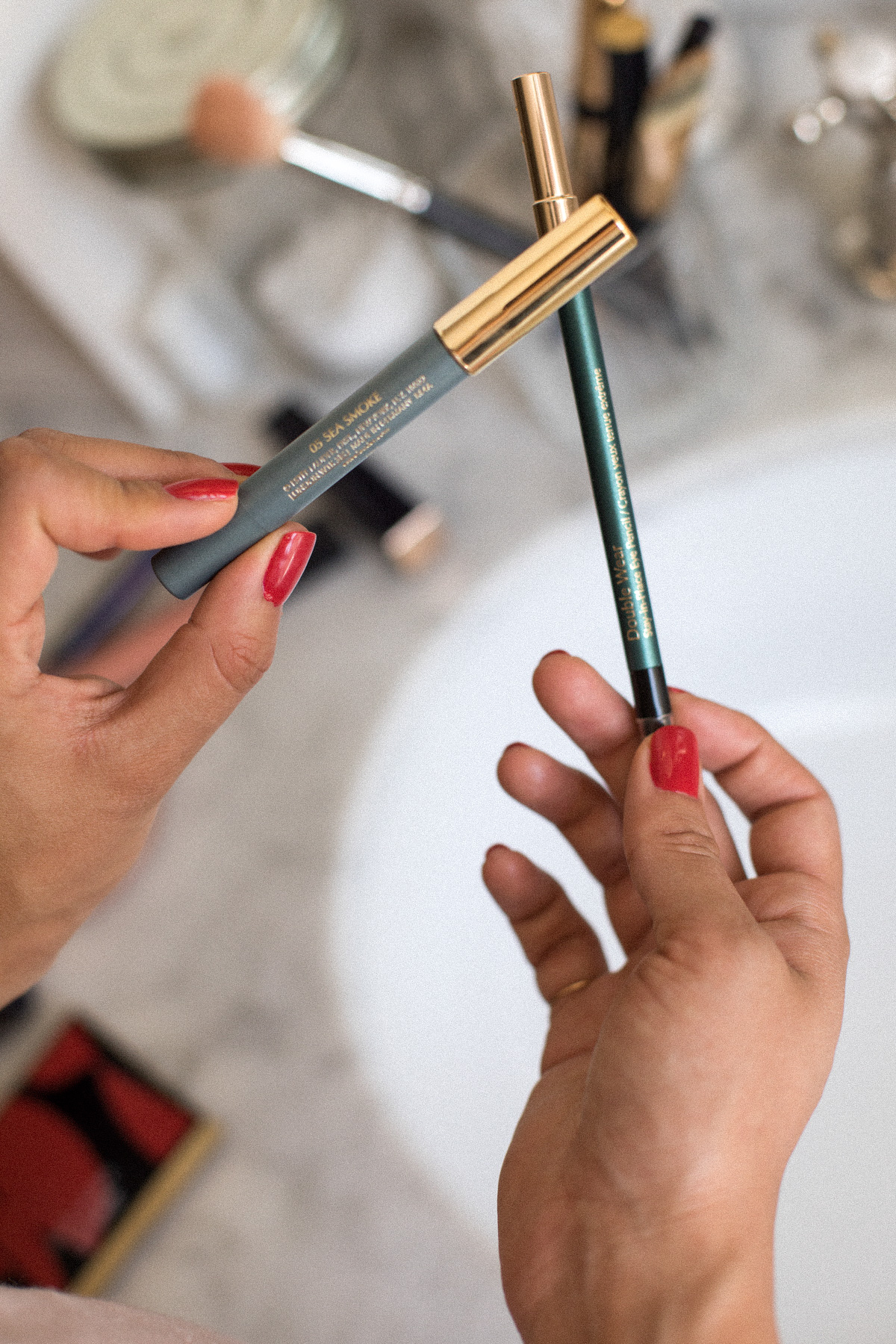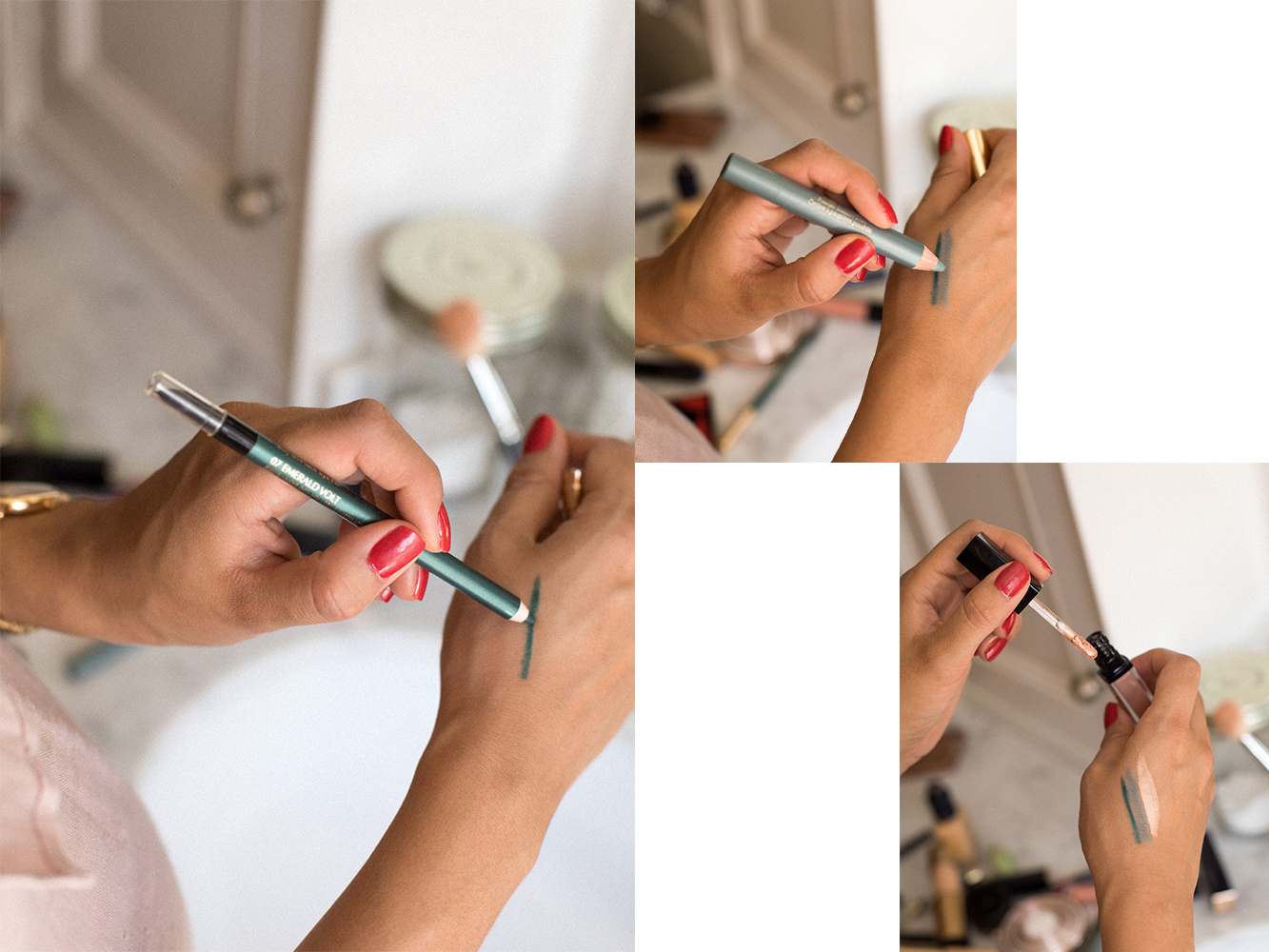 Onto the Volume Mascara, another one great for layering. With mascara I like to layer it and use a clean mascara brush in between applying. Even let it dry before the next application for that really dramatic effect.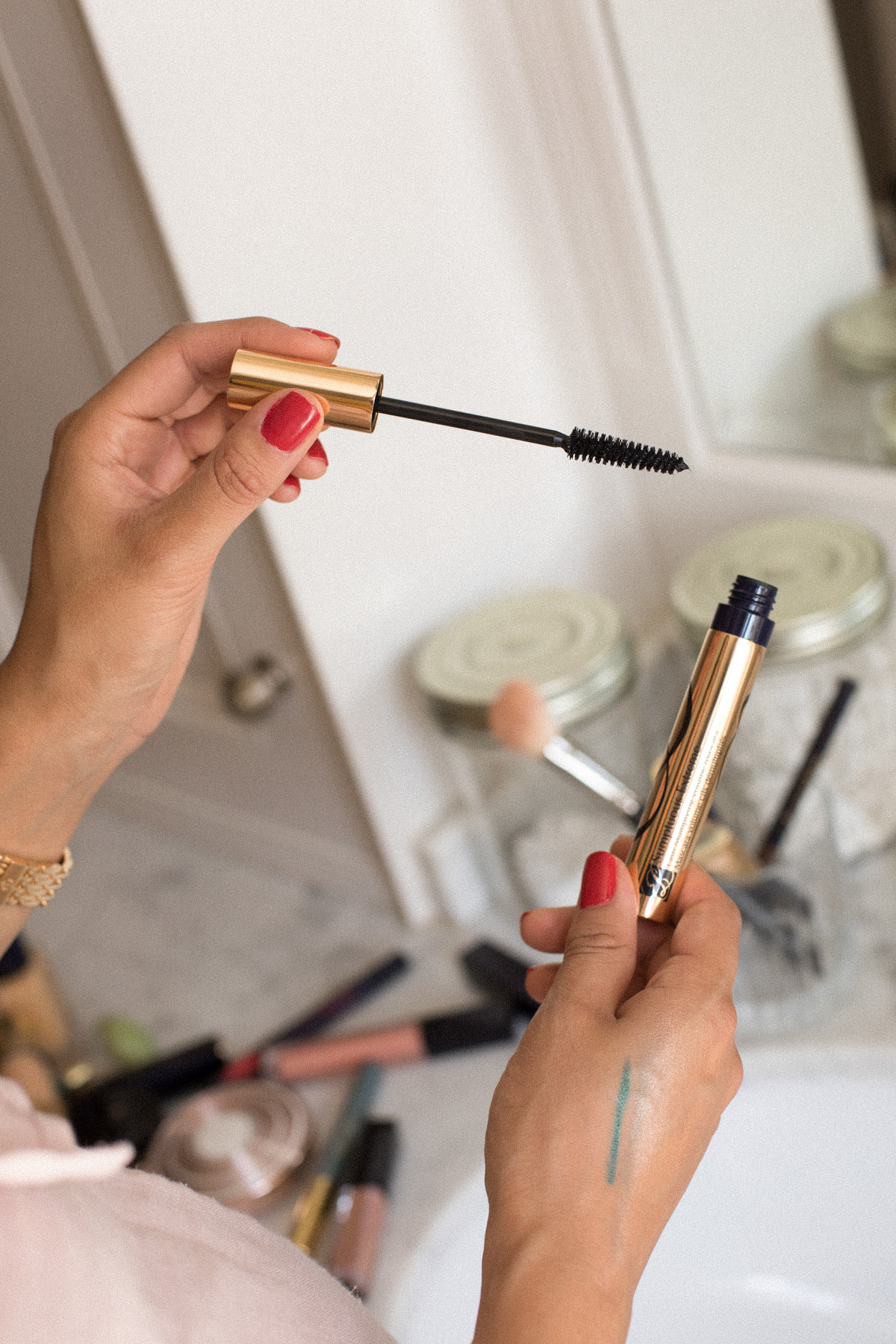 A little moisture for the lips with Blooming Lipbalm.
At last a little ice dusting using the highlighter from the latest Bronze Goddess Collection this year. It's serious stuff so literally just a touch. It's perfect for summer.
There we have it, a natural look designed to last.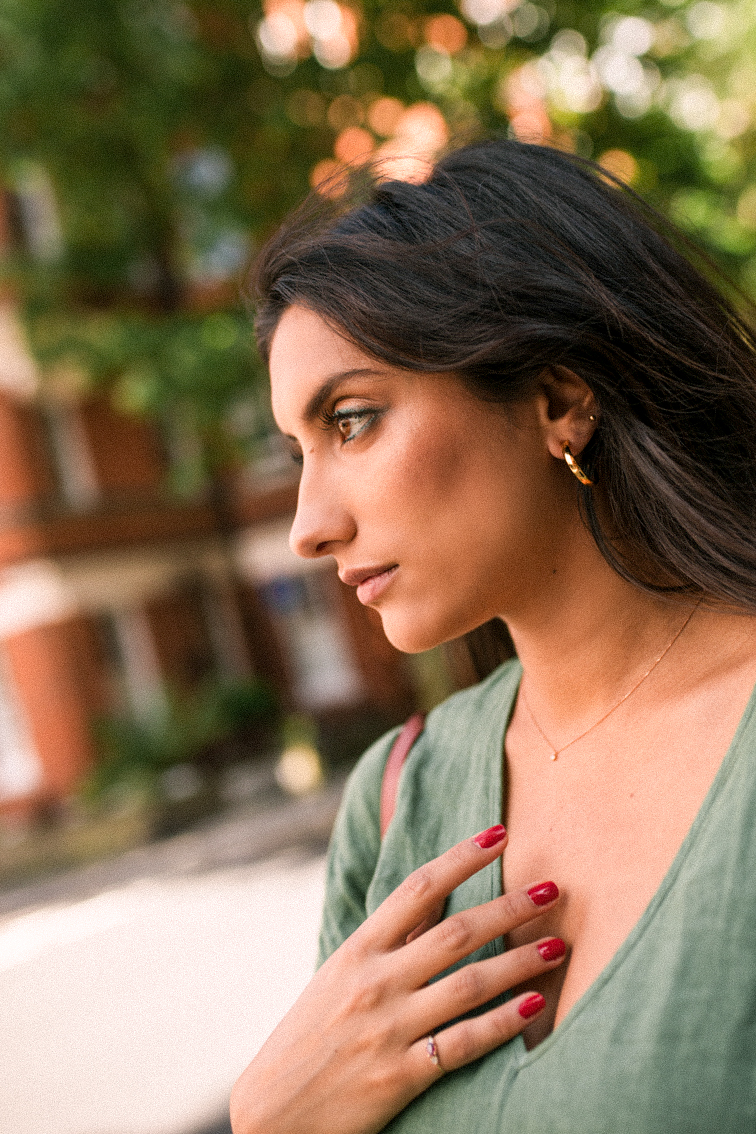 Double Wear foundation | Rattan 2W2
Double Wear concealer | Apricot
Blusher | Pink Kiss
Brow pencil | Chestnut 
Shadow Paint | Wicked Peach
Powder Shadow Stick | Green Smoke
Double Wear eyeliner | Emerald Volt
Mascara | Sumptious
Lip balm | Blooming
Highlighter | Bronze Goddess
Pink short linen jumpsuit | Beyond Nine
Green linen dress | Zara
Mule shoes | Mango
Trio bag | Celine
Necklace | Aurum & Grey
Hoop earrings | Monica Vinader

Kavita Cola x
This post was created in partnership with Estée Lauder
Photos by Frances Davison