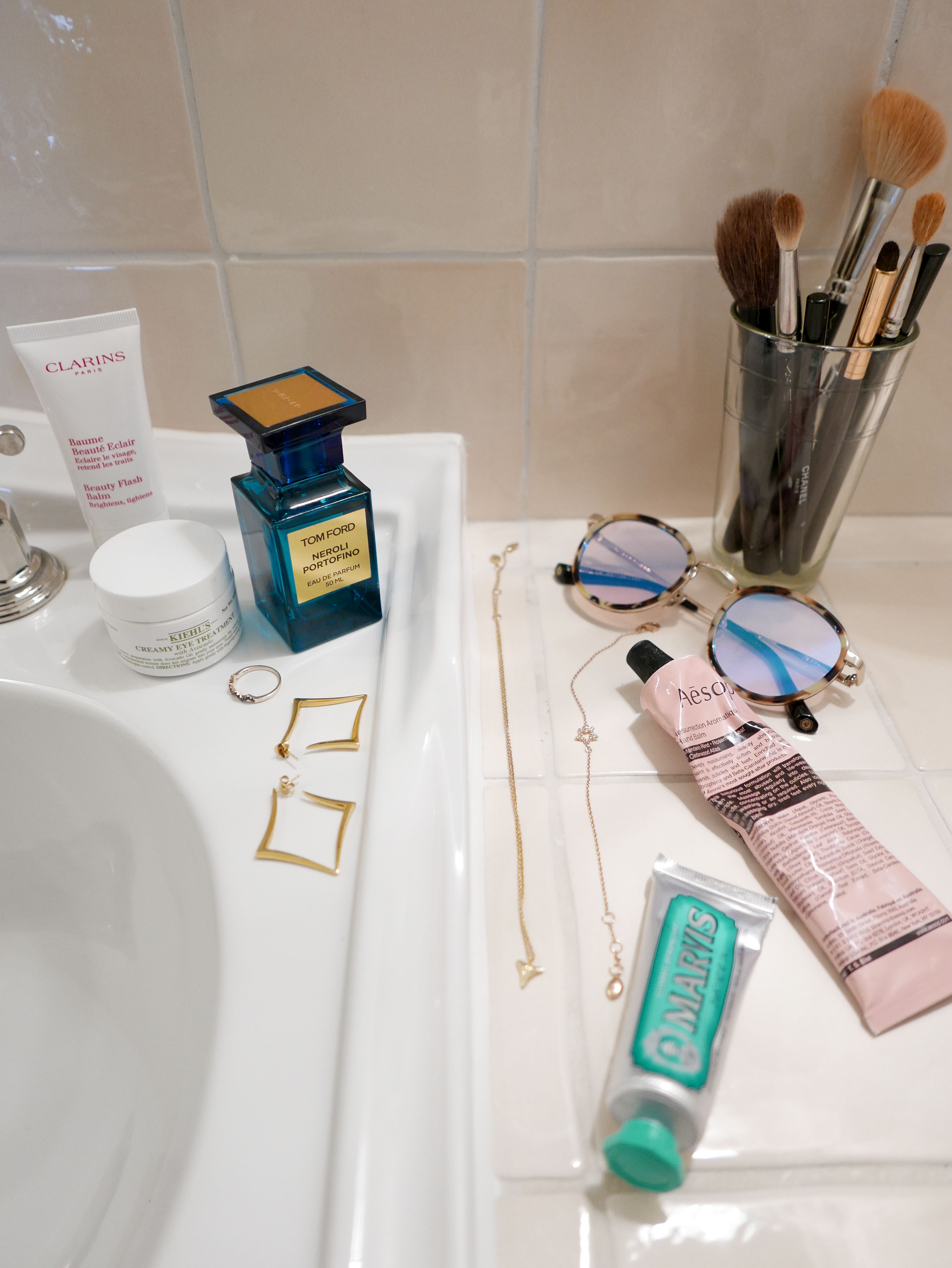 So far this summer I feel like I have been living out of a bag. I'm not complaining at all, because it's been so much fun seeing people and going to so many different locations for weeks and weekends on end. A recent weekend trip to Soho Farmhouse (I'm in love with this place) in the Oxfordshire countryside The Cotswolds, I dissected some of my weekend beauty essentials that I tend to rely on when travelling.
If some of you have stayed at Soho Farmhouse or any of the other Soho House hotels, their bathrooms are well equipped with Cowshed products. They all smell delicious and tend to have natural aromas and essential oils so won't cause much irritation to your skin. I packed quite light on the beauty front as I knew I would have more than the basics provided at Soho Farmhouse. Here are my current weekend beauty essentials that I can't seem to go anywhere without.

Taylor Morris London Sunnies – The only pair of sunglasses that are giving my Celine sunglasses a good run for their money. I picked this tortoiseshell frame with a slightly mirrored lens, just enough for sun protection, but also a great accessory when you are going simple on the fashion front. This particular pair is called the Zero which comes in quite a few different colours available at Harvey Nichols  and on their own site. 
Portofino Neroli by Tom Ford  – My new obsession. Firstly the bottle in aquamarine reminiscent of the mediterranean ocean already has you smelling summer before you've even sprayed it. Inspired by the luxury Italian riviera resort town of Portofino, known for its old-world glamour, incredible landscape and tradition, Portofino Neroli has nailed a summer scent for me. My favourite part of this eau de parfum is the fact that it's perfectly suitable for men and women. Winner. In the 50ml bottles it's the perfect travel size and won't get snatched off you if you're flying.
Beauty Flash Balm by Clarins – I'm happy to veer away from my usual moisturiser if it's just for a weekend or so. Beauty Flash Balm (although it's called a balm) it's basically a super cream that is perfect for deeply hydrating the skin whilst still feeling quite light on your face so isn't greasy at all. It's really uplifting for fatigued skin, a bit of a pick-me-up and is great base for makeup – again, something I wear a lot of on a weekend away.
Marvis Toothpaste – I feel like this looks like the epitome of the-first-toothpaste-ever-made. The Marvis classic mint toothpaste has fluoride included which stops tooth decay, whilst also fighting plaque and tartar. It's super stylish and nostalgic, this is flavour is strong peppermint which leaves you with a freshly cleaned scent, which lasts for hours. Perfect for weekend travelling!
Aesop Hand Moisturising balm – Our handy hands go through so much all day long, hand washing, various different encounters with products, general manual labour all day long. It's so important to keep them moisturised as the are likely to age the quickest. This Aesop number is worth the larger tube and tackles dry nails and cuticles too. Love it.
Creamy Avocado Eye Treatment by Kiehl's – Right – so this particular eye cream is definitely the longest lasting cream I have ever used consistently. I honestly think it has turned back time when it comes to dark circles forming under my eyes. When I was younger it was something I was really conscious of. I now don't notice them as much and I honestly think it's due to this rather special eye cream. The little pot also lasts an age. The trick is, get a tiny dot on your index finger tip, rub it together with your opposite finger tip so it becomes slightly watery in texture as opposed to creamy, then press it all around your eyes to your temple bones. Especially for indian skin which can tend to have dark circles, it's a serious necessity!
One-Step Facial Cleanser by Clarins – The perfect one-step cleanser. Sometime I can't overly be bothered to go through my usual three steps of removing my makeup. Particularly on weekends away which are likely to consist of late nights and boozing, you kind of just want to get the pre bedtime cleanse over and done with quite quickly. Of course – remove your eye makeup before (always) but afterwards, pour a dash of this Clarins one-step cleanser onto a cotton wool circle, and wipe all over your face gently which cleanses, then turn the pad over and do the same with the other side of the pad, which acts as the toner. The formula separates because the cleanser is oil based and the toner is water based so it's literally two things in one. Tada!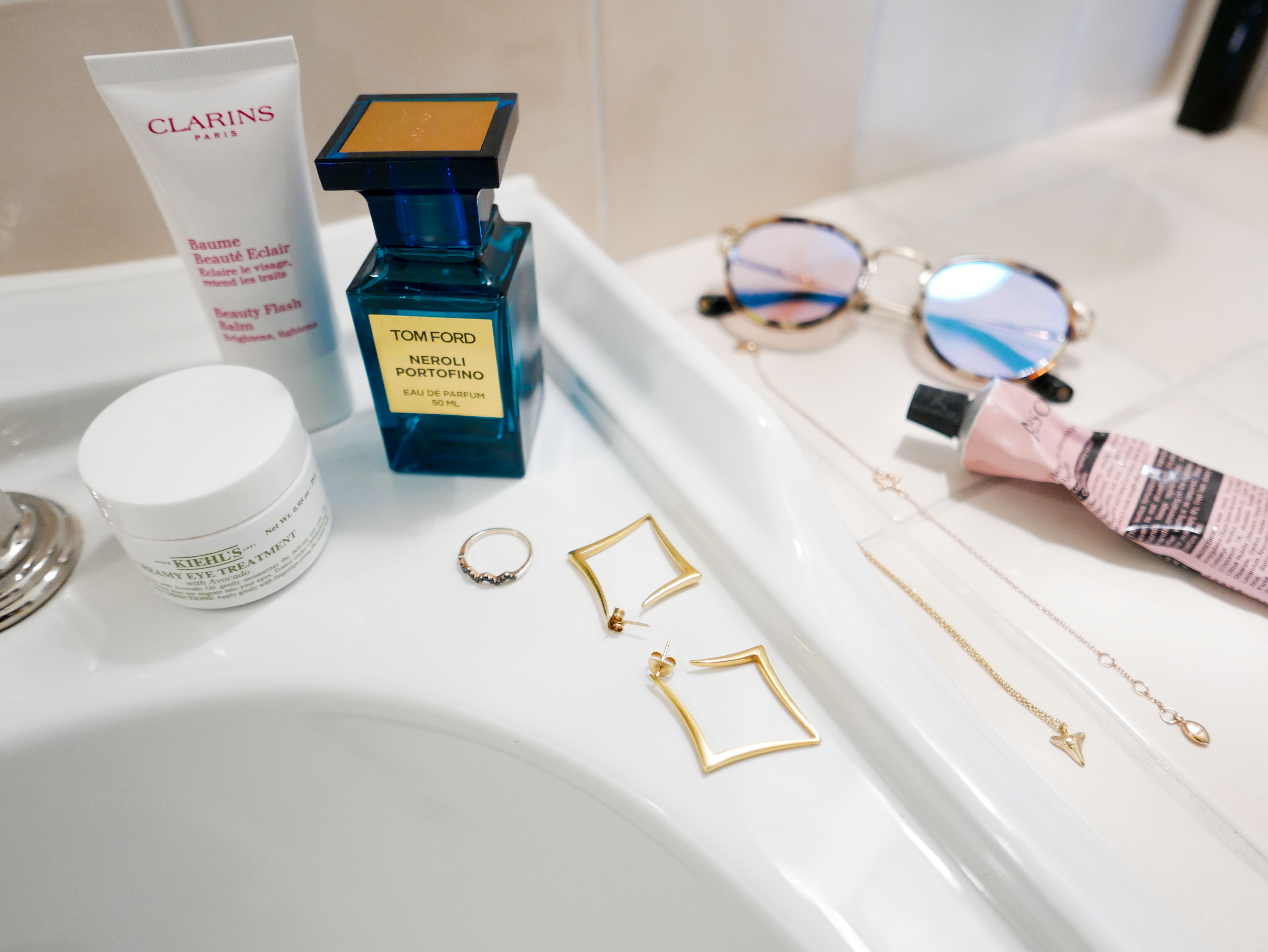 Jewellery
Rose gold ring | To The Nine London
Earrings | Dinny Hall
Gold tooth necklace | Missoma
Rose gold star bracelet | Missoma
Beauty
Sunglasses | Taylor Morris London
Eau de parfum | Portofino Neroli by Tom Ford
Face cream | Beauty Flash Balm by Clarins
Toothpaste | Marvis
Hand cream | Aesop Hand Moisturising balm
Eye cream | Creamy Avocado Eye Treatment by Kiehl's
Face cleanser | One-Step Facial Cleanser by Clarins

KavitaCola x