Whilst the seasons are changing I am always in a mindset of de cluttering my wardrobe in order to make room for more exciting purchases. As much as I am partial to a ridiculous pop of colour or a gregarious print especially when the sun comes out, I often find myself adhering to something more low key continuing to revert to the classics.
I always think it's good to invest in a few of these 'basic' elements to keep on a turn around at the top end of your closet, particularly for those days when you're rushing around or literally just over it and don't have the will to dress (happens to the best of us).
This season seems to be bombarded with off duty esque looks, shirts and casual denims, on the Parisian fashion pallette of whites blues and blacks (love love love). From trawling through Pinterest and various other Tumblr pages for inspiration of basics I felt it about time to put some celebratory emphasis on the understated look.
Basically, a clean white and slightly oversized shirt from Equipment, a go-to brand for silk shirts. Some really well cut denim shorts from Alexa Chungs collaboration with AG Jeans. I'm a particular fan of this pair of denim shorts because I can sit in a public space without constantly having to hitch them down in paranoia of indecent exposure, due to the way they are cut slightly longer on the leg. They are also high waisted which also good for elongating the vertically challenged. To complete the look I added some basic-luxury in black, the one and only Celine Trio bag. Moral of the story is: make your basics not so basic if you can and they will stick around for a while. Outfit details below. x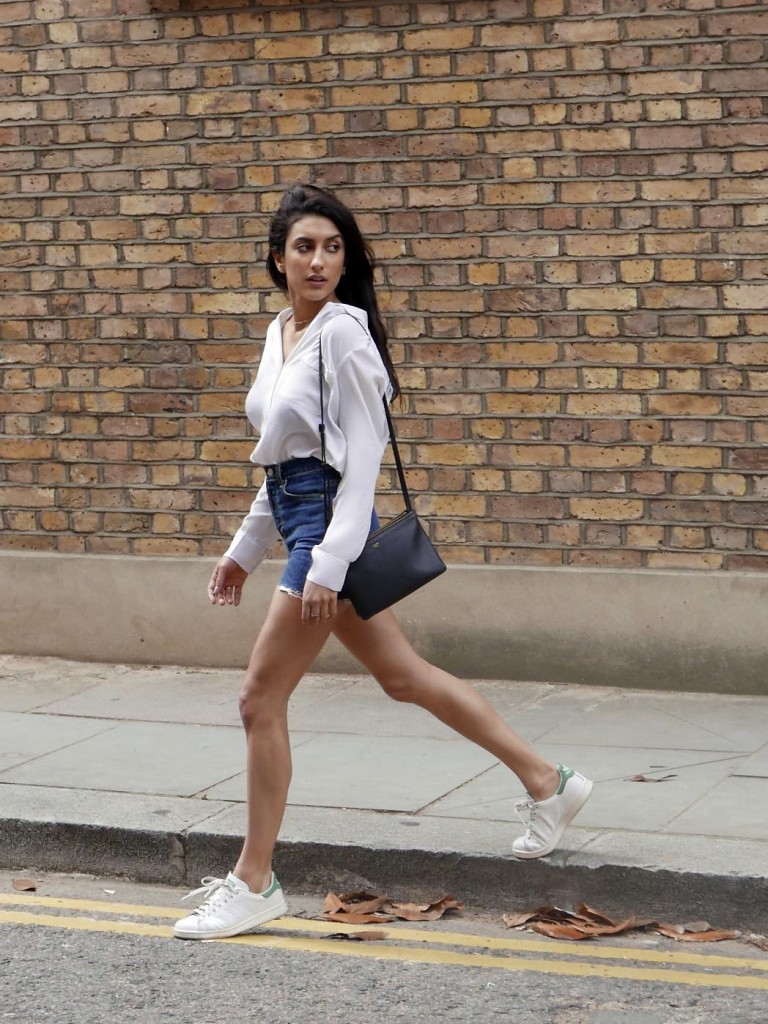 Silk White Shirt | Equipment
Denim Shorts | Alexa Chung for AG Denim
Trainers | Stan Smiths by Adidas 
The Trio Handbag | Celine
Ring | Gemporia
Gold Studs | Dinny Hall
Kavitacola x
Photography by Lu Hough | lulaandrosie.tumblr.com