As a contributor to The Debrief online, Grazia Magazines online outlet, I regularly get out on the field to check out what's new in the shops. Essentially to have a real graft and selfie session in the changing room #changingroomselfie.
So, I'm officially a convert. I'm going to be completely upfront about this – I have never been an & Other Stories fan. As a blogger and stylist, it's generally my code to just not pay attention to things I don't vibe with, but this weeks fashion revelation is a new found love for H&M's luxury sister brand & Other Stories. My reasoning for not having been a lover of the brand before – despite friends always raving about it – is that items never seem to jump out at me on the hangers. But after popping into the store on Regent Street for an overdue dressing up session, I couldn't be more sold on all the individual pieces I tried on. Any questions about the outfits from & Other Stories? I was convinced so I hope you will be too, I'd love to hear your personal comments.
THE SUMMER BRIGHT
Absolutely loving this bright coral dress. Deceivingly not a show stopper on the hanger, but when I tried it on it's got that perfect drop waist belt that falls in just the right spot. Not only can I see myself wearing this for a summer party but also just for walking the streets of London when the sun decides to come out.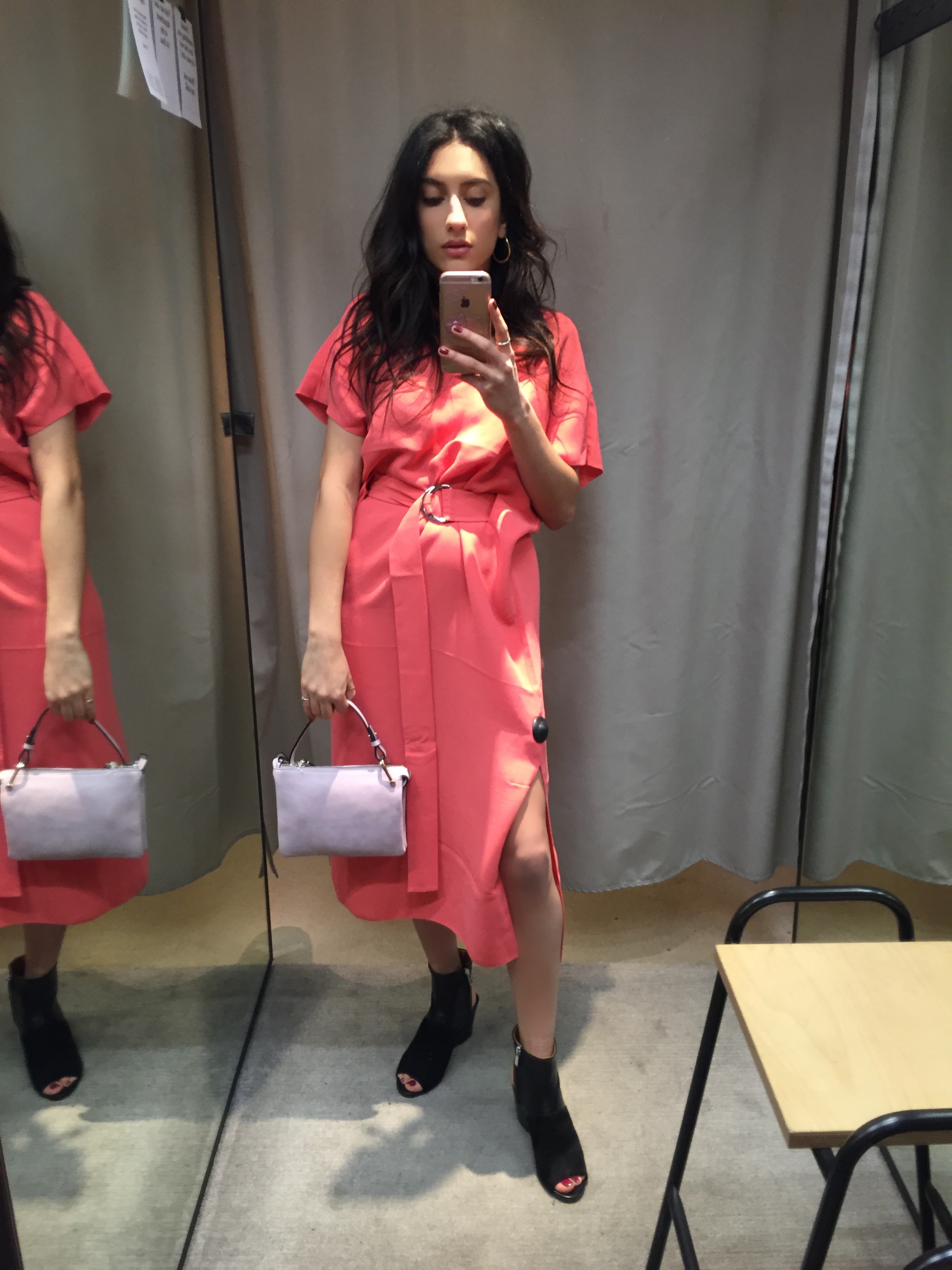 Dress £125  | Black wedge sandals £125 | Lilac suede handbag £65


———-
THE 70s REMIX
It looks like elements of the 70s are still going strong this summer – fashion really does go round in circles. I absolutely love this lace panel blouse which is slightly oversized. A perfect dressed up look, and it gives me some arm coverage – just enough to get my legs out.

Lace panel blouse £55 | Patent leather mini skirt £145 | Leather sandals

———-
CLASSIC AND CASUAL
& Other Stories are doing a really good job with the wide leg trouser here. Not something I usually delve into because I'm paranoid of looking too small, but as they're quite billowy in shape, a little t-shirt and platform shoes do the trick for elongating. I'm really keen on a suede jacket this season – worn tied around the waist or over the shoulders…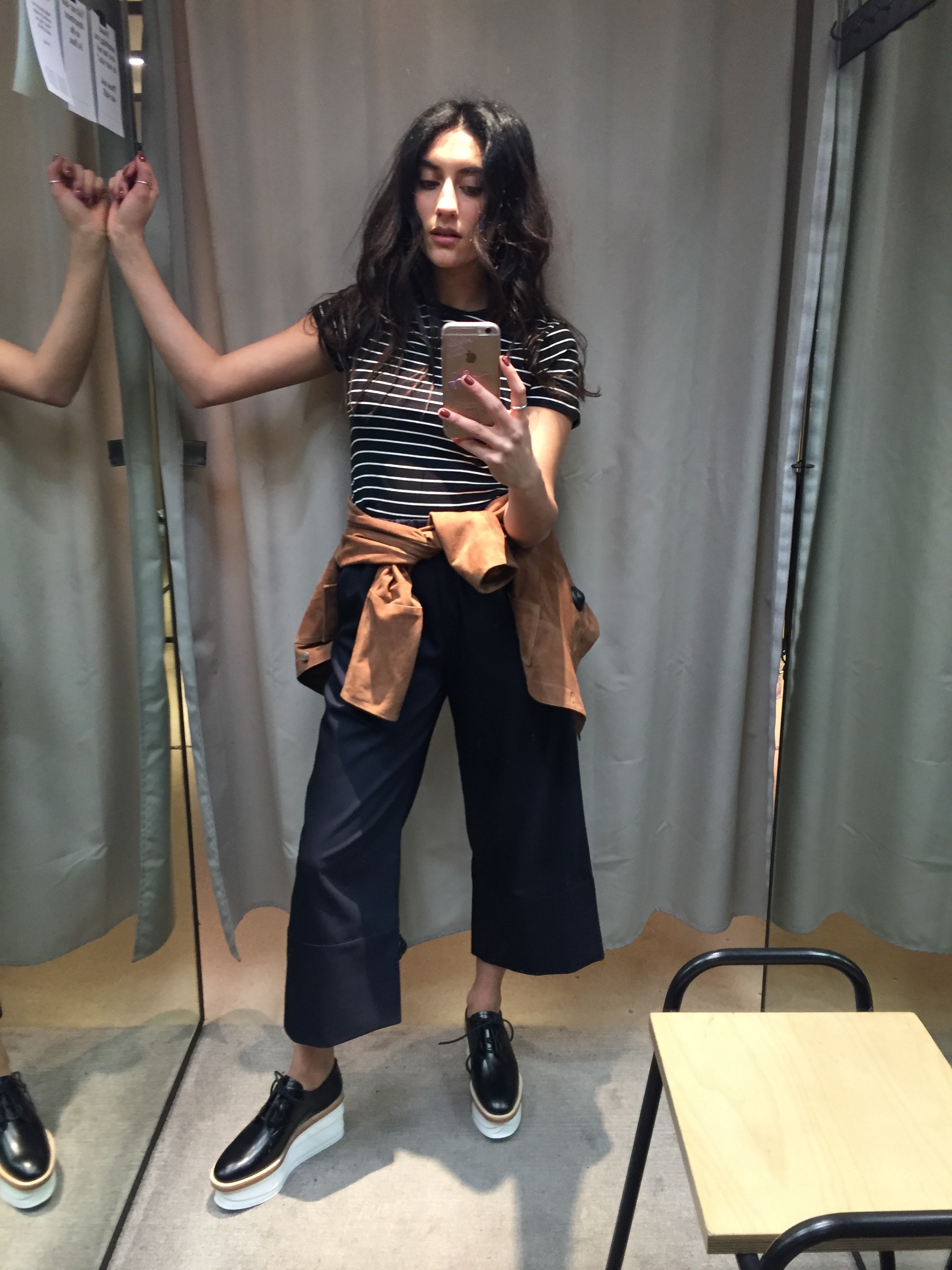 Wide leg trousers £55 | Striped crewneck t-shirt £19 | Suede button jacket £245 | Leather flatforms £125

———-
THE GROWN UP
 This is my more adult city look… with an element of the man-repeller to the jeans – the most unbelievably snug-around-the-waist jeans with the perfect amount of flare. I have been looking for a pair of these for a while that actually fit without me looking like a three year old!

Welt pocket denim jeans £55 | Lightweight tensel t-shirt £17 | A-line coat £125 | Square cat-eye sunglasses £39

———-
THE DRESS OF ALL TRADES
So simple, so great for those early signs of summer, and will also see you through balmy evenings on a beach or in the park. The material of this falls really nicely too. As it's so simple, it's the perfect opportunity to throw in a flash of color with these really fun and comfortable platform heels.

Open back cupro dress £65 | Cross body snakeskin handbag £65 | Pink embossed leather platforms £125

———-
THE DRESS SHIRT
I cannot get enough of shirts at the moment. They seem to be a no brainer for work and weekend wear too – hence my ever growing collection of almost identical shirts. Worn with a cropped skinny and some flatforms, the dress shirt is as smart as you can get with the least amount of effort.

White shirt  | Cropped skinny jeans £55 | Leather shoulder bag £105 | Leather flatforms £125

Collaboration with & Other Stories via The Debrief
KavitaCola x