I still can't get over how quickly this latter part of pregnancy has gone. I swear last week I was 5 months pregnant and now I'm literally counting down the weeks before due date. Whilst constantly on the prowl for the perfect pieces to wear during this current heatwave, I'm also trying to think really wisely about over investing into items of clothing that are purely for maternity use only. There's a whole other element to factor in after this incredible 'bump' phase is over – and that's nursing, or breastfeeding if you will (there you go I said it).
So far, I'd like to give it a good go if I can, as I know how great it is for the child, so now my mindset is very much in the mode of what will work with feeding. There are a few lovely brands on the market that are amazing for just that. Essentially you want to avoid hitching up your whole outfit every time you want to feed, and that's not just for the prudy amongst us (ME massively) it's literally for practical purposes around your home and in your own comfort space.
Beyond Nine is a gorgeous brand which has those perfect jumpsuits with knots at the shoulders which you can conveniently undo to feed your little baba, whilst looking super chic in the meantime. They are completely laid back and I look forward to wearing these jumpsuits during this sweltering weather when my bump isn't as hard and full of baby like it currently is at the moment. They are super chic in their own right and whilst being fit for maternity, I don't see why anyone and everyone can't wear them – so perfect!
Another super cute and vintage inspired brand I came across was Clary and Peg who do a whole range of relaxed jumpsuits and dresses designer by mums who know the deal! As you know whilst I love a dress up, I'm a massive creature of comfort in my day to day wear. This brand Clary and Peg is 'maternity friendly' so again, you're making more of a long term investment rather than just a few months. All the looks have the credits below the images as ever. Hope you enjoy all my maternity finds!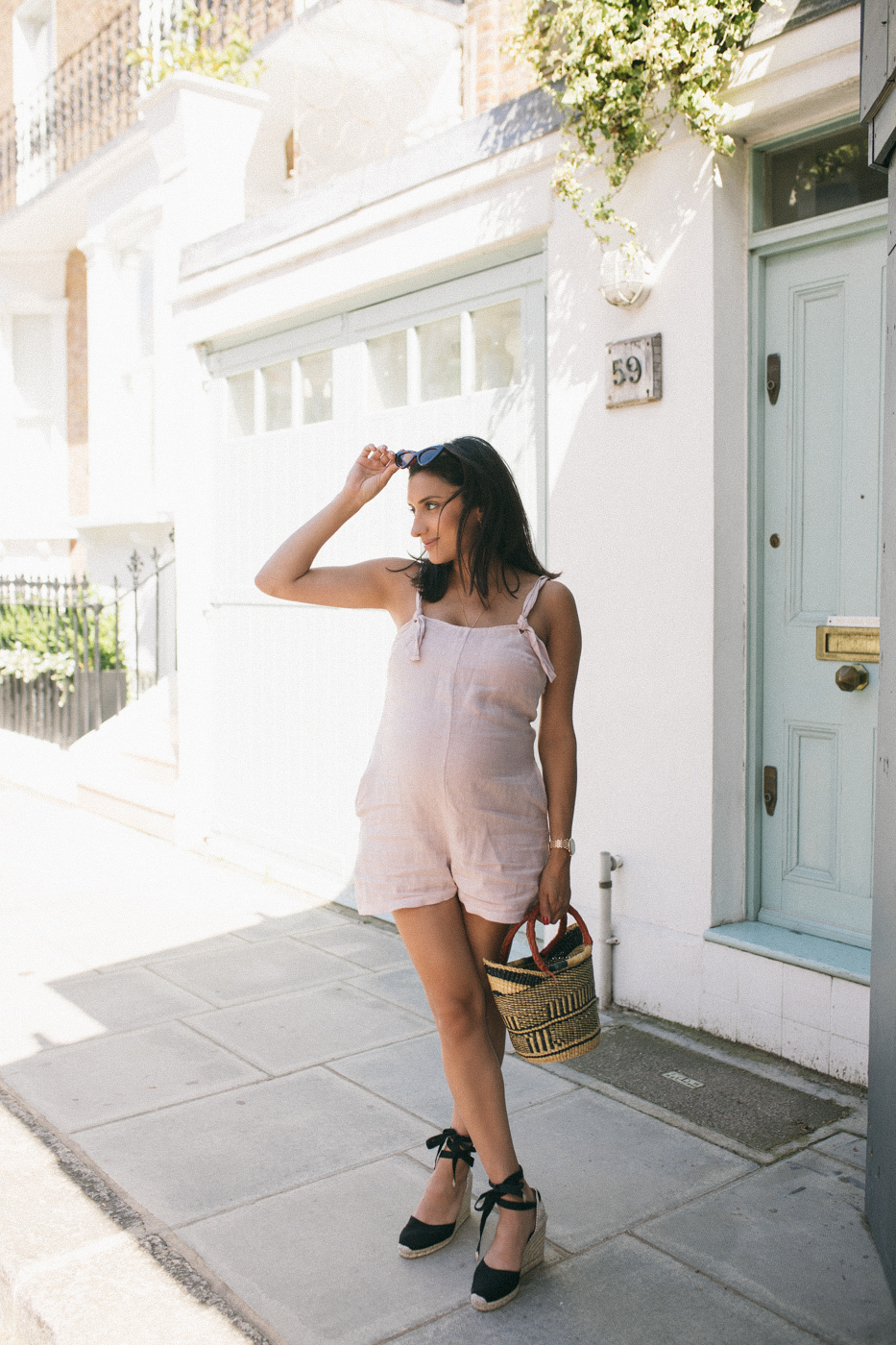 Jumpsuit | Beyond Nine London
Basket handbag | MMAA London
Necklace | Carrie Elizabeth Jewellery
Earrings | Monica Vinader
Sunglasses | Zara
Wedges | Castañer
Stripe Jumpsuit | Beyond Nine
Bag | Jacquemus
Necklace | Carrie Elizabeth Jewellery
Earrings | Monica Vinader
Sunglasses | Zara
Sandal slides | Jigsaw
Jumpsuit | Clary and Peg
Silk scarf | Estée Lauder (similar here)
Necklace | Carrie Elizabeth Jewellery
Earrings | Monica Vinader
Sunglasses | Zara
Sandal slides | Jigsaw
Similar things I'v found:

Photos by Frances Davison 
Kavita Cola x