I'm constantly in search of the investment pieces that can see me through the festivities as well as forever more. As you might already tell, I'm all for wearing away your favourite items of clothes or accessories whilst adding a few new members along the way. I'v got into a better habit finally of a few more haircuts and conditioning treatments as I go along to get rid of my dying ends. With a little help from Limoz and Aveda – hair is getting in better knick especially since the wear and tear of the wedding.
In this post there are some newbees like the long black dress with the flash of velvet on the top as well as some old favourites like my tweed jacket a good few seasons ago from Isabel Marant. I have attached loads of shopping options below too so you can shop what out now, as well as some alternatives I consider a good buy.
Maybe it's being a wife, maybe it's because I'm turning 30, just DAYS away now, or maybe it's just the cold but whatever it is, it's making me feel slightly more sophisticated than ever. I was out shopping with a friend of mine the other day and I was deliberating over two pairs of boots on sale from Bimba y Lola. One was a violet sparkly pair (a bit Margiela esque a few seasons back) and the other was a dark navy blue (way more classic but looked expensive AF) and I swayed entirely toward the classic style. Another definite reason for this is I have been having a MEGA clear out at home, and it's really shocking how much stuff you can accumulate over even just a couple of years. Feeling rather guilting about tossing some things away or selling them on that I had worn a mere once or twice, it's made me slightly more conscious about investing in a pair of sparkly violet boots!
So in conclusion, I bring you a couple of looks that I was wearing over the festive period. All still available to buy online and things I know I'll be continuing to wear over the next few months and hope to keep hanging in the wardrobe thereafter. A splash of red for me mixed with the beautifully mundane greys in the form of tweed and cashmere is a winning dress code for me, and not just over the festive period.
I'm not saying I'm never going to buy a pair of sparkly boots ever again (as sparkles are my guilty pleasure) but something in the air is making me think a little more streamline at the minute so I'm running with it for as long as it lasts. Plus dressing sophisticated feels nice, it's January after all and a dash of red means business. Happy shopping! x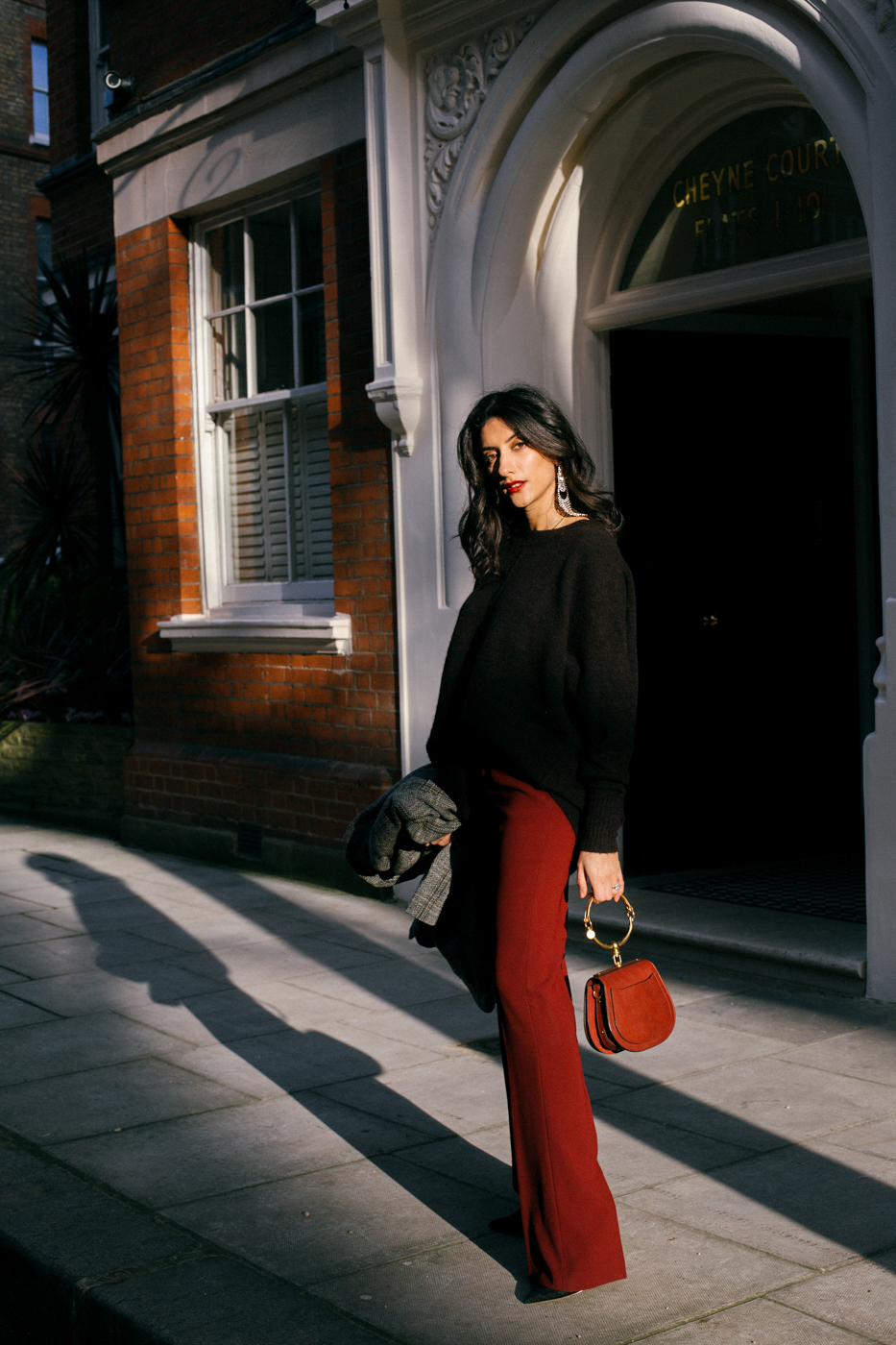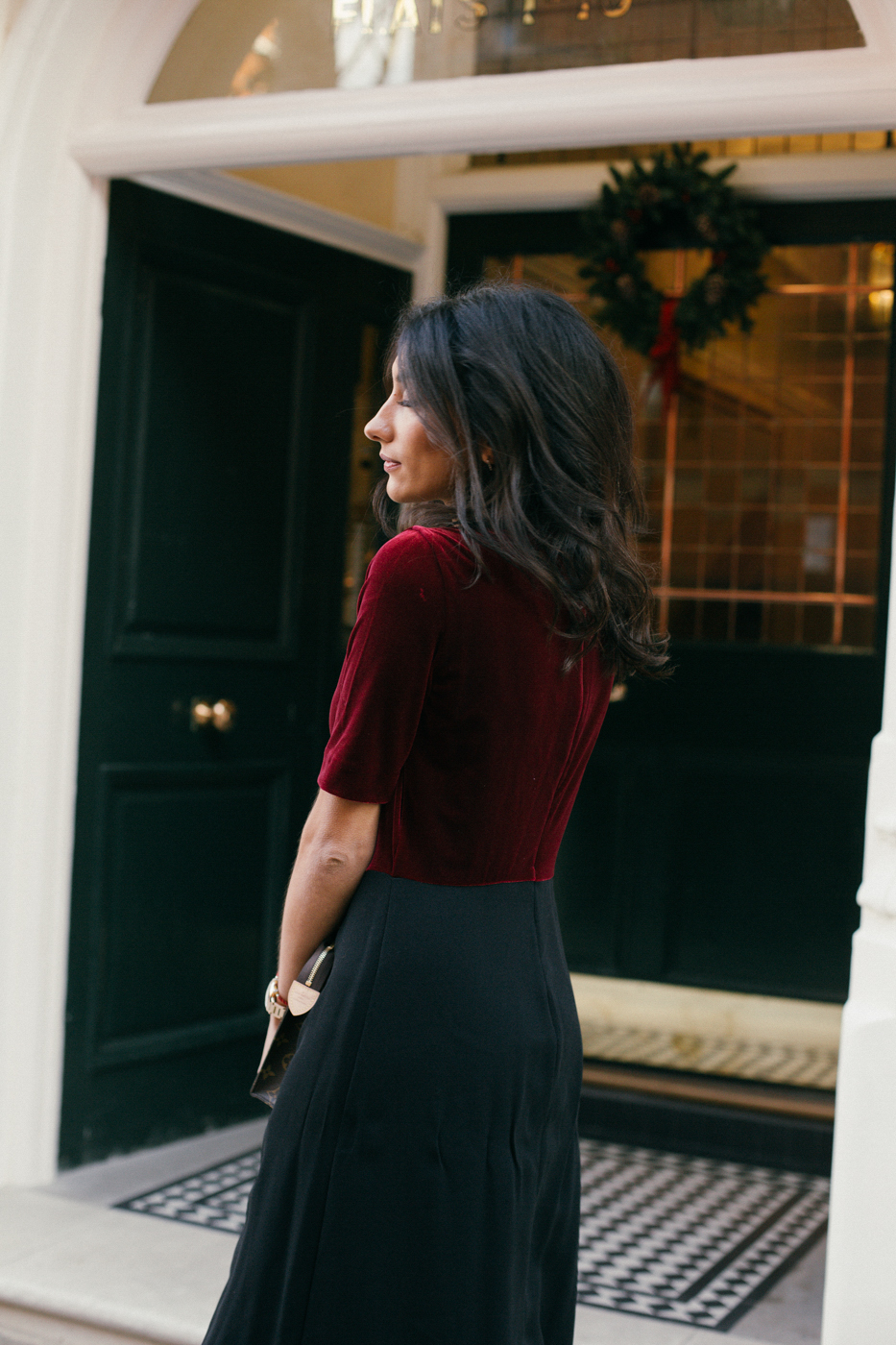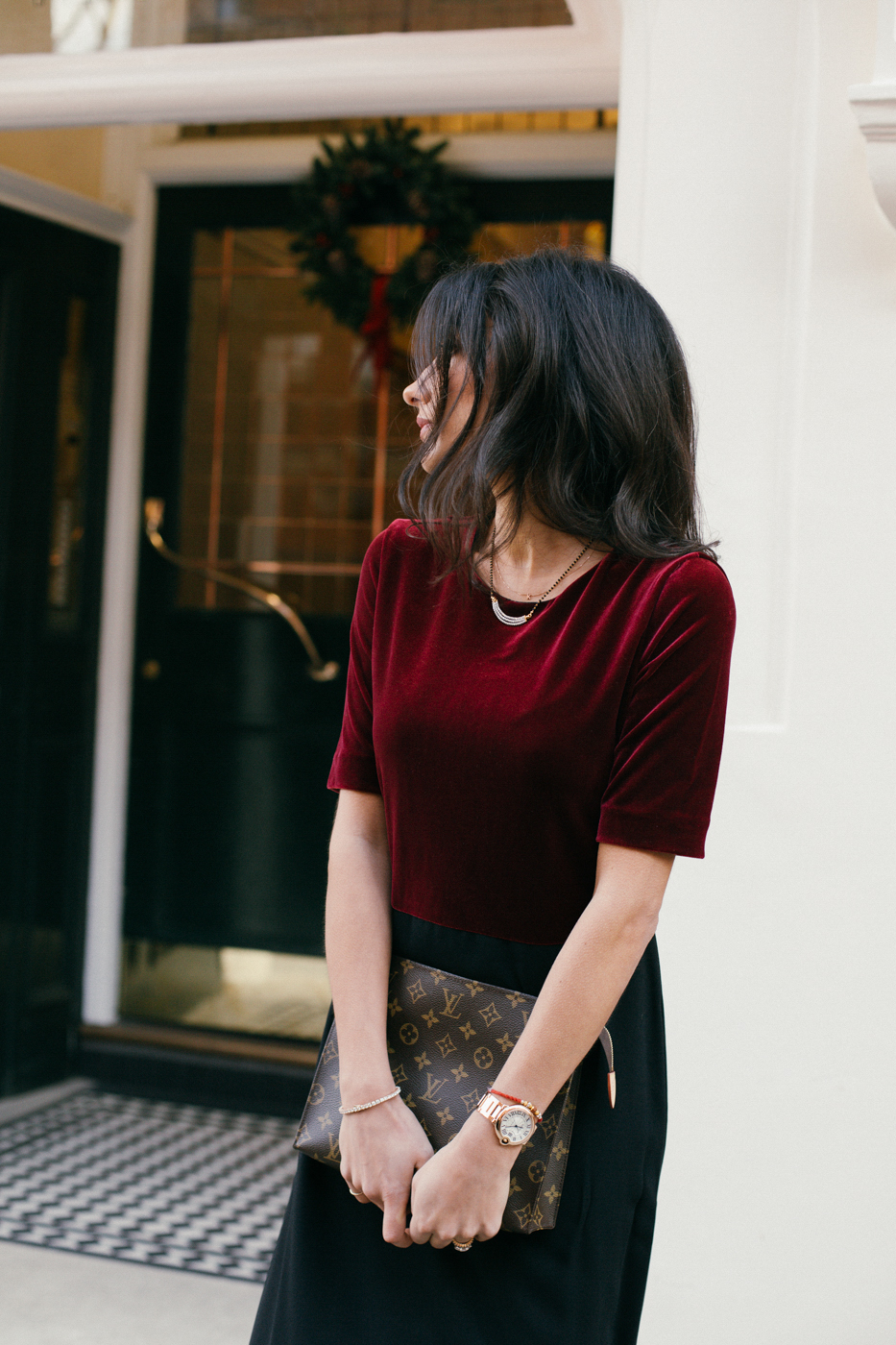 Red velvet and black dress | Mango
Black boots | Aldo
Black tuxedo jacket | Saint Laurent
Clutch bag | Louis Vuitton (similar here)
Watch | Ballon Bleu by Cartier
Red trousers | Zara (similar here)
Brown jumper | Isabel Marant Etoile
Tweed  blazer | Isabel Marant
Court black suede heels | Jimmy Choo
Burgundy bag with gold hoop handle | Chloe
Sparkly Earrings | Mango (similar here)
Red lips | Tom Ford

Kavita Cola x