A good black and white check has been going strong ever since for ever, this little number with a bit of ruffle takes it to a new league. So many gorgeous online brands have popped up like Storets who have taken ruffled shirt and ruffled skirts to a new league.
I'm typically taking advantage of the last of my real tanned legs rocking a mini skirt in the early days of October before the chalky season begins. However if you checked out my previous beauty post on prolonging the bronze, this will be less of a problem with the help of James Reads amazing new range of tanning products.
As much as I love to make everything available to buy on blog, I like to keep it real and pull out some old favourites as that's actually how I really dress. I picked up this vintage Hermes suede jacket from Vintage Modes a few years ago just around the corner from Bond Street Station. I think a good bomber jacket is worth the investment and if you fancy something slightly aged and suede then Vestiaire Collective is a good place to hunt. I have found quite a cool one on there from The Kooples and high street one in maroon here which also does the job at £80 slightly more savvy purchase that won't break the bank.
Some might say it's boring but I can't get enough of the camel 'nothing' colour of this jumper. It's one that already since purchasing has kept itself firmly on the top of the pile in my cupboard, if it ever makes it back into the cupboard after wearing it. Again all in protocol of when going short, keep the top half concealed, and this is the perfect kind of crisp cool weather to do this in.
My MCM Worldwide Heritage bag is becoming a wardrobe staple. It has the perfect 'proper luggage' feel and durability that I can always make time for. It's the kind of bag that will age well and have an element of 'cool' with it in years to come. All shopping credits and more ruffly suggestions below! x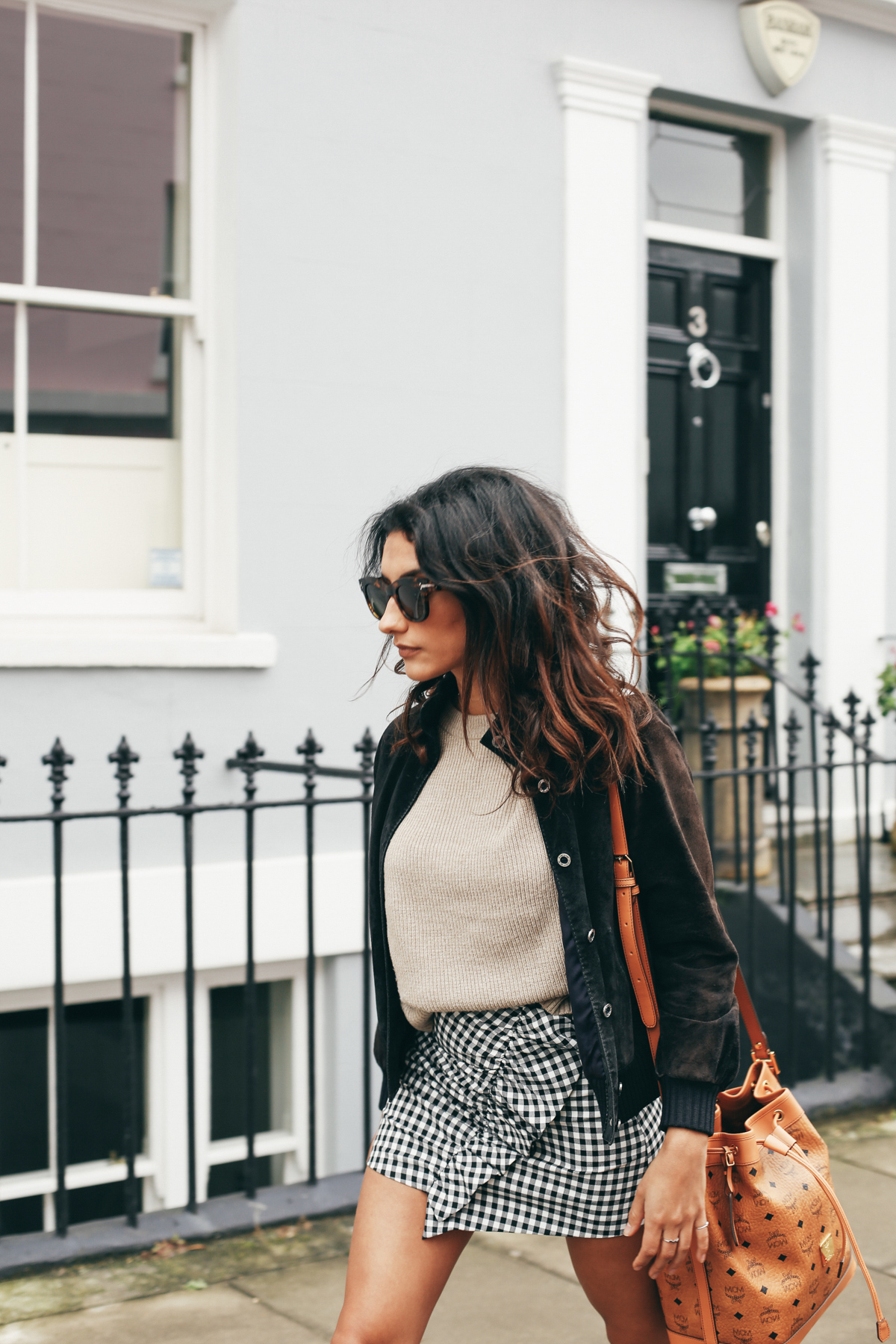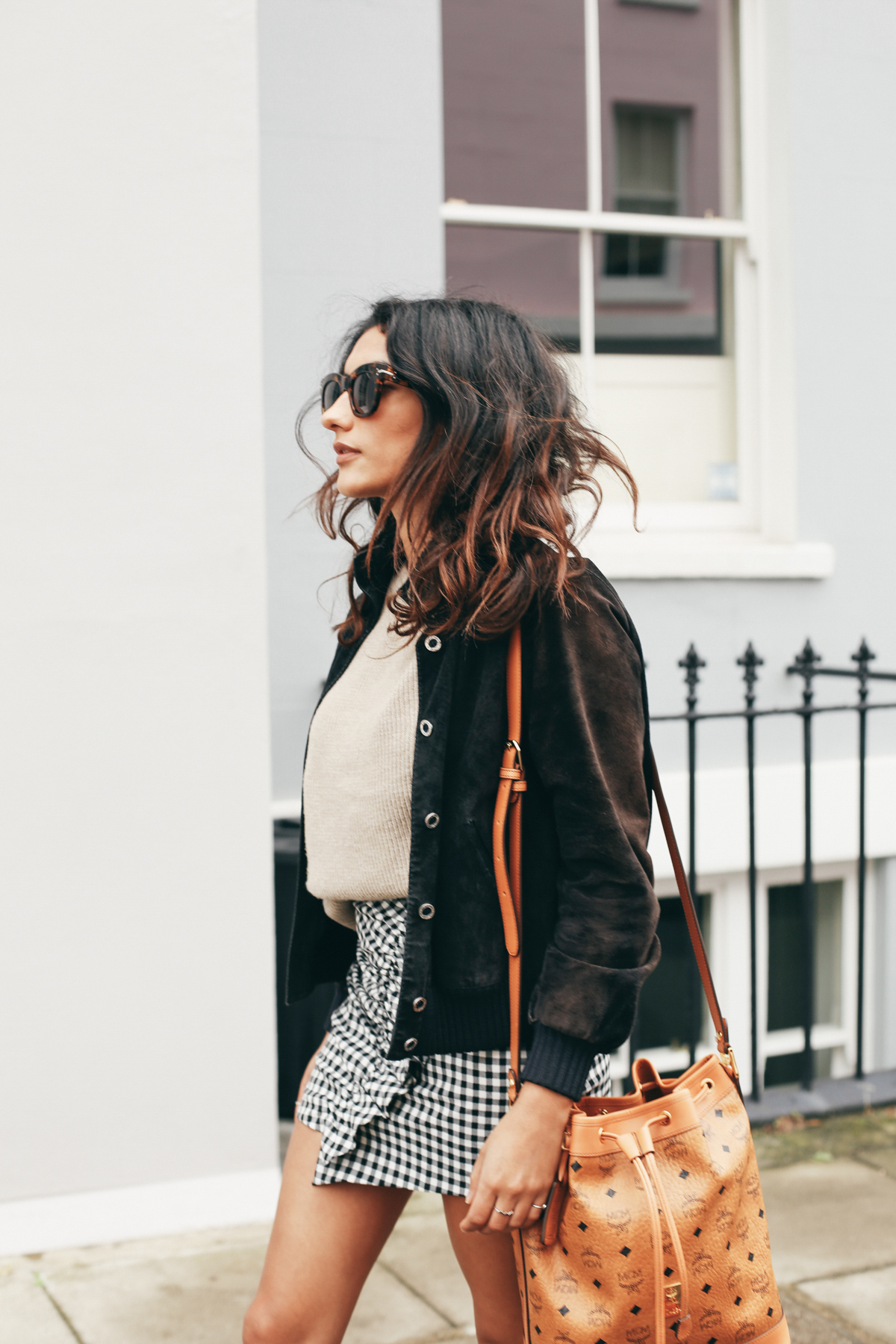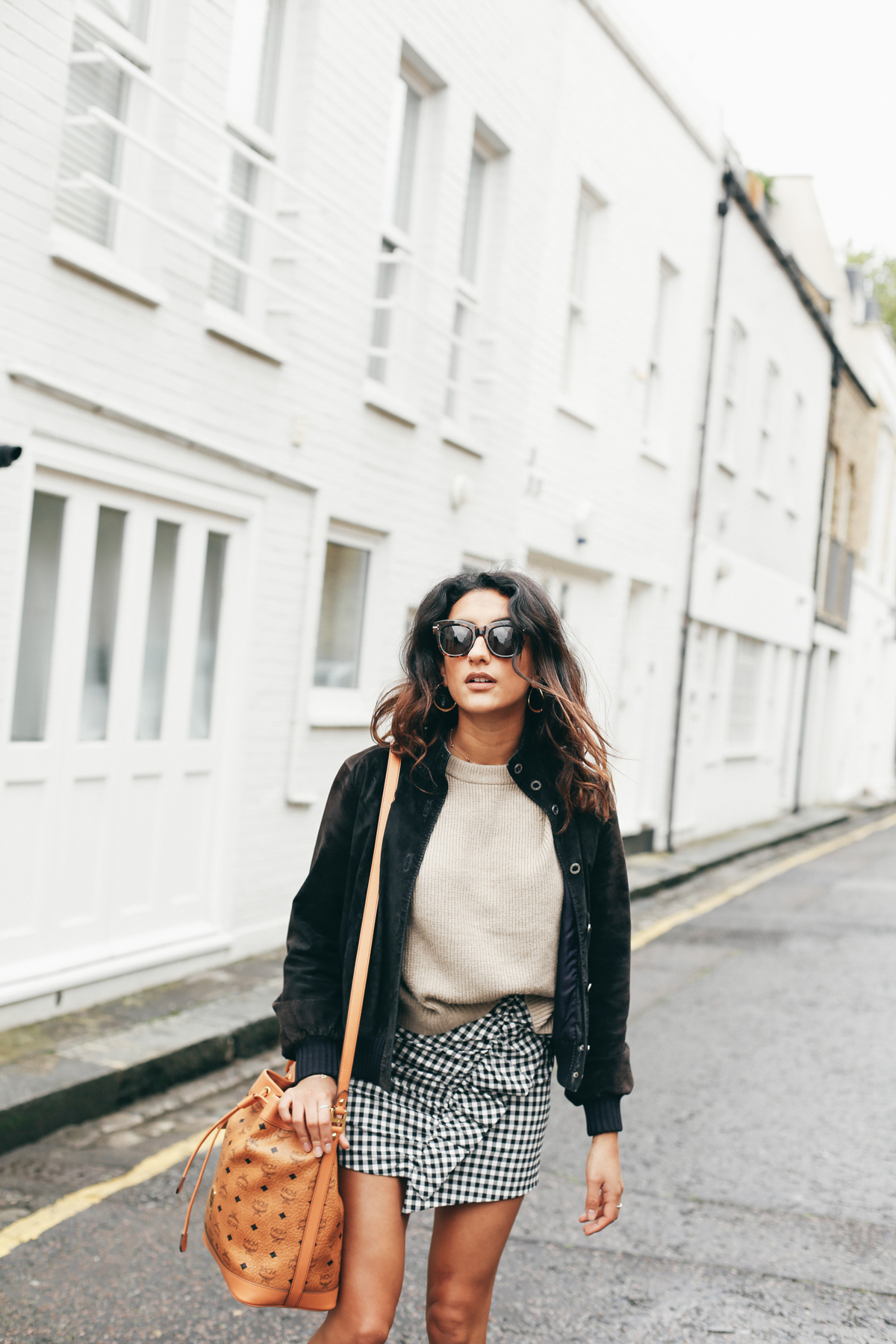 Skirt | Zara (similar here and here)
Knit jumper | Asos
Suede bomber jacket | Vintage Hermes (similar here)
Leather tan shoes | Mango
Bag | MCM Worldwide
Sunglasses | Celine
Necklace | Rosie Fortescue Jewellery
Earrings | Dinny Hall (similar here)
Rose gold star bracelet | Lucy Williams x Missoma

KavitaCola x
Photos by Frances Davison