From being a little late comer when it comes to makeup, I have turned into quite the contrary. I literally do use every item in my bag, much to my fiancés annoyance when we travel. Yup I always need holdall luggage as the 100ml little plastic bag doesn't cut it for me. And that's just for a short weekend too – yikes! Moving onto my just-eye-liner days, this post is the full monty of what I'm using on my face at the moment, and could happily see me through a week of simplistic and natural looking makeup.
Starting off with the face, of course this is after I have cleansed, toned, serum-ed and moisturised, I like to use a good primer. The essence of a primer is to form a great base for your foundation. This ensures that my makeup not only stays on for the day, but also maintains a healthy glow throughout. (glasses by Neubau Eyewear)
Smooth and Protect Primer by Nars | is amazing for just that. Whilst feeling light on my skin, it gives a certain type of sheen and glow to my foundation to the perfect point without it looking greasy. A good glow not a greasy glow. I usually go with a good spread on the cheeks, nose, chin and forehead and pat it all down.
Tom Ford Traceless Perfecting Foundation in the colour Sable | is my go to at the moment. The bottle has this perfect twist and turn mechanism that allows the nozzle to sit flush so there is no chance of spillages in your makeup bag (they are the worst!). This foundation is light but gives really good coverage. I would say it's perfect for day and night time wear. The colour Sable is also SPOT ON for me right now, and probably is if you have fair Indian skin too. I like to apply my foundation with a Buff Brush by Clinique.
Contour Chubby Stick by Clinique | These chubby sticks are just bloody great. I absolutely LOVE this. It's idiot proof and allows you to sculpt your face to give your features slightly more definition. The trick is, draw it right on then blend it all in. I don't always do the full Kimmy K contour however I love to draw a line on each side of my cheek, right underneath my cheekbone and then buff it in with my buffer brush again. Voila!
Matte Concealer by Nars | Literally doesn't leave my side. Sorts out my dark circles and random blemishes. My perfect colour is Biscuit.
Estee Lauder by Victoria Beckham bronzer | As seen in my last beauty post, this piece is still going strong. I love using it just under my cheekbones and also in the crease of my eyelids to give a really natural glow.

Bardou Booster Brow | Starting with the brows we have a perfect brow shaper by Bardou. It looks daunting but just needs to be lightly drawn onto your eyebrow (don't worry about wobbly hands), then you just need to use a little eye brow brush (clean mascara brush basically) and brush them through. It fills them out really nicely without them looking heavy.
Mac Eye Khol in Costa Riche | Amazing as it's really light. I draw it just under my waterline and then smudge it in with my eye smudge brush by Charlotte Tilbury. This ends up looking SO natural so they look highlighted but don't look overly made up. Perfect for a completely 'natural' eye look.
Scandaleyes Thick and Thin eyeliner | I always have to have a liquid eyeliner in my make up bag and this one is perfect for a really thin black line above my eyelids just to make them pop, or I can make it a thicker line and go for a more Bridgette Bardot look.
Eyeko Mascara | This mascara is great as every time you think you have ran out there is always a little bit more that you can squidge around in the lovely tube it's in. The brush is also slightly curved to the shape of your eyelids which makes the application super easy.

Cheek to Cheek Blusher | I have a new obsession with Charlotte Tilbury makeup and her amazing brushes. This Cheek to Cheek blusher is great for all round use because you have a slightly more and slightly less pink to choose from, or you can just go for them all and swish them around your cheekbones to make you look alive. This colour is called Ecstasy.
The lips. Ok so I have included a perfect nudey lip as well as a red, because it's always good to carry a classic red lipstick with you JUST incase you might need it.
Laura Mercier lip pencil in Hazelnut Tea | This is perfect for my skin tone. It basically makes lips look more like lips. Hopefully you know what I mean?
La Mer lip balm | Ultimately conditioning and lasts on your lips without absorbing too quickly. A must to have in everyones make up bag.
Lip Lustre Lip Gloss by Charlotte Tilbury | That perfect nude lip. Obsessed.
Tom Ford red lip | All the reds from their amazing Lips and Boys collection are amazing. This one is called Rafael. Amazing with a glow.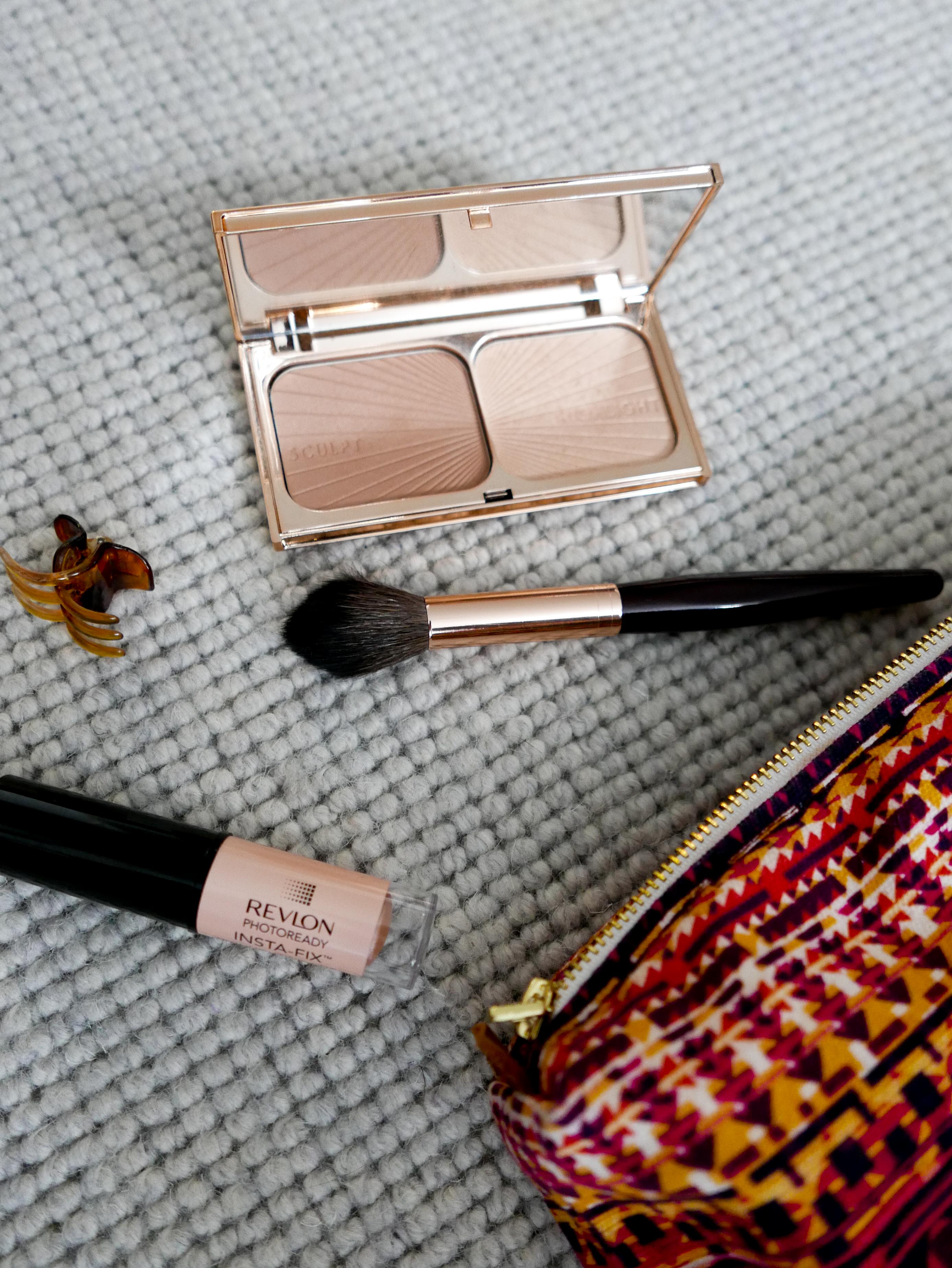 Sculpt and Highlight by Charlotte Tilbury | For that film star glow, it does what is says on the tin.
Stick highlighter by Revlon | for that added glow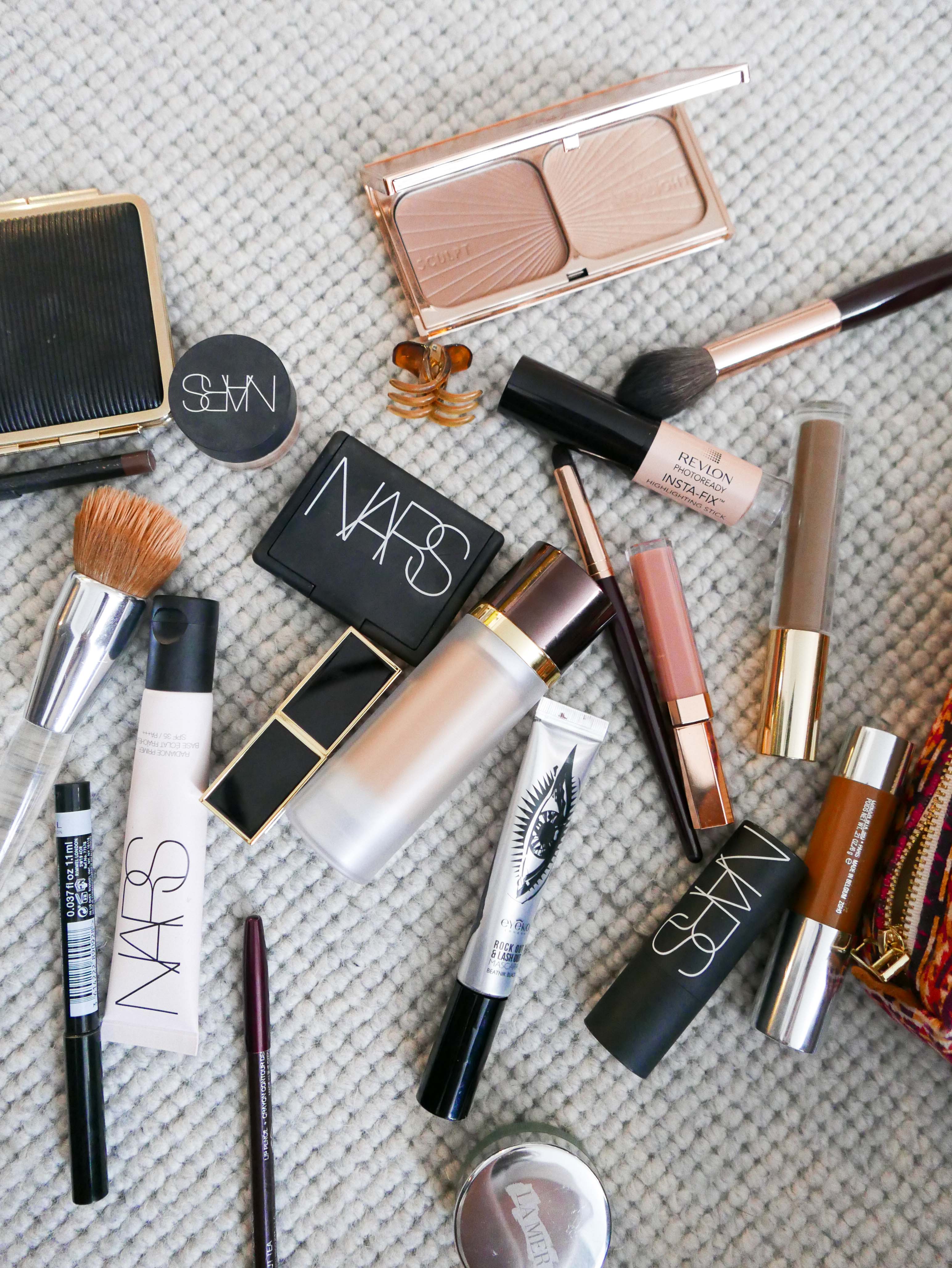 Tried any of these? I'd love to hear your thoughts as always.

Kavita Cola x