My First Trimester
Being 'with-child' is a whole different ball-game. Your mindset now is for two and my body being the carrier needs to be and feel strong, physically and mentally. First things first, I actually didn't believe the test when I saw it. It's hard to grasp that one of the most exciting things that happens in life  – can actually happen to you – and now to us! So it was all a bit of a pleasant shocker that translated into a permanent grin for my husband and I pretty much ever since we found out.
I'm writing this post from entirely my own experiences and opinions so please do mind that I'm not trying to preach even if it appears like I am. I'm just documenting my own experiences in the hope it can help others through the journey that they might be going through. It's been so amazing getting all the lovely emails, messages and heads up on new brands or concepts that are pregnancy related. I really appreciate it all so far and hope to share more of the incredible things that have come my way over the blog and my social media channels.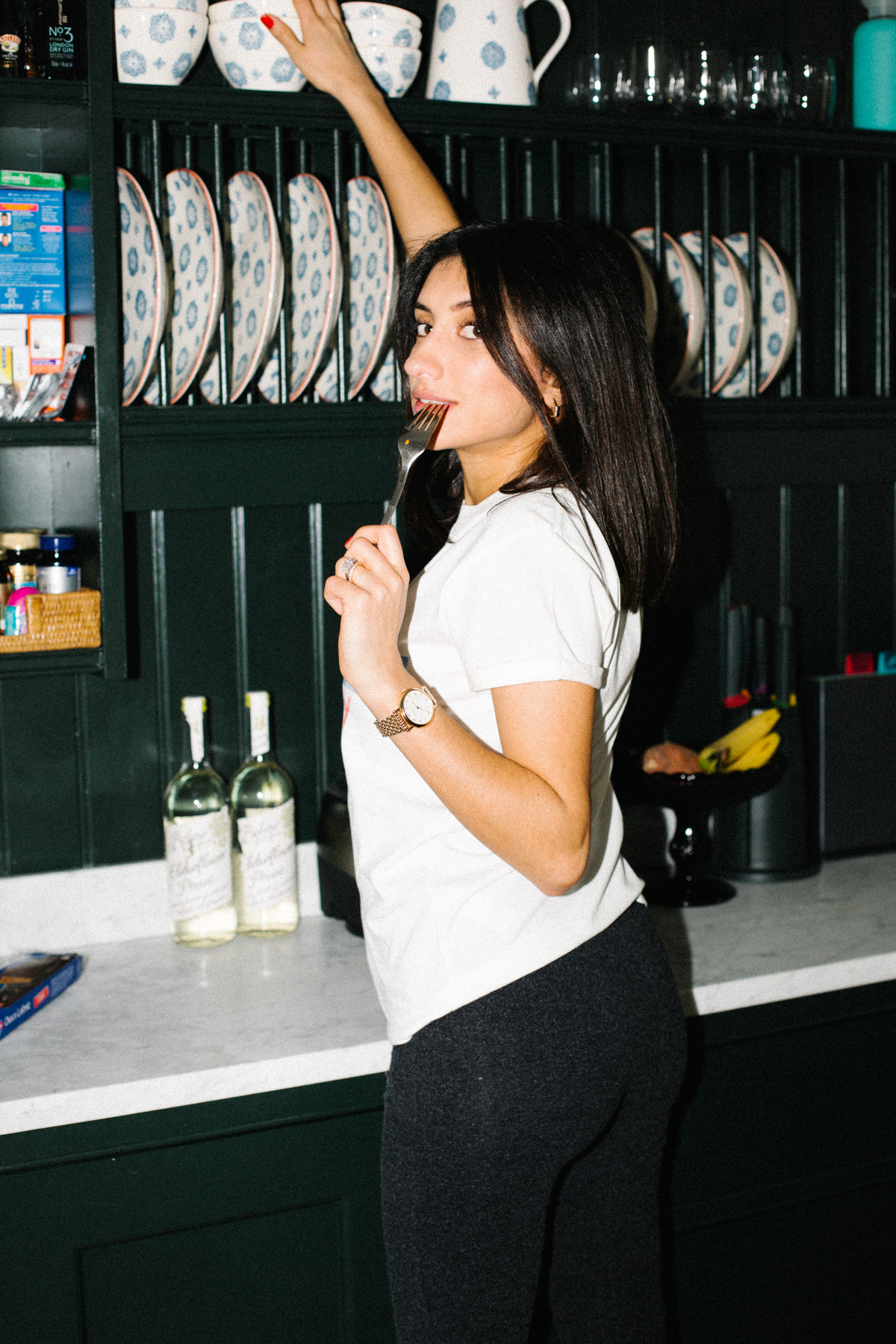 The symptoms:
Fatigue:
I was SO tired from ever since I could remember. For the first 16 weeks at least and actually even still on occasions I need to take catnaps as and when I can. I guess it makes perfect sense that you're whole body is focussing on creating this little new life, it's literally taking your regular energy away from you. I've had to be really strict with myself with regards to evening events which I didn't really have the energy for during my first trimester and still occasionally struggle with. At times even in my second trimester I've slept for 12 hours straight and then had a one or two hour nap that afternoon. It's felt like severe jet lag. This has been tough at times for someone who struggles to relax and even sit still, so I'm just doing my absolute best to cooperate with the natural needs of my body (for once) which is what I would recommend to anyone in this situation.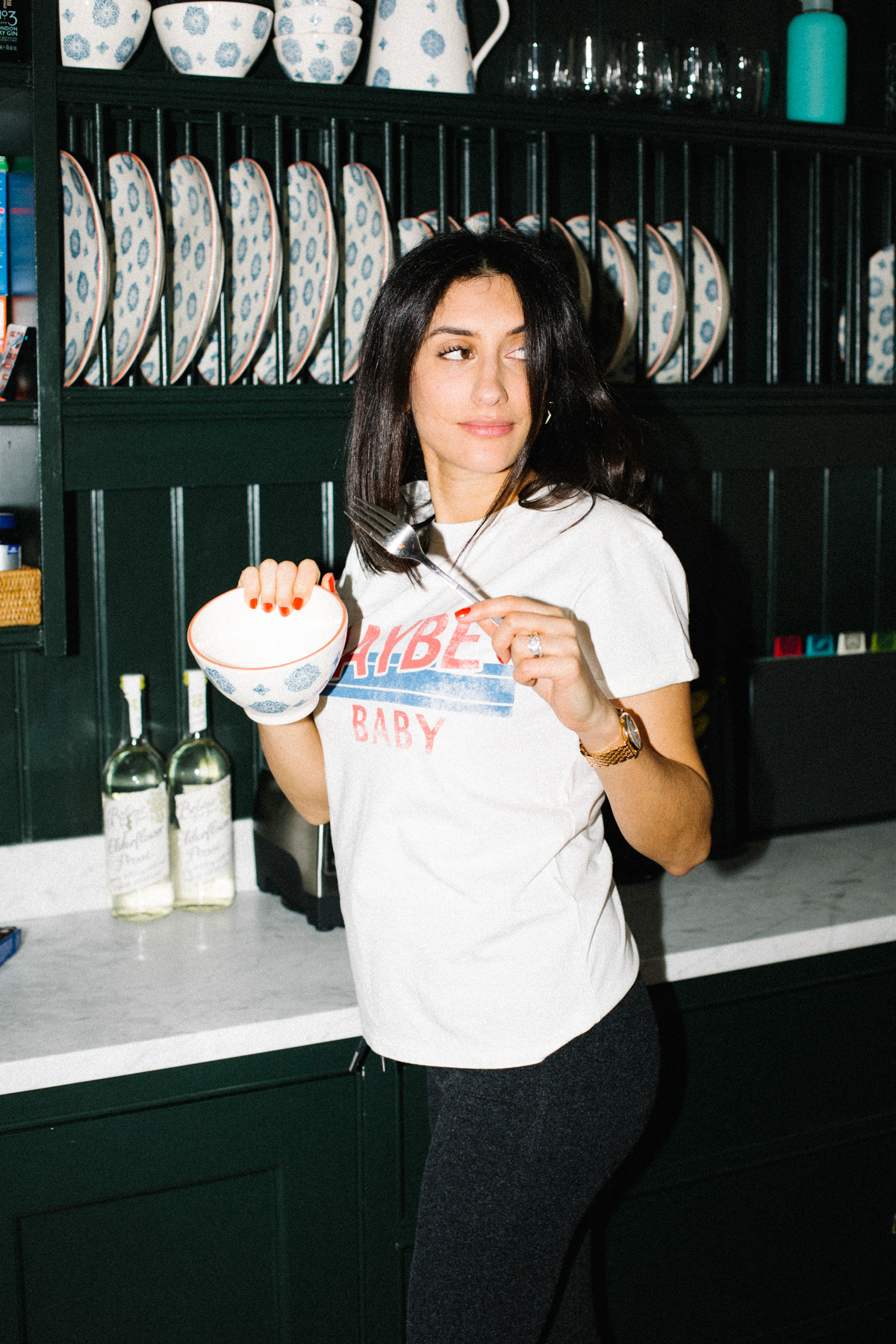 Hunger cravings:
So yes, my cravings were unreal. To be honest, they have changed slightly since the first trimester. Now I'm just the hungriest girl I'v ever been, so I'm doing my very best to simply cater to that and just feeding myself. All – the – time.When else is it your life duty to feed and nourish your body with as much food as you possibly can, while holding zero guilt in doing so? The insatiable hunger has been real. I have to inhale a chocolate croissant from the moment I wake up every morning (around 7:30 am) and then I'm ready for some kind of breakfast come 9-10 o clock. I often have breakfast meetings in the morning where I've been sure to pile in the avocado and toast. Then it's time for pasta. During the first 12 weeks there were week long periods where I was eating pasta twice a day. And when I say pasta I don't mean lovely gourmet pasta with fillings and a dash of parmesan, I'm talking spaghetti with red pesto and SHIT loads of gloucester cheese. The more budget the cheese, the better.  The only thing I have done is substitute heavy wheat pasta with spelt pasta or quinoa pasta which is slightly more easy to digest and particularly good if you have any gluten intolerances.
I always have some dark chocolate at arms reach or chocolate chip cookies too to get my sugar fix in. Raj has mastered this incredible recipe which is a little bit more healthy than all butter chocolate chip cookies which are made with almond flour and dessicated coconut via the Minimalist Baker. I couldn't even smell meat or fish, which is pretty much the same now so I'm completely vegetarian. I have always been skirting in and out of being a veggie, plus Raj is now basically a vegan which makes it even easier at home. ALSO, I went through about a month stage of having to have a magnum every night – I still do to be fair. Since the first trimester has been over my palette has begun to expand again so I have tried my best to get more greens and fruits in wherever possible, as I know this is important for the baby's growth particularly in the 2nd trimester.
Mild nausea:
I was very lucky to not experience any sickness at all. However from around week 7-10 I experienced mild nausea at times. If it happened at all it would be first thing in the morning and maybe in the afternoon and usually was in correlation with letting myself get too hungry, which makes sense why it's called 'morning sickness' after a nights sleep you have an empty stomach. I used to drink a lot of ginger ale (occasionally first thing in the morning) to sooth this, and have some dry crackers or crisps at arms reach for a quick fix. I also have a new found love for sparkling water which I have never ordered in my life prior to pregnancy. I find the fizziness settles my stomach quite well, along with a food fix so I never hit the starving point because that's when the nausea would take place.
Body:
My first trimester was a journey of total fluctuation, very much how your stomach constantly changes after binge eating or exercising. During the first 12 weeks I actually had nothing to show for it physically. I was wearing my normal clothes and jeans up until about 14 weeks, at which point I could zip up my jeans but no longer comfortably sit down. I invested in some fantastic maternity jeans from J brand and Nine in the Mirror – a lovely designer boutique for expectant ladies. Even though I'm just over halfway now, I still feel like I fluctuate quite a lot. In the mornings the bump is a lot less and in the evenings I can look months more pregnant than I did in the morning. I guess that just a normal stomach doing it's daily thing, factoring all the food I've been piling in.
Mindset:
Whilst being conscious about sounding like a broken record now over the blog, I'll touch on it one last time about the importance of being around the right people at this amazing time. When big things happen in your life not everyone you expect is actually happy for you. I learned this brutally since my wedding. As much as at instance this was really sucky, it's actually done milestone favours in the long run. Disengaging with negativity has got so much easier the more pregnant I have become. Some words of wisdom below which some of you may find cheesy but I couldn't put it more perfectly:
'The older I get the more I realise the value of privacy of cultivating your circle and only letting certain people in. You can be open, honest and real while still understanding that not everyone deserves a seat at the table of your life.' – via The Minds Journal.
Exercise:
From pregnancy apps to midwife appointments, everything point to working out as only a really good thing during pregnancy. Giving birth is like running a marathon, so it can only be a plus point to give your body all the help it can get to prepare for the day you actually have to push the thing out, right? Before I was pregnant I used to do a lot of reformer pilates, barre class, TRX classes as well as the odd boxing session. Things are a little different now I'm in my 5th month and I have an actual bump, so I have stuck to Barre (Paolas Bodybarre at KXU), and Heartcore reformer pilates classes… of course as and when my energy levels have allowed me to do so. I have found that Barre is amazing because it works on your inner core strength as well as keeping your limbs nice and toned. Loads of studios offer prenatal workout which I highly recommend too because the instructors tend to know what they're dealing with. My motto so far has been, if it feels fine, it is fine! I don't push myself beyond my capabilities as I know there is over double the amount of blood flowing through my body so my heart is already working over twice as fast. Taking that in consideration I'm just 'doing as I feel' and so far so good. I still get a great buzz of energy after working out and I hope (she says) I continue to do so throughout. I talk more about this on my highlights on my Instastories in the 'mum' section if you want to hear more on exercising when pregnant. I would love to continue to doing this, so I will give it a go without putting loads of pressure on myself either so I'll be sure to update you on this.
Sleeping:
At week 5 I had a few restless nights and 5 am wake ups. I think this was because I was so excited about being pregnant and was really tuned into all the different feelings I was experiencing. I have read in numerous places that after the first trimester it's not advisable to sleep on your back because your uterus leans on your vena cava (one of the main arteries to your heart) so it's advisable to sleep on your right or left side ideally. During the first trimester I generally slept like a baby, on my front and my back (my favourite position) which felt absolutely fine and normal. I did a little research on a pregnancy pillow and found this amazing looking thing from JoJo Maman Bebe which I couldn't recommend more highly for a comfy nights sleep. It was designed and developed by three Norwegian chiropractors to provide support to the most critical areas like the pelvis, stomach, lower back and knees. It's a goodie!
Massages:
I have booked myself into a couple of prenatal massages due to a little bit of back pain around week 12 and 13. Apparently really common because there is so much movement going on in your pelvis and back alignment. The odd ache and pain is nothing to be overly alarmed about, but obviously check with your midwife or obstetrician if it's anything majorly severe – which is exactly what I did. I found that the Urban Massage app is a good one because someone comes to the comfort of your own home. Just ensure that the masseuse knows that it's a prenatal situation. I plan to also hit up one of my favourite places for treatments at The House of Elemis as they do fantastic relaxation treatments perfect for mums to be, plus all their products are really well researched, scented and amazing.
Work:
Being self employed has made things a lot easier to manage as I tend to determine the majority of my routine. I have tried to keep meetings to one day by spacing them out over a long morning or afternoon, so I can cultivate and enjoy more time at home to nest and work at my own pace, whilst having a fully stocked kitchen and a bed nearby incase I'm in serious need to use either. For those who are managing at an office every day, my hat seriously goes off to you. If it was me I know that I would be leaving at 5 or 6pm on the dot and keeping weeknights and weekends free to pack in as much rest as I possibly can. A little side note: whilst I wouldn't label myself a feminist, I do believe it's important for women to keep the mind positively active. For the majority of women I think this means having a job or some sort, so I have huge respect for women who work whether they decide to or have to, as well as bear children. I think being a working woman and contributing to society is an incredible thing to achieve so I salute you. I also think it strengthens your relationship with your partner and kind of makes the love stronger because you are both your own people with your own identity to vibe off.  I'd love to write more on this topic as I have so much to say on it, although I do fear that it could be a touchy subject for some so I'll approach it carefully. All in good time so do watch this space.
Home:
Making my home be the cosiest zone it's ever been has been such a lovely thing. I definitely feel that since becoming pregnant the place I would rather be most is at home, with my husband and dog. This has been a real change for me as  before the wedding I was constantly in and out and about, with friends, family or just with Raj eating out and constantly doing things where home felt more like a stop gap rather than a zen chamber. Obviously that was a great time too, but home never fully felt like home. I was majorly lacking in those extended periods of time where we would just cook, chill, Netflix and veg the hell out with the fire on, so we have been doing a LOT of that over the passed few months. Perhaps slightly on the anti social side too, as I'd rather spend weekends at home than sit and eat out which we used to do a lot of I've also been throwing loads of stuff out, as well as super organising all of my beauty products and accessories with Muji boxes. It's been the most satisfying feeling in the world.
Photos by Frances Davison
The softest maternity tracksuit bottoms

Of course – I'd love to hear everyone else's experiences and thoughts, feel free to comment below. Kavita Cola. x