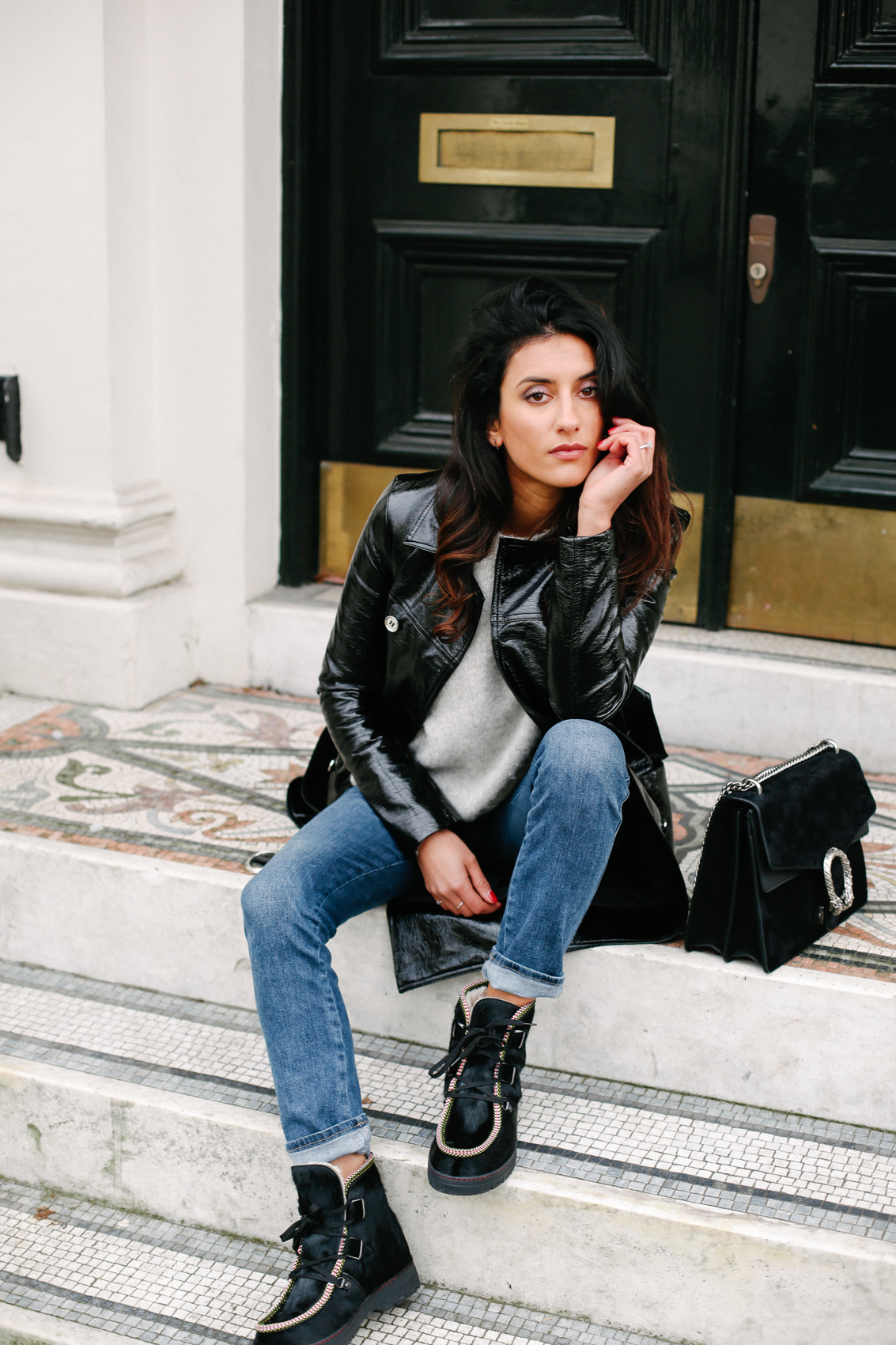 I'v always been rather upset by the fact that I'm not (yet) a skier, at this stage largely because I don't get to fully indulge into super trendy  apréa ski garms. As I'm more of a sun seeker anyway I try not to beat myself up and instead cherry pick some of the best bits of winter like these Penelope Chilvers boots, and wear them with my London uniform or perhaps at most, in the British countryside.
I know that PVC has been the thing of late, starting from skirts to then trousers and now a jacket, I think I have just about covered the lot on kavitacola.com. I couldn't help but to delve in head first at the recent collection called Archive at Marks and Spencers carefully curated by Alexa Chung. It is quite amazing what a bit of careful curation can do when you have so many wonderful pieces to choose from. This coat which kind if reminds me of something that Rachel Green from Friends would have worn, or Monica for that matter back in the 90s. If you're going to try something like it, I'd probably avoid wearing this PVC jacket with any other leathers or PVC. I'v just kept it simple with some of my favourite new editions of winter warmers denim and a little bit of Gucci as always.
My Penelope Chilvers boots are from her classic collection, which she has in a few different colours. Quite frankly there are so many gorgeous winter boots to choose from, some with more of a walking boot style which I'm equally obsessed with. I know the Penelope Chilvers boots I'm getting a great quality pair of shoes that will take me through this winter and more to come! If you haven't been already, her stores on Duke Street in Mayfair and on Ledbury Road in Notting Hill are like little havens where she displays her inspiration through interiors that she has collected along her travels in Southern America and the Middle East. I'm always curious as to what she has in store for us next.
As for my lack of ski trip so far this year, I've gone for a look that works for me on my familiar territory of London, and have gone with my cherished PVC jacket (unfortunately it sold out however I have found a really awesome one here) along with my aprés ski boots from Penelope Chilvers's amazing selection. If you're looking for a cool and warm boot you must check them out here.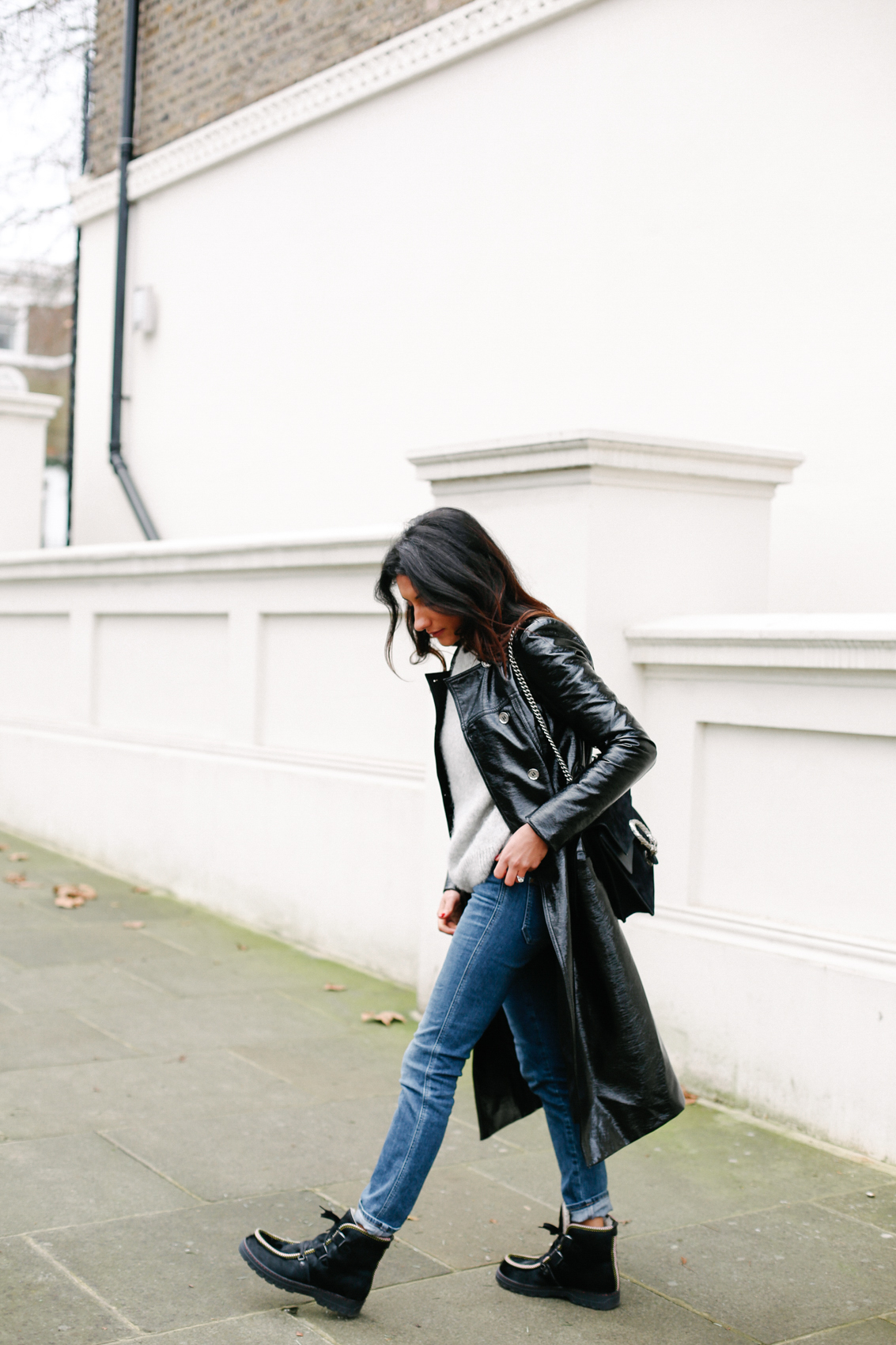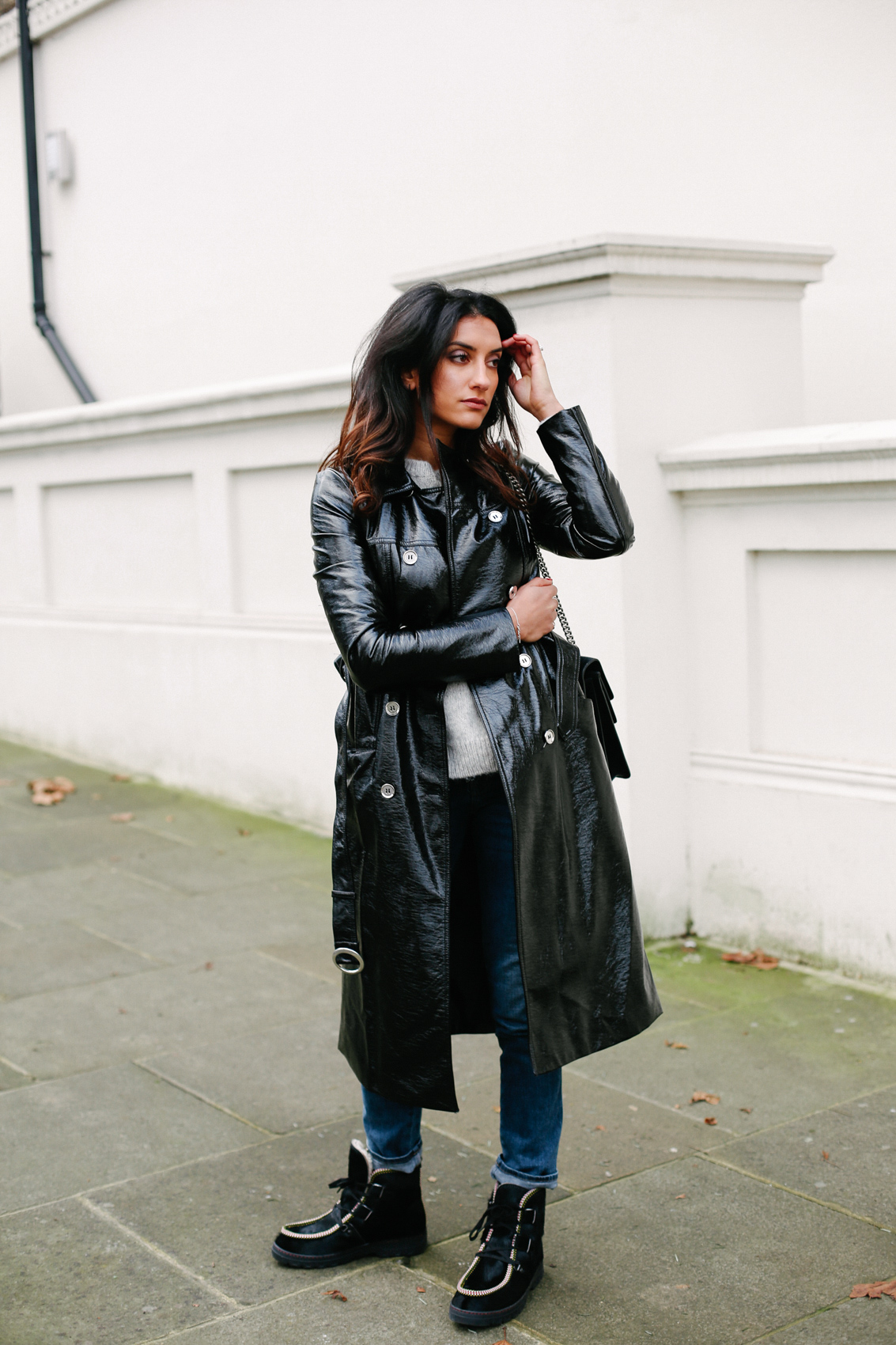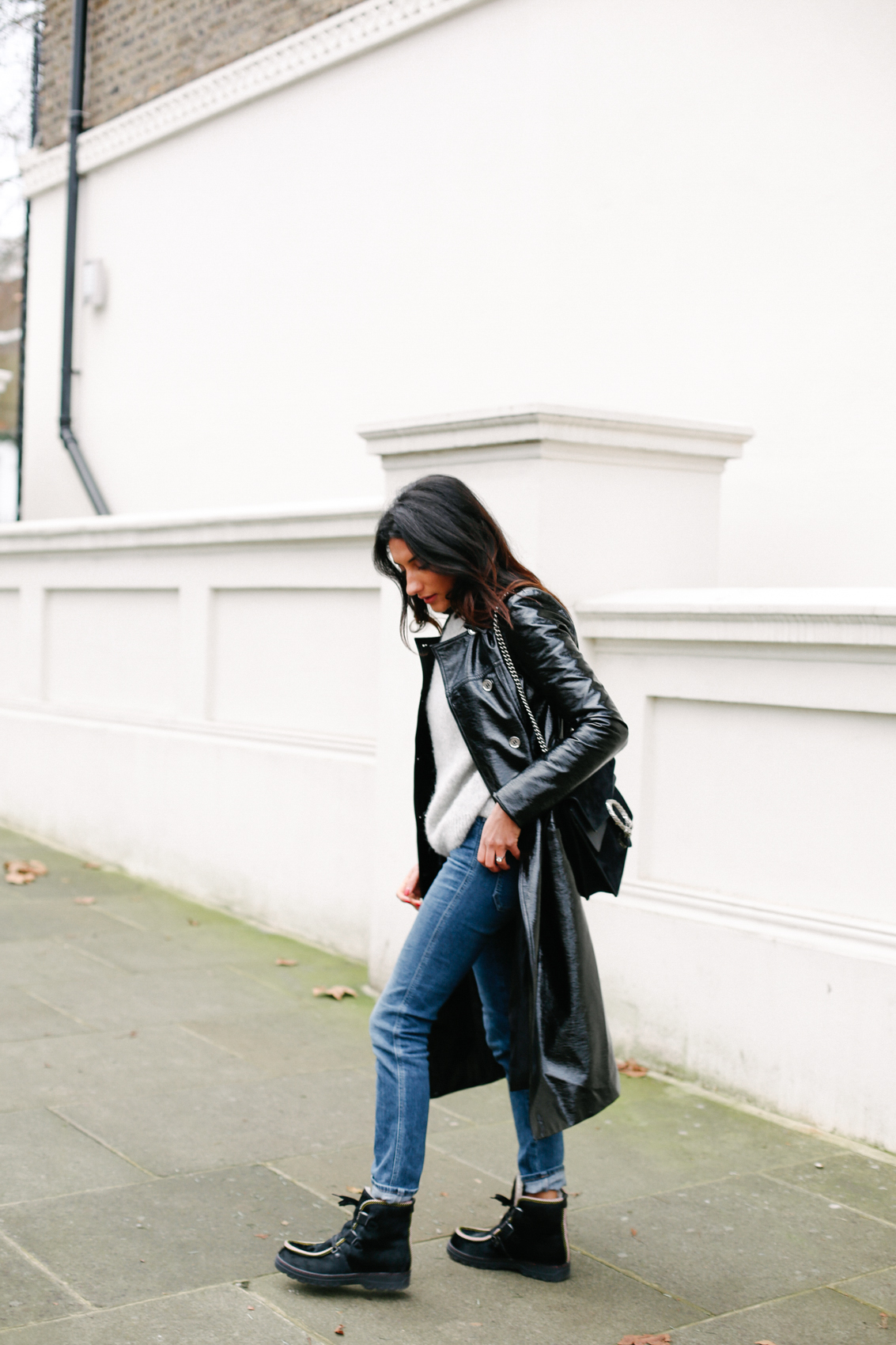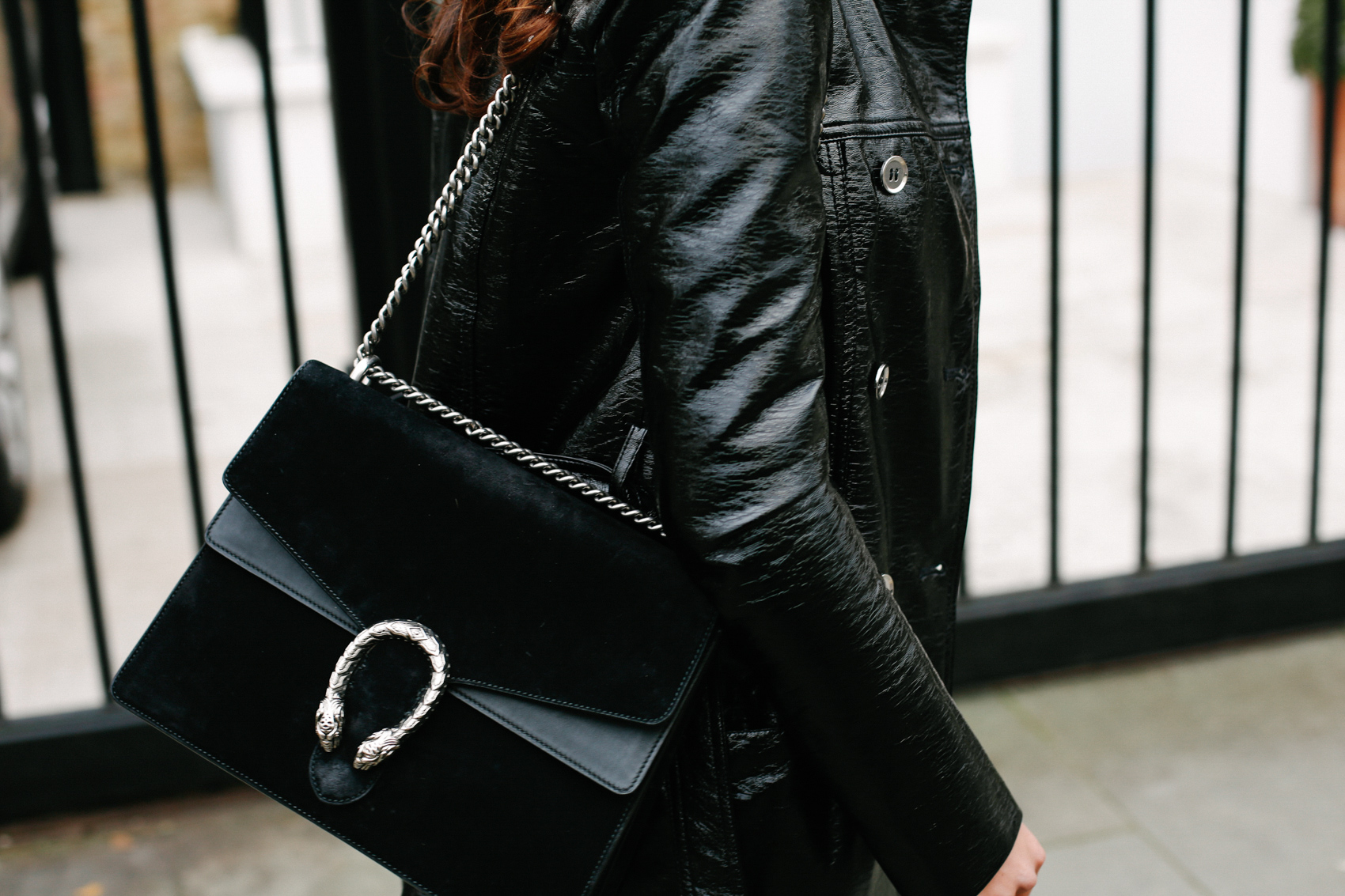 Apres Ski Boots | Penelope Chilvers
Jeans | MiH 
Jumper | Masscob
PVC trench coat | Archive by Alexa Chung at Marks and Spencer (similar here)
Bag | Gucci
Photos by Frances Davison
Kavita Cola x