I'v always been very conscious of fashion and clothes in general ever since I can remember. I went through all the different stages like being a girly girl when I was a young there was a heavily pink palette going on, then when I was about 12-13 I distinctly remember wanted to wear a backwards cap and really small round sunglasses. I used to put gel in my frizzy hair to tame it and use those silver clippy clips to hold back the frizz and have rips in my jeans to the floor (weird!). All along the way I remember thinking quite consciously about my backward cap and the direction it sat on my head, or the jeans and how they hung on my hips.
Then of course I hit one of those even more awkward teen years where one of the annual highlights of the year would be the school disco. It would take place on a Friday night and I remember feeling super envious of the boarders who got to get ready together and didn't have any parents limiting their outfit options. Obviously I wanted to wear tracksuit bottoms or a tight skirt with the tiniest and tightest of 'strap tops' or halter necks over my completely flat chest, probably with some blue eye shadow. Think Spice Girls or perhaps even All Saints a year or two later. I remember my parents giving me the 'holy b'Jesus are you seriously going to the disco like that?' whilst trying to convince me to cover up. I was painfully skinny and underdeveloped and wanted to jump the gun big time… I totally get why they did that now! Makes me cringe to even think about it.
Now, I guess I don't consider my current fashion sense as a 'phase' however it of course it may well be. There are a few components of my wardrobe over the past few years, particularly in my 20s, that I always do revert to as 'uniform'. You know when you are out shopping with your friends and both of you are like 'oh wow you'll give this to your children' that kind of thing. Whilst this uniform can can be worn altogether, the individual pieces are a must have in my opinion, as they always slot in well in lots of different outfit choices which is what makes them so versatile. 
My look is available to shop throughout the post with options to suit all budgets. Enjoy…
The grey tweed overcoat
This one is from Isabel Marant which I picked up from the recent sale. It wasn't a bargain as such but it was one of those 'I HAVE to have it kind of moments, and I do anticipate I will wear it loads and loads and loads over the years, which is why I could justify the price tag.

The vintage-esque T shirt
Ok, so mine isn't actually so vintage. It's throwback by Gucci quite ironically, something you could have easily found on eBay a couple of years ago or at any stage where you might not have warn in straight away, but over the years you will NEVER be throwing away or cutting out during your annual clearout. I know logos and emblems are currently the 'theng' too and there is nothing wrong with buying into a trend every now and then. (And yes, the rip was there already.)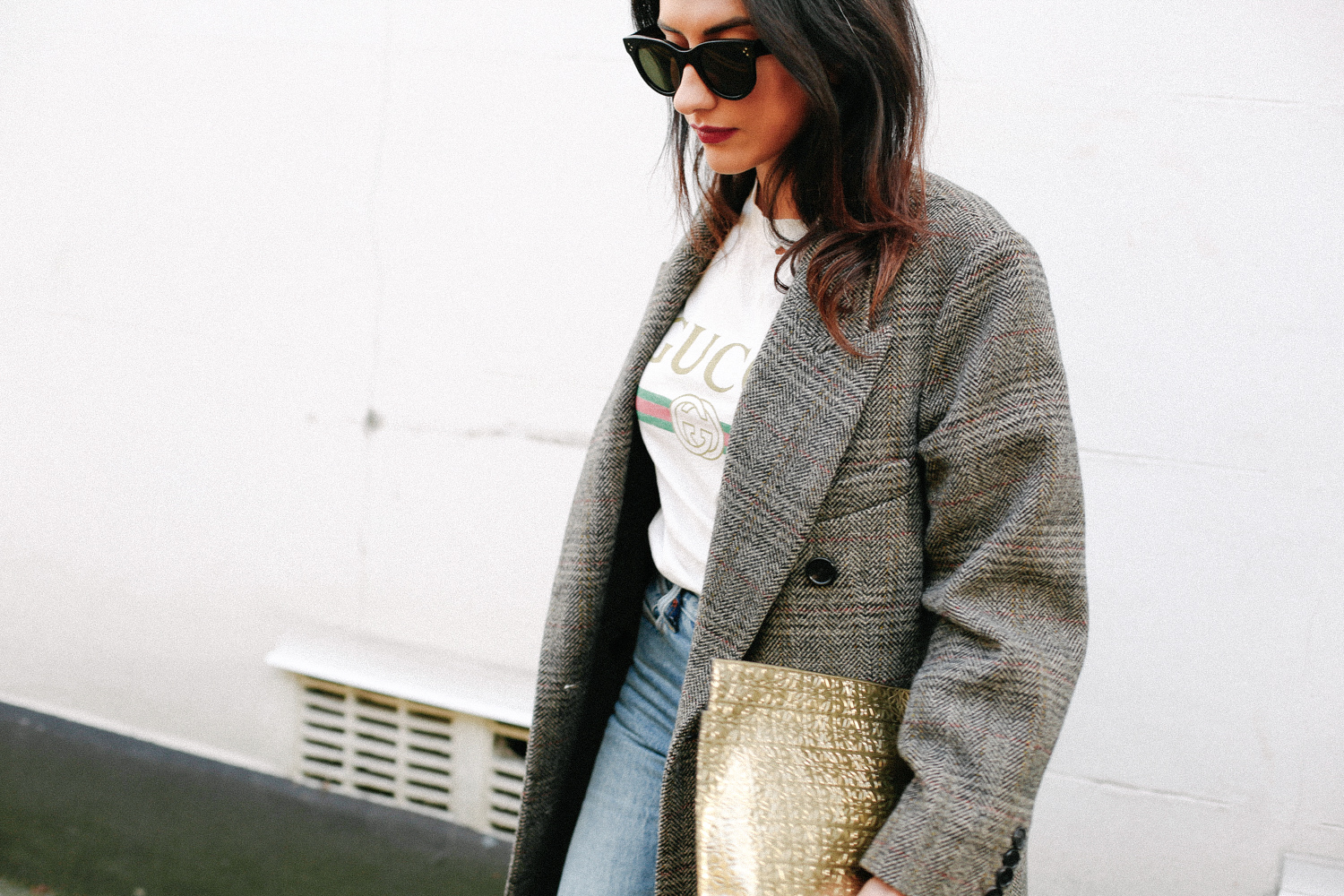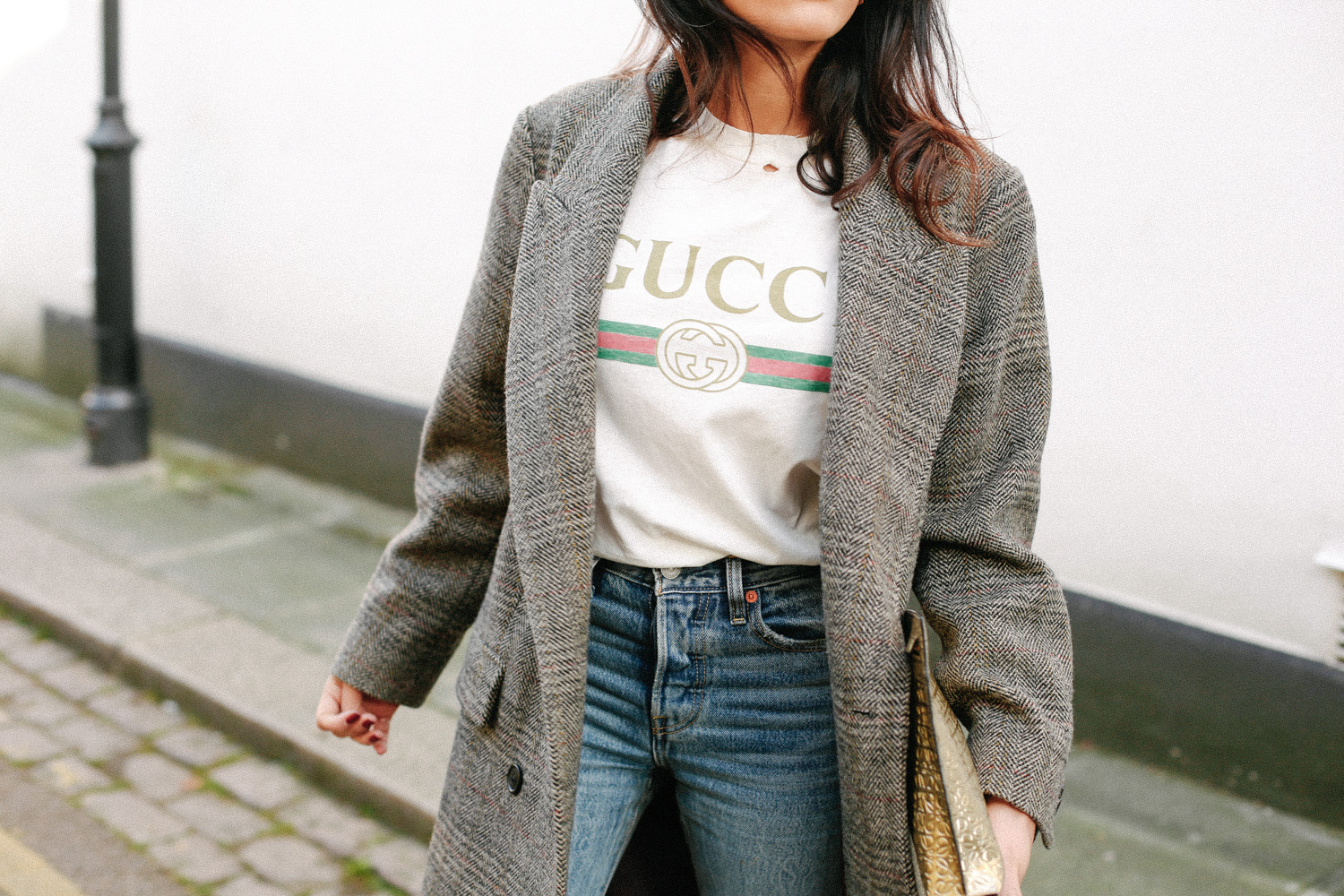 The Black Sunnies
I'm trying my best not to bore, but these Celine Baby Audreys I purchased ages ago seem to be my top of the shelf grab and go pair that I can wear with ease with pretty much everything. They don't have to be Celine (althought they are well worth the investment) just an easy to wear black chunky pair is great. I do have my fair share of different colours in these but I need to really be in the mood to roll them out, whereas these are easy peasy.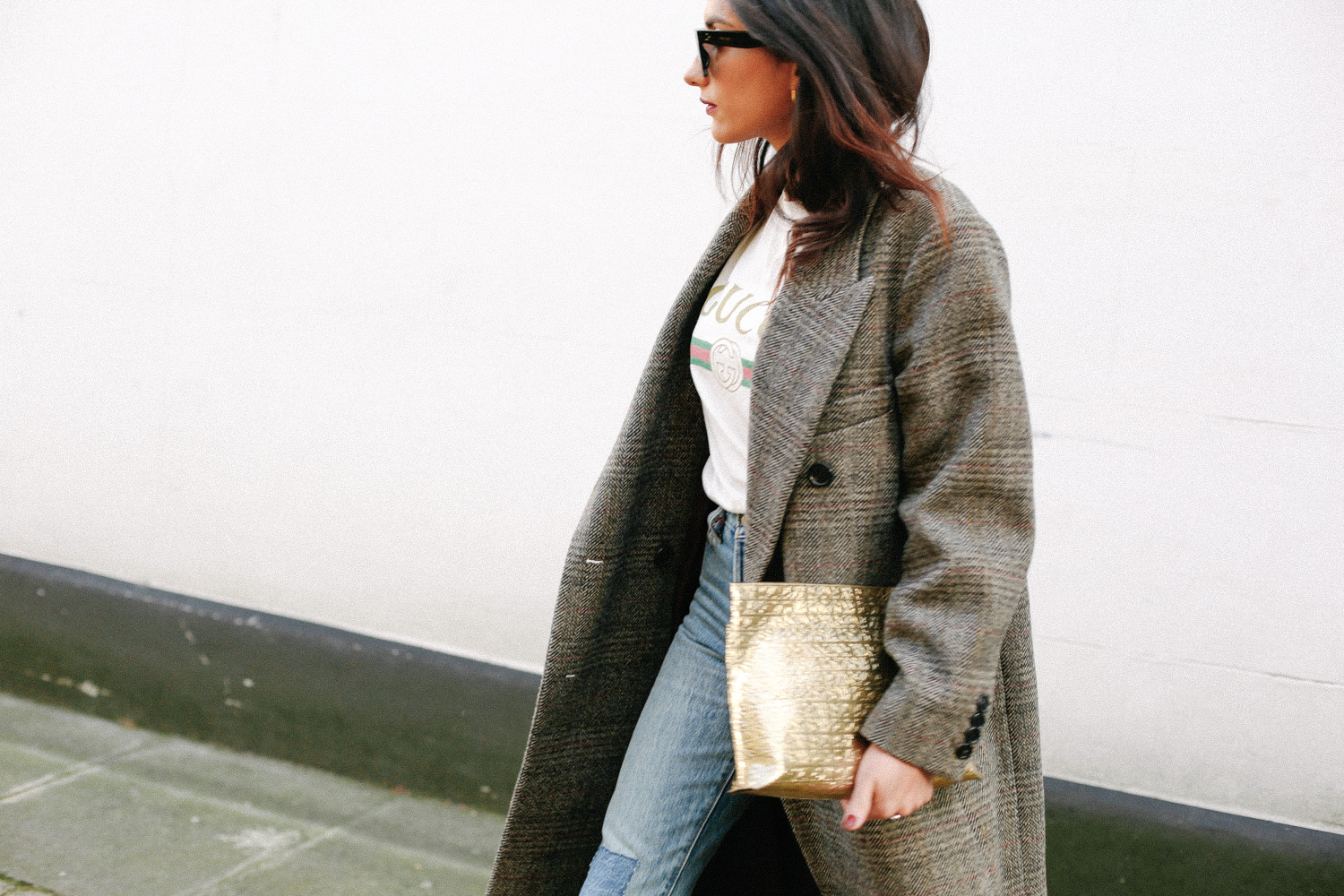 The Trainer
Whether it's an old pair of old school classic Vans or a pair Converse, these simplistic branded shoes are one of the first pairs that I grab if I'm going away for a weekend, come rain or shine I can wear them with jeans, dresses, shorts you name it – everyone needs a pair.

OK so Levis are Levis, they are historically cool and somewhere amongst the vast collection of choice there are, made for all different shapes and sizes whether you want something skinnier, straight or cut for a boy, they are the perfect must have pair of jeans. These ones I'm wearing are 'The Wedgie' which are apparently being discontinued so I am stocking up. I absolutely love the way they hug my bum and stomach but are slightly looser on the leg.
Duh. I'm obsessed with the red colour ways from Tom Ford at the moment in their 'Lips and Boys'. Super cool. x
Shop my look throughout the post above or below…

Photos by Frances Davison
Kavita Cola x