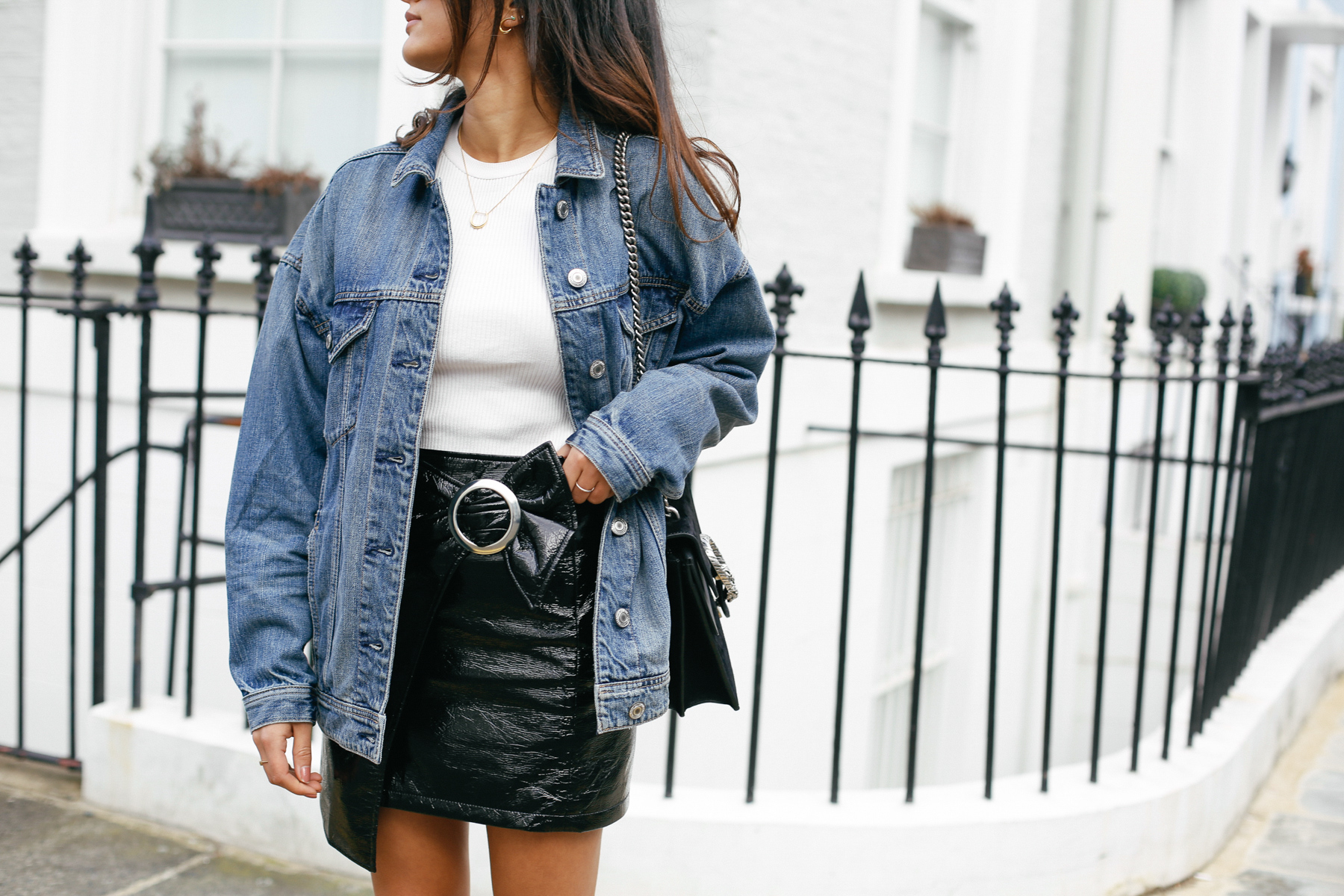 Working through my fashion conventions, brings me to blog about the oversized denim jacket. Whilst being born towards the end of the 80s, I do feel like a 90s kid at heart. This is by way of Kurt Cobain, The Spice Girls (although quite the contrary), Calvin Klein billboards of Kate Moss, Sliding doors, all reminiscent of that cool decade of simplistic fashion (with a bit of flash trash to keep us entertained).
So here we have this very purposefully oversized denim jacket from American Eagle Outfitters which is the 'grunge'. Moving downwards to the 'trash' in the PVC skirt from Mango (SO many amazing ones in the shops right now I'm having to contain myself), which is the Spice Girls element I guess? There is another red one from Topshop which I have bought and I'm wondering whether that's little too far – however stay tuned if I can find the perfect way to style it up!
Last but not least the Converse, always staying loyal to me in simple high top black lace up form. That's a 90s kid right there. Although now it's 2016 to keep it uplifted, some lovely jewellery is a must, all from Dinny Hall in this look. My 15% off code is still valid which is kavita15 – be sure to go crazy.
Can you believe Trump is the president? Yikes. All outfit details are below. x
Denim jacket | American Eagle Outfitters (similar here)
PVC Skirt | Mango (similar here and non PVC version here)
Top with red piping | Zara
Lace ups | Converse
Bag | Gucci
Sunglasses | Celine
Jewellery | Dinny Hall (for 15% discount use kavita15)

Kavita Cola x