My ongoing obsession with lurex continues with this gorgeous long length cardigan worn as a dress, reminiscent of myself as a 90s kid. I remember when I was at school with one of my best friends, we used to scour the high streets and magazines and always try and associate our findings with that from the designer catwalk. One of our favourites was 'It's just like Missoni', and to date I'm kind of doing the same thing.
This particular dress from Zara (would you believe) I came across in the sale is 'Just like Missoni', of course there is nothing exactly like the Italian brand Missoni but there is definitely a flow of sneaky appearances every now and then via the high street which give the same pezaz. For me, that glittery slinky material reminds me of something Penelope Cruz wore in the film Blow alongside Johnny Depp. The dress is totally 70s in style, which speaks for itself i.e. you're welcome to dress it up or dress it down like I have with Vans or flats of your choice, going for a more grungy 90s kid style.
I have gone for a jewellery overload from Missoma which has so many stunning, detailed, delicate necklaces, bracelets and rings. My earrings are also a new sale purchase from one of my favourite designers for simplistic metal, Dinny Hall. She has also just opened a new shop in Chelsea which I'm rather pleased about!
Going back to my fashion rules (though rules are made to be broken) I love mixing high street with my designer favourites. My forever designer pieces appear over and over again on my Instagram and via my blog posts, which exactly how I wear them. Throwing in something high street like this Zara knit dress just adds as a little bit of icing to the cake. In this case, the lovely lurex actually looks like icing on the cake. It's still available in the sale and I have added similar shopping options below. Enjoy x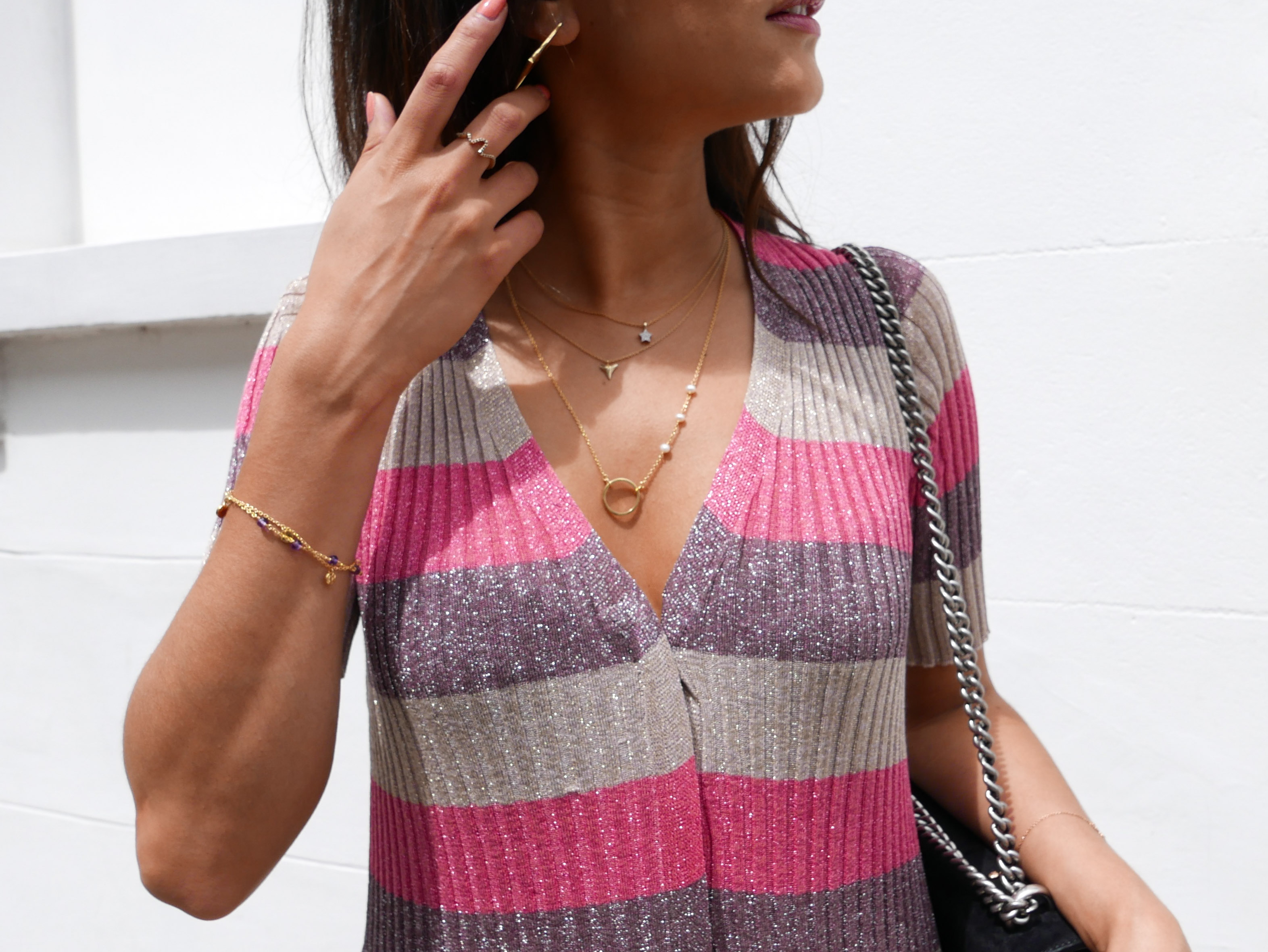 Trainers | Old Skool Vans
Handbag | Gucci
Sunglasses | Celine
Necklaces and Bracelets | all Missoma
Earrings | Dinny Hall
Makeup | Estee Lauder The Bronze Goddess collection

KavitaCola x